Registration and Records
Degree Works FAQ
This page provides answers to common questions students might have about Degree Works. Click on the links below to view the questions and answers for other student enrollment and records-related topics.
You can find your A# by logging into your MyAims account and selecting the 'Student' tab at the top.
Select 'grades+transcripts+academic records'
Select 'view transcript.' Your A# will be in the upper right corner of this page
You can find your academic advisor's name and contact information by clicking on the envelope in the top right corner of DegreeWorks.

If you are declared in more than one program, you can review the different programs by selecting the drop down arrow under 'Degree' and selecting another option. All program requirements for the degree and/or certificate will show up once you have chosen the specific program.


The catalog year for your program(s) can be found at the top of each block. If you are declared in multiple certificates, you may have multiple catalogs shown, since they can be declared in different catalog years. 

Degree Works is a good source to see courses available. However, the catalog requirements listed on the website for your specific catalog year(s) in use when you started at Aims, should always be utilized to make sure all program requirements are showing accurately and are being fulfilled. 
To find the requirements under your catalog, you can visit aims.edu and select 'Catalog + Schedule,' select 'Catalog' and then select your catalog year to view the program requirements.
In Degree Works, under the General Education block, there are attributes listed that are Guaranteed Transfer pathway courses offered at Aims to meet GenEd requirements. If you click on the attribute, it will pull up a list of approved courses at Aims to meet that specific area's requirements.  
Each attribute will also have the general title/area that it fulfills (EX: HI1 - 'History', AH3 - 'Ways of Thinking' under 'Arts & Humanities') 
Under the Electives block, approved courses to choose from are listed. Please make sure to also review your catalog year on the website, to double check that your courses are approved to meet Elective requirements.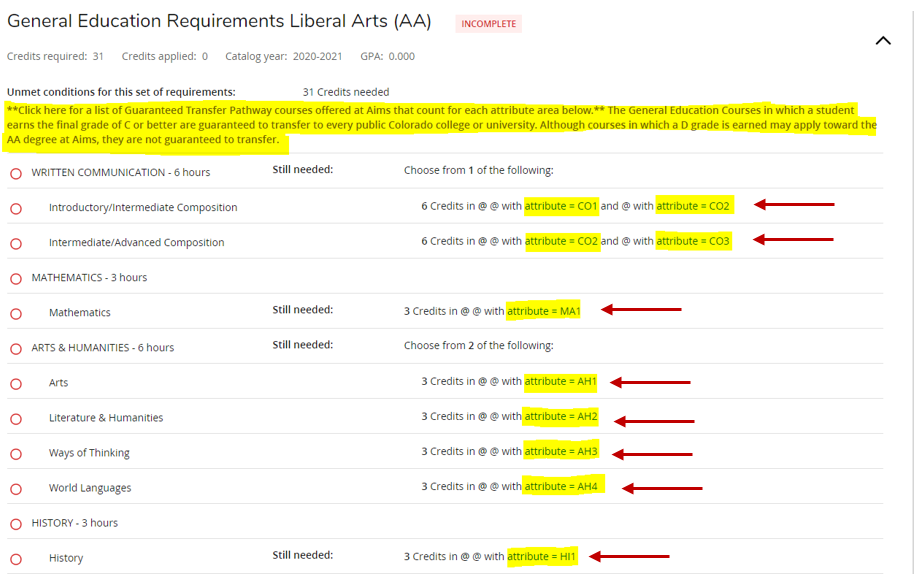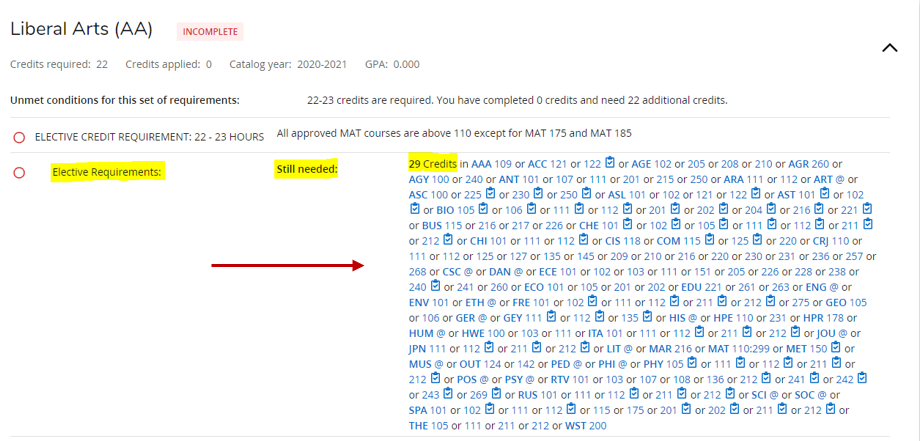 Once you are in Degree Works, you can review your cumulative GPA (called 'Overall GPA'), right below your student information. The cumulative GPA is what is used to meet graduation requirements and must be a 2.0 or higher to be awarded a degree or certificate at Aims. 
The GPA listed in each separate block for certificates and degrees are specific to the requirements pulling in that section. This GPA is not used for graduation purposes, as it is not the cumulative GPA. 
You can also use the GPA calculator to see how many courses and what type of grades would be needed to reach a desired GPA. You can find this tool at the top of your Degree Works, under the 3 dots in the right hand corner. You can also view your course history in this same location.


At the bottom of the page, there is a 'Legend' so you can see what each icon means in your Degree Works. 
If you are declared in a degree, it will show in each separate block if requirements are being met or still need to be fulfilled (overall requirements for degree, GenEds and Major block). The requirements remaining will be listed, along with applicable courses and course attributes. 
You can also find the following general requirements listed for degrees:
Minimum credit requirements 
Minimum 15 credit residency requirements (degrees)
Minimum 2.000 GPA requirement
General Education requirements
Major requirements
Graduation Application on file or not
You can find the following general requirements listed for certificates:
Minimum 2.0 GPA requirement
Major requirements
Credit requirements - these will be listed for each certificate, under the title of the certificate. 50% of the certificate must be completed with Aims courses (this will show if the requirement has not been met)
If you are declared in multiple certificates, it may show the requirements listed above as complete, but still say 'Incomplete' if all certificates have not yet been completed.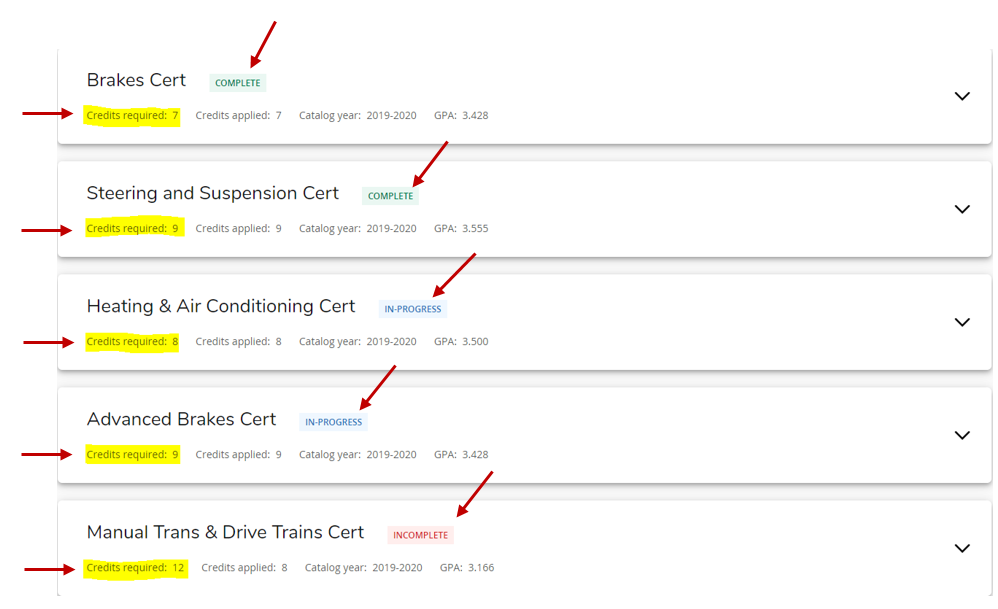 Fall Through
Lists all of the courses that are not applying/do not apply to the specific program. This could be because the course is not listed as an approved requirement or if you have more courses than needed for the program and other classes have pulled in to fulfill the requirement(s) instead.
Example: If you previously completed the Emergency Medical Technician Certificate & are now declared in the AA, Liberal Arts Degree, the EMS courses you took will not be applicable to the degree and will not pull in to meet any requirements. 
Insufficient
Courses you have withdrawn from or received an 'F' grade in will not be applied to any program to fulfill requirements.
Over the Limit
When a student has taken 'too many credits or courses' and they do not fit into a specific Degree Works Category. This means that Degree Works is set up to only count a certain number of credits for a course, or a certain number of courses that fit in a specific section in the audit (Arts and Humanities for example). 
BE level courses will always be listed in the Over the Limit section, since these courses cannot be counted towards a student's program.
 
Click on 'What If' 

Select the catalog year & program of choice for all programs, other than Degrees with Designation (DWD), as that will require an additional step
If you are performing a 'What-If' for a Degree with Designation (DWD) under the 20-21 catalog, you will find the program by searching 'DWD' and select the concentration that corresponds to the correct program
Select Process 
All programs except DWD degrees: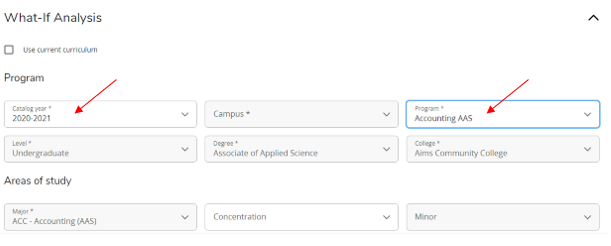 DWD degrees:

Locations
Hours
Monday - Friday
8:00 a.m. - 5:00 p.m.