Alumni Spotlight - Keana Kaleikini
Graduating from Aims with a liberal arts associate degree, Keana went on to earn a bachelor's in public health and hopes to achieve her PhD.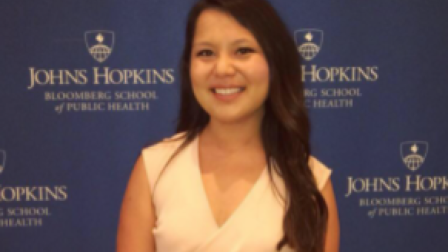 Keana Kaleikini grew up on the Navajo Nation Reservation in Fort Defiance, AZ, raised by a single mother who moved her family from the reservation during Kaleikini's high school years. "I did very poorly in high school due to unstable living conditions and initially going to college seemed like an impossibility at the time," she said.
Kaleikini was later able to go to Aims Community College part-time as a non-traditional student and graduated with an Associate of Liberal Arts. She then transferred to Fort Lewis College in Durango where she maintained full-time student status despite living through a difficult divorce and raising an infant by herself. In the summer of 2016, Kaleikini was accepted to the Johns Hopkins Bloomberg School of Public Health Diversity Summer Internship Program for Undergraduates in Baltimore, MD.
During her internship, Kaleikini worked with the JHU's Center for American Indian Health and conducted research with the Social and Behavioral Health team on tribal suicide prevention. "I examined the co-occurrence of alcohol use and suicidal behaviors within a specific tribe over time. It was really to reaffirm evidence that alcohol use is a risk factor for suicidal behavior, and to see the efficacy of suicide prevention programs implemented by the Center," says Kaleikini. Other requirements of the internship were GRE prep courses, leadership sessions, seminars and mentorship by distinguished scholars at JHU. Kaleikini also completed weekly graduate-level assignments, wrote a full publishable research paper, created a scientific poster, presented at two poster sessions and gave two oral presentations.
In 2016, Kaleikini graduated from Fort Lewis College with a bachelor's degree in Public Health with an emphasis in Environmental Health. After graduation, she accepted a position with the Johns Hopkins Center for American Indian Health as a research assistant. The Center for American Indian Health works in partnership with Native communities to raise health status, self-sufficiency and health leadership to the highest possible level through research, training, service and education. They support Native communities in achieving optimum physical, mental and social well-being; autonomy over research and health service; and worldwide leadership in supporting other communities to overcome health inequalities. She said, "I couldn't feel more privileged to work with the renowned scholars of Johns Hopkins University."
Kaleikini primarily assists with data management and analytics but also works with training programs aimed at recruiting individuals interested in working in Native American health. The programs focus on building the skills necessary to lead culturally relevant public health interventions locally and nationally.
"I am hoping to complete my MPH, MSPH, or MHS with Johns Hopkins. I ultimately would like to receive my DrPH or PhD in the field of public health, as well. Because of the vast variety of options in Public Health, I am unsure of what my future focus will be. I imagine I will continue my education in biostatistics or epidemiology and apply these skills to the field of Health Policy in order to advocate for progressive change."