Aims 2023 Art Show on the Loveland Campus
On April 14, the Aims Loveland Campus hosted a student art show.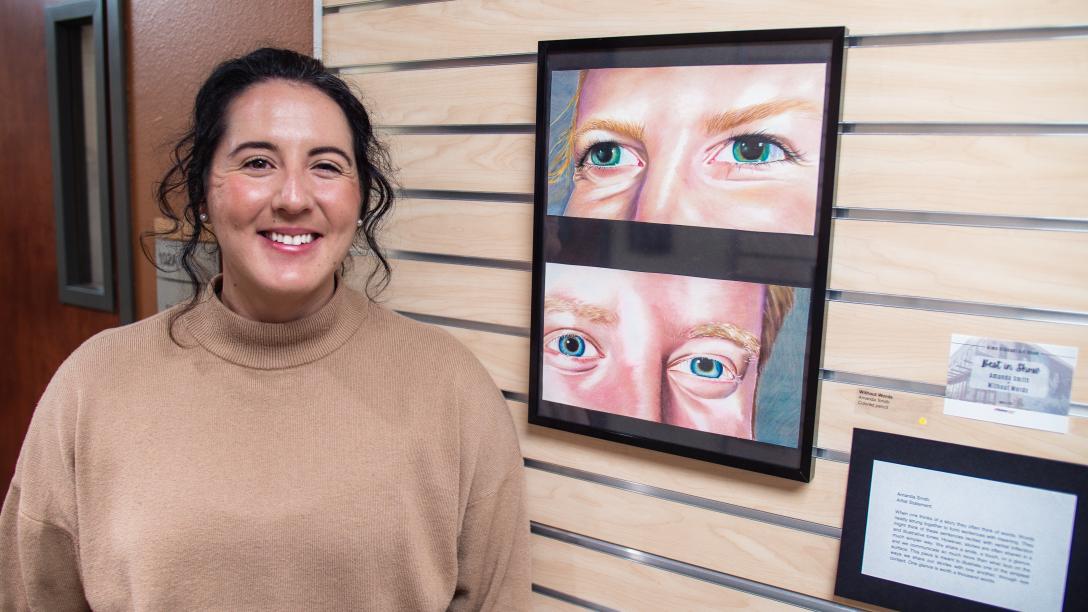 This year's exhibit theme is "Share Your Story." Sharing personal stories, whether your own or someone else's, is a terrific and authentic way to connect with others, especially through art. Aims encouraged students to interpret what this theme means to them and incorporate it in their submitted art. 

Student artwork will be on display until June 8. The gallery is open to the public on Night on the Town, Loveland's Art Walk, every 2nd Friday of the month.

The exhibit was judged for Best in Show and Honorable Mention in various genres.  Best in Show received a scholarship to Aims Community College valued at up to $350. Honorable Mention awardees received gift bags valued at $50. Congratulations to the winners. 



Amanda Smith
Best in Show Winner for "Without Words."
Artist Statement: When one thinks of a story they often think of words. Words neatly strung together to form sentences with meaning. They might think of these sentences recited with verbal inflection and illustrative tones. However, stories are often shared in a much simpler way. We share a smile, a touch, or a glance, and we communicate so much more than what lays on the surface. This piece is meant to illustrate one of the simplest ways we share our stories with one another; through eye contact. One glance is worth a thousand words.
Kristen Bradley
Best in Craftsmanship for "Ninja."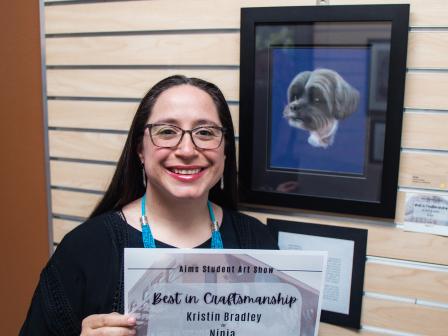 Artist Statement: This is a portrait of my ten-year-old dog, Ninja. The portrait is a pastel painting that took approximately twelve hours to complete. Before taking the Drawing I class at Aims last semester, I had not drawn in years. It was in that class that I first drew a picture of Ninja in charcoal. I become enchanted by the medium and subject matter. From charcoal I moved to pastels which are perfectly suited for drawing animals. There is something magical about capturing the essence of someone's beloved pet on paper. Now, pet portraits are one of my favorite things to create and my new business.
For me, Ninja will always be my favorite subject. We have spent the last decade together. He brings me joy, even on the darkest days. He reminds me to be present in the moment because I know our time together is limited. He keeps me company, so I never feel alone. Lastly, he shows me how to be happy with what I have. All he needs in life is food, shelter, and belly rubs (lots of belly rubs).
Azuriah Stiles
Best Use of Color for "Accompanied."
Artist Statement: I am a 19-year-old artist with 14 years of experience in drawing. Though while gaining experience in life it also affected my experience with my art career, the same could be said the other way around as well. I am who I am today through the two experiences combined and I would like to show some of that part in my life through my paintings and creations. Here from what I've displayed you will see subjects that have affected me in some way emotionally, physically and metaphorically, and in a silly way mean a lot to me.
In my digital painting Accompanied, it is a resemblance to my life of who I've met. I've always liked ants since I was little, seeing them wherever I went no matter what from playing as a kid in the creek to walking to my job. As I grew I went to many places and challenges, meeting many different and new people that have had various effects on my life. I built a huge network of old and new friends, family and acquaintances, everyone has. For such small creatures in a big world with their own huge and complicated family, it was nice in a weird way to find comfort in them.
Faye Effanbee
Best in Concept for "Collection of Other's Memories."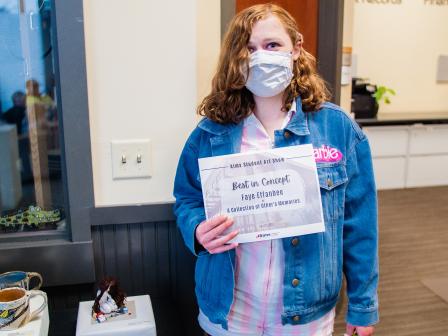 Artist Statement: This is a mixed-media sculpture that represents my struggle with childhood memories. As a survivor of childhood abuse, it can be hard to connect with my own childhood, so for years I've found myself connecting with others' nostalgia. I collect vintage toys, and a lot of the process of collection is wondering about the things I drag home — were they loved? Were they someone's favorite? In a way, it comforts me to know that no matter what a person leaves behind, their memory is still attached to it.
Audience
Alumni
Faculty
General Public
Staff
Students