Admissions
Enrollment Steps
The first step in your college admission process is to submit your online application. Next, complete the enrollment steps below. When your enrollment steps are completed, you'll be able to register for credit courses. Questions? Ask an enrollment coach!
Step 1: Apply for Admission to Aims
Complete the online application, or apply in person at any Aims Campus.
Step 2: Activate your Aims Community College Account
Step 3: Apply for Financial Aid, if needed
This is optional, but it's free to apply. You may qualify for:
It's best to apply at least two months before classes begin. Many students apply as early as January to get help paying for classes that start in August.
Step 4: Share your Academic History through Multiple Measures Academic Assessment
Aims uses multiple measures to determine college readiness.  Share your academic background in multiple ways:
High school transcript with overall GPA and English or math courses completed with a C or higher.**
ACT (Reading 17, English 18, Math 19).*
SAT (Before March 2016: Critical Reading/Verbal 430/440, Math 460; After March 2016: Evidence-Based Reading and Writing 470, Math 500).* 
Successful completion ("C" or higher) of an equivalent college-level math and/or writing course from a regionally accredited school.**
Additional measures include the PARCC**, GED**, HISET**, TASC** and Accuplacer*. Please see the Multiple Measures Assessments page for more information. Please note that college transcripts must be official and submitted to transfer@aims.edu. 
*Scores are valid for a period of three years from the date taken.
**Grades must be within the past 10 years. 
Step 5: Meet with Academic Advisor
Call for an appointment. You do not have to meet with an advisor if you are taking classes for personal interest.
Greeley: (970) 339-6443
Fort Lupton: (303) 857-4022
Loveland: (970) 667-4611, ext. 3300
Windsor: (970) 339-6610, option 2
Step 6: Register for Classes
Register online using your myAims account.
Attend Arty's Orientation
Consider AAA109: this class can help you make connections with other students while you learn strategies to boost your grades and success in college. You'll learn how to work smarter, not harder. Whether you are learning to take notes from fast-talking professors or strategies for reading and remembering hundreds of textbook pages, the Advancing Academic Achievement class can make you a better student.
Step 7: Pay Tuition & Fees
Learn about payment options.
View your bill and financial aid status on your myAims account.
Complete one of the payment options by the posted Payment Deadlines.
Step 8: Prepare for Classes
Learn about services for students and how to use myAims.
Welcome back!
We're excited you've decided to return and continue on the path to completing your educational goals with Aims Community College.
If it's been more than a year since your last class at Aims, please follow the Steps to Enroll above and begin by re-applying online
If it's been less than a year since your last class at Aims, you do not need to re-apply

Log in using your myAims ID and register for your classes

If you left Aims on academic probation (or suspension), contact the Registration & Records Office at (970) 339-6404 or records@aims.edu to discuss the steps you need to take to return
If you left on financial aid probation (or suspension), you should speak to the Financial Aid Office at (970) 339-6548 or financial.aid@aims.edu if you wish to receive aid.
We are glad that you are considering Aims!
You may be able to use coursework taken at a prior college to meet assessment requirements and as transfer credit to meet graduation requirements. Please follow the steps outlined in Steps to Enroll section above, except insert the additional step listed below: 
Step 1.5: Send an Official Transcript to the Registration & Records Office for Evaluation
If you plan to complete a degree at Aims, please send your official transcript to the address listed below as soon as possible. The sooner your transcripts are received, the sooner they can be evaluated towards your degree plans.
or
Registration & Records Office
Welcome Center
5401 20th St.
Greeley, CO 80634 
Note that a transcript is only considered official if it is sent directly to Aims from your previous college (electronically) or arrives in a sealed envelope (physical mail). Transcripts that have been opened before delivery to Aims and electronic transcripts that are sent to the student first and then forwarded to Aims will both be considered unofficial.
We're happy you're here to pursue your interests! Please follow the Steps to Enroll outlined above. When you submit your application be sure to select, "Will not graduate or transfer, but will take classes for personal interest only."
You can skip Step 6 as you do not need to schedule an appointment with an academic advisor. 
Additional steps are required for students who are participating in any of the Aims College in High School programs. Please ask your high school counselor for assistance. 
Detailed instructions for applying to Aims as a veteran student can be found on the Veteran's Services page.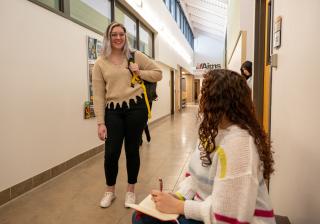 For over 50 years, Aims has helped students make positive changes that last a lifetime. This next chapter of your life is important and we are honored you chose to move forward on your path with us.
As an Aims student, you will build relationships with a diverse group of students, staff and faculty; you will learn and grow into your potential; and you will gain the skills to be successful in your next step at a university, in the work force, and in life. We believe in your ability to be successful at Aims and are looking forward to helping you navigate your next steps.