Welcome Center (Future)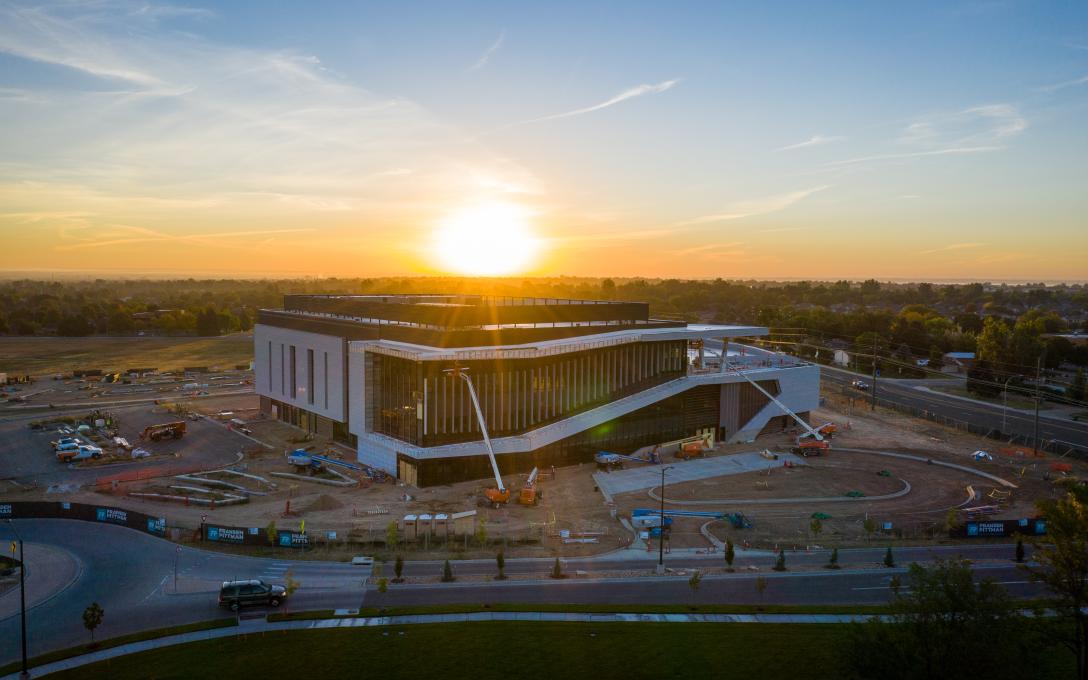 Opening in December 2021
The 105,720-square-foot Welcome Center on the Greeley Campus will offer ease of access to all student services in one central location. The north segment of the building will feature a 1,600 seat auditorium, 800 capacity ballroom, executive-level conference space, and outdoor patios with western views of the Front Range. The entire Welcome Center is designed to meet the needs of the next generation of students and our community.
The new Welcome Center epitomizes the success of Aims in its design and function. This Welcome Center is designed based on input from students (past and present), student applicant surveys and many community leaders. The center will serve not only students but community members and institutions as well. It is with pride that we are able to say thank you for the support Aims has received over the years from the Greeley and Weld County communities, allowing Aims to grow into one of the leading educational and forward-thinking institutions in Colorado.
--Lyle Achziger, Chair, Aims Board of Trustees
Funding for the construction of the Welcome Center came from college reserve and operating budgets.
Student Services and Amenities
The Welcome Center will provide a range of services students will need to be successful as they move through their education and beyond. Admissions, pathway advising, financial aid and other student services will be located in the building, allowing students to easily connect with the support they need in a central location.
The entry lobby serves as the starting point of a prospective Aims student's educational journey. Staff members at the information desk will be ready to greet patrons and provide them with information and direct them to where they need to go. The state-of-the-art design is apparent from the start and includes a 16-by-9-foot video wall visible from the front doors. 
As you move down the hallway you'll be connected to Student Services as well as the Navigation Station. This is where both prospective and new students who are ready to get a successful start to their education can come for assistance provided by current Aims students.
The student and gaming lounges provide ample space for students to gather and food service options are planned as well.
Additional services on this level include:
Cashier's Office

Financial Aid

Student Enrollment and Records

Admissions

Testing Center
Perhaps the most notable and exciting feature of the first floor is the 1,700 seat auditorium. It boasts stadium seating, a skybox that looks down from the second floor and a movable glass wall allowing people to view the stage from both an indoor and outdoor perspective. College-wide events will be held in the auditorium, including graduation.
The partially-covered outdoor courtyard provides several gathering spaces for students and staff to enjoy. The underground snowmelt system will keep concrete free of ice and snow in the winter, making it a safe walking area for pedestrians. There will also be 500 additional parking spaces to accommodate increased campus activity.
A promenade will connect the Welcome Center and the newly remodeled Student Commons (formerly College Center).
From the skybridge, visitors will be able to look down onto the first floor as well as out into the courtyard. 
This level includes a range of services and offices including:
Advising

Transitions Center

Title IX

SEIS VP and AVP
The third-floor banquet hall will accommodate 800 guests seated in banquet style and 1,200 in free seating style. Beyond the doors of this space is a large rooftop patio offering a breathtaking view of the Rocky Mountains and Longs Peak.
The flexible space can be configured as one large ballroom or separated into two or three smaller spaces to use as breakout rooms or for formal banquets. The west side is made from floor-to-ceiling glass, providing a beautiful view of the Rocky Mountains on a clear day. 
A 2,800-square-foot commercial kitchen is adjacent, offering an additional catering and service option.