Aims Accounting Program Partners with Breeze Thru Car Wash to Offer Basics of Finance Workshop
The Aims Community College Accounting program recently presented a Basics of Finance training for Breeze Thru Car Wash employees as part of a partnership between Aims and Breeze Thru.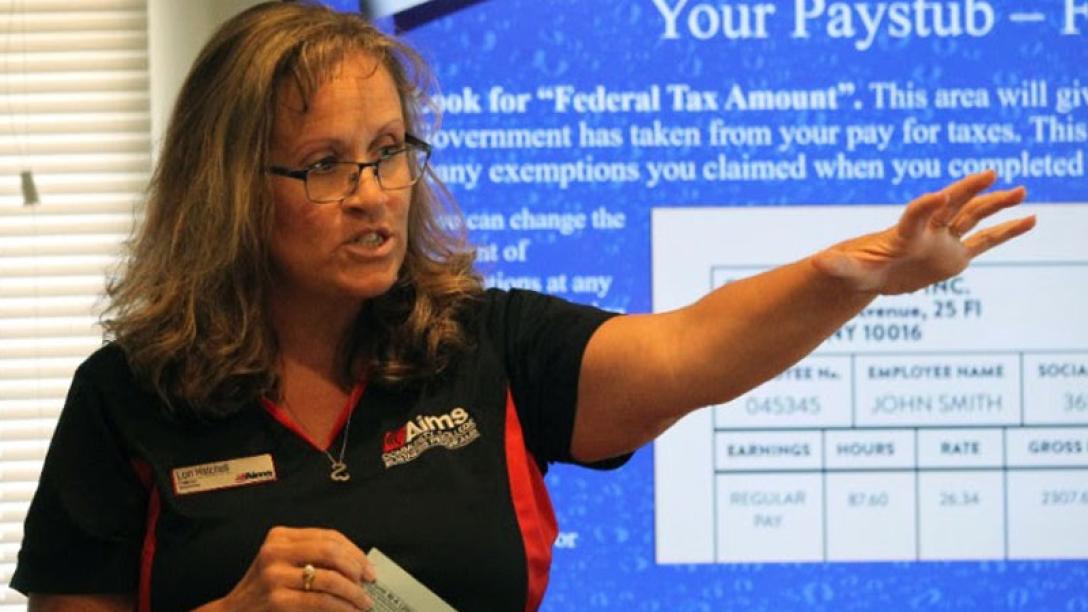 It began when Lori Hatchell, Aims accounting professor and Justin Salisbury, regional operations manager of Breeze Thru, met at a Weld County Career Fair a few years ago.
"I asked him if he would be interested in sharing Breeze Thru Car Wash's hiring process, including their group interview, with our students," Lori said. "Justin presented to our accounting students at a workshop in April 2015. Most recently, he provided our accounting capstone students with the experience of a group interview environment and provided them with individualized feedback to improve their skill in the job hiring process."
Trainings have been held on the Aims Greeley campus and in the Breeze Thru Car Wash conference room in Fort Collins. Lori said there are plans to continue this partnership, and there will most likely be more training classes scheduled. In addition, Lori said she is grateful to Aaron Grosul from Edward Jones in Windsor for sharing his expertise of investment topics and to the Bank of Colorado, Eaton, who provided supplies for account management to attendees.
"This partnership is a wonderful example of our College's purpose, "To Build a Stronger Community," in action," said Aims President and CEO Dr. Leah L. Bornstein. "I'm very proud of what has been accomplished with this partnership."
"This was an awesome opportunity to share the importance of financial literacy and develop a reciprocal relationship with Breeze Thru Car Wash," said Lori Hatchell, Aims accounting professor. "I appreciate the management of Breeze Thru Car Wash for their continued support of our students and encouragement to their employees to learn about the significance of developing a sound financial knowledge base with varied resources."
About Breeze Thru Car Wash
Breeze Thru Car Wash is locally owned and operated. It excels in offering express exterior and flex-service car wash facilities in northern Colorado and southern Wyoming. Breeze Thru Leadership Team focuses on being an excellently run car wash company that prepares people for the future and provides for the community. . For more information visit www.breezethrucarwash.com. 
About the Aims Accounting Program
The Accounting program at Aims teaches students how to prepare financial statements, record business transactions, help plan for business growth, and more. Students can earn an associate degree, get started on a career, or go on for a four-year degree at Regis or Franklin University. For more information visit www.aims.edu/academics/accounting.