Aims Automotive Program Earns National Acclaim at SkillsUSA
In an outstanding five year run, Aims Automotive Program repeated top podium finishes in the 2018 National SkillsUSA Competition, resulting in back-to-back National Championships.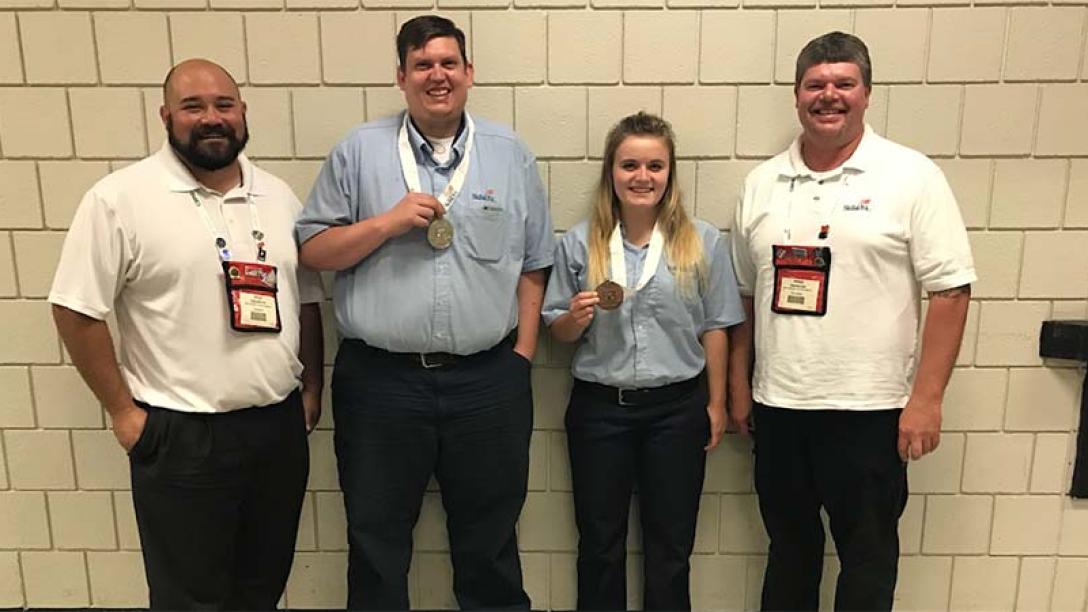 The annual event was held in Louisville, KY June 26-29 where Aims' Collision Team represented the state of Colorado as a result of their winning performance at the regional and state competitions. Over 130 State SkillsUSA winners competed for national recognition in their respective fields. Automotive competition categories include surface preparation, spray gun operation, paint mixing, damage appraisal, collision repair and more.
Representing Aims, Jo Boden finished third in the nation in the Secondary Collision Repair Category. She is a concurrent enrollment student from Loveland High School and is the first female to represent Aims at the national competition level. Michael Kunkel took on a category new to 2018, resulting in an impressive second place performance in the area of Post-Secondary Collision Damage Repair Estimating. This is the fifth year in a row that Aims has been represented with podium finishes as students continue to earn invitations to nationals, succeeding in national championships in 2015 and 2016.
About SkillsUSA
SkillsUSA is a national partnership of students, teachers and industry representatives working together to ensure America has a skilled workforce. SkillsUSA is an individual membership organization serving middle school, high school and college/postsecondary students who are preparing for careers in technical, skilled and service occupations. SkillsUSA is recognized as a successful model of employer-driven youth development training program by the U.S. Department of Labor. At the National SkillsUSA Championships, more than 6,000 students compete in 100 occupational and leadership skill areas each June. These national competitions establish industry standards for entry-level workers in many fields. For more information, visit www.skillsusa.org
About Aims' Automotive Programs
The Aims Automotive program is an accredited program with certificates and degrees in Collision Repair and Service Technology. Recognized as one of the leading automotive programs in Colorado, the program has an 89 percent total positive placement in automotive service according to 2013-14 graduate reports. Visit aims.edu/academics/auto for more information.
Auto Body News
Vehicle Service Pros
Fender Bender
Reporter Herald