Aims Community College celebrated National Agriculture Day with the Community at the Fort Lupton Campus
Aims Community College celebrated National Agriculture Day at its Fort Lupton Campus, located at 260 College Avenue with an Open House for the community on Tuesday, March 20 and an event for the Future Farmers of America (FFA) on Friday, March 23.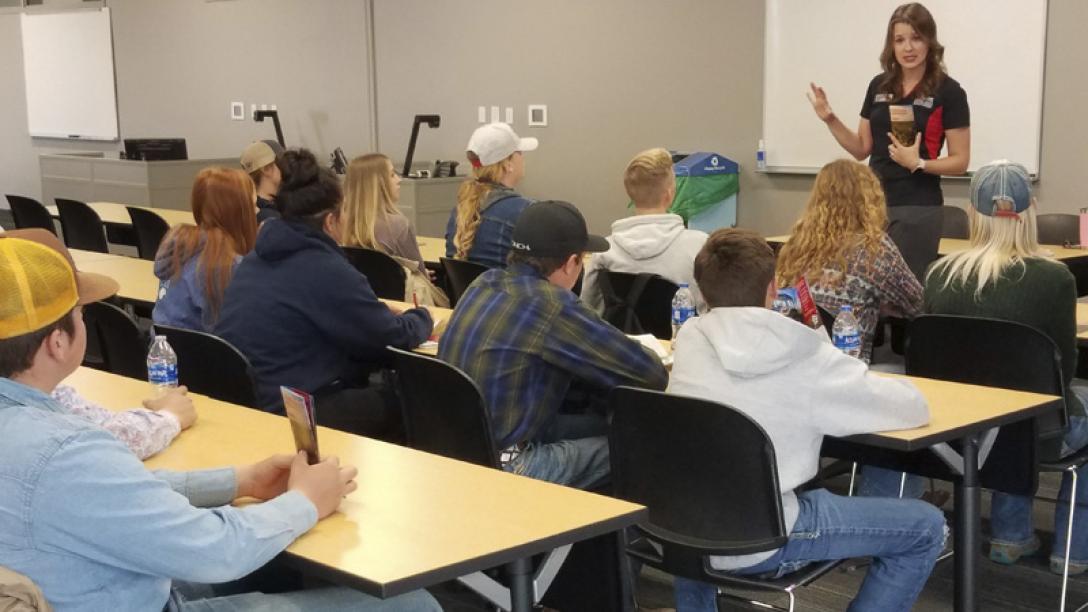 At the Open House, guests saw baby chicks hatch, rode on the Precision Agriculture Mobile Educational Technology Unit (a John Deere gator equipped with auto-steer and GPS technologies), learned about dairy farming from June the Cow (provided by the Western Dairy Association), an animatronic full-sized fiberglass Holstein, and interacted with the West Greeley Conservation District riparian trailer.  
On Friday, March 23, Aims' Fort Lupton Campus hosted approximately 350 students from across the state at the Future Farmers of America (FFA) Career Development event. Students participated in activities that covered job skills in communications, mechanics and more. 
"It was wonderful to share what Aims has to offer at our Fort Lupton Campus with the community and the Future Farmers of America, while celebrating National Agriculture Day," said Aims CEO and President Dr. Leah L. Bornstein. "I hope this event encourages the community to consider coming to Aims for the technology, support and quality education they'll find here. Participating in the Ag program at Aims is a tremendous value, allowing a smooth transfer to Colorado State University."
The Bureau of Labor Statistics reports that the job outlook for agricultural and food scientists will increase by 7 percent through 2026. Students can receive the high-tech training needed for careers like these and more at Aims in Fort Lupton.
About Aims Agriculture Technology Program
The Aims Agriculture Technology program offers associate of science degrees in ag business, agricultural education, soil and crop sciences, horticulture and animal science, as well as associate of applied science degrees and several certificate options. Aims' articulation agreements with Colorado State University allows for a smooth transfer directly to complete a bachelor's degree. For more information visit www.aims.edu/academics/agricul ture.

About Aims Community College Fort Lupton Campus 
The Aims Fort Lupton campus is a full-service location that features the Agricultural Sciences and Technology and Welding Technology programs, as well as the Nurse Aide certificate program. Students can fine-tune their professional skills, take general education classes before transferring to a four-year university, or earn a certificate to enter the job market right away. For more information about the campus, please visit www.aims.edu/campus/ftlupton.