Aims Community College Dedicates a Time Capsule to Open in 50 years
As part of its 50th anniversary celebration year, Aims Community College today dedicated a time capsule to be opened in 2067 at the new Applied Technology and Trades Center on the Greeley campus.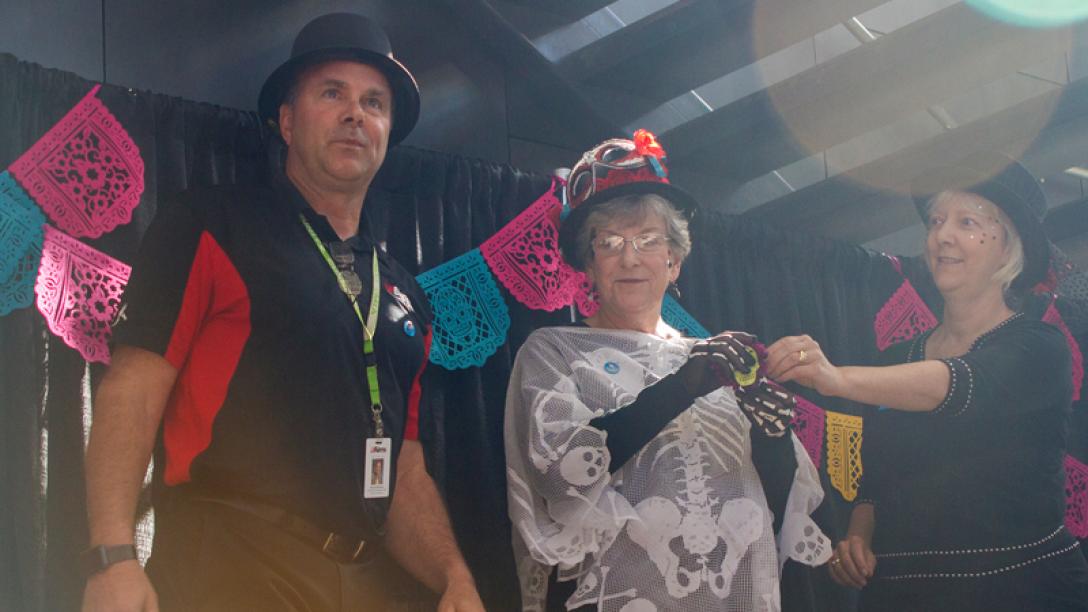 The free community event, "Arty Underground: The Legacy Continues," was a celebration of the past 50 years, the present and future success of Aims with a Día De Los Muertos theme.
Aims Board Chair, Carol Ruckel, and Aims President, Dr. Leah L. Bornstein, unveiled the items in a mysterious fashion with dry ice effects. Time capsule items and ideas were submitted by the Board of Trustees, students and employees. Mike Millsapps, the executive director of facilities and operations and named caretaker of the items, carefully placed the items into the wall that will be sealed by a plaque. Items will be vacuum-sealed for safe keeping before the time capsule is completely sealed. In addition to the program, guests enjoyed a candy apple bar and decorated marshmallow sugar skull pops and masks.
"This year has been very festive celebrating Aims Community College's 50th Anniversary," said Carol Ruckel, Aims Board Chair. "Today marks a very special day because we are dedicating a time capsule to mark the 100th anniversary of Aims!"
"The items we revealed and dedicated were thoughtfully gathered for this time capsule to represent many diverse facets of our college that make up our community, our family," said Aims President Dr. Leah L. Bornstein. "These items will be very symbolic of our strength and commitment to community for our school legacy to see in 50 years! It was a wonderful event to continue the celebration of our 50th anniversary as we build a stronger community and look toward the future." 
The "Arty Underground: The Legacy Continues" event is in conjunction with Aims' 50th anniversary celebration. The College is wrapping up the long-year celebration on November 4th with the "Beat Goes On" celebration and fundraiser to support scholarships through the Aims Foundation.