Aims Community College gives back to the community with a 50th Anniversary Give Back Day at Weld Food Bank
Aims Community College employees volunteered at the Weld Food Bank on Friday, November 17 in honor of the College's 50th anniversary.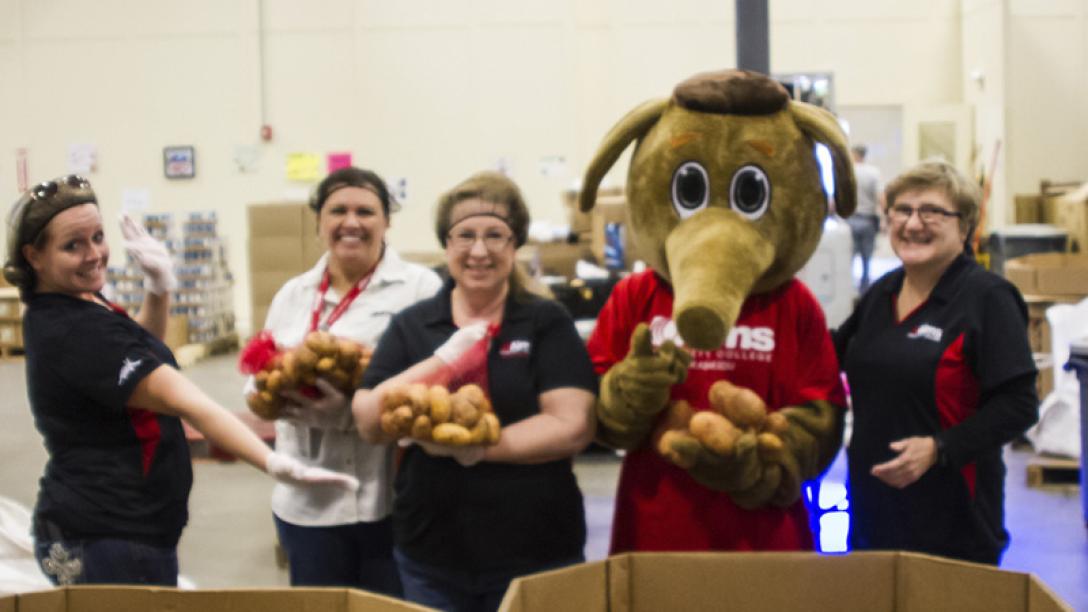 "Our purpose is to build a stronger community, and I can't think of a better way to celebrate our 50th year than by giving back at the Weld Food Bank," said Aims CEO/President Dr. Leah L. Bornstein. "This was a great opportunity before the Thanksgiving holiday to show our appreciation for the community who has supported us the past 50 years."
The event was organized through the Aims Staff Association, an internal committee for staff members of Aims, that encourages employees to contribute to the goals, mission and vision of the college. Arty the Aardvark, Aims' mascot, joined the 16 employees who volunteered their time. Aims employees have 30 hours of leave available to them each year that they can use for local and community volunteer activities as part of their benefits.
Weston Edmunds, communications manager at the Weld Food Bank said, "Volunteering is very important to the success of Weld Food Bank. We cannot effectively address the issue of hunger in Weld County without community members giving of their time. That is why we are so appreciative of partnerships like the one we have with Aims Community College. For 50 years they have served the community, and we were honored they celebrated that milestone by volunteering at our warehouse."
About Weld Food Bank
Weld Food Bank is a member of Feeding America and was founded in 1982. Weld Food Bank's mission is to lead and engage our community in the fight against hunger. We distributed 13.9 million pounds of food last fiscal year through our over 80 nonprofit partner agencies and through seven direct service programs which include Kids Cafe, Backpacks, School Food Pantries, Summer Feeding, Senior Outreach, Mobile Food Pantry, and Emergency Food Boxes. On average we serve over 58,000 individuals each year. For more info please visit the Weld Food Bank.