Aims Community College's Aviation Program Positioned for Takeoff as it Turns 50
As Aims Community College's Aviation Program turns 50-years-old, it is focused on providing leading-edge technology in flight operations and air traffic control for students.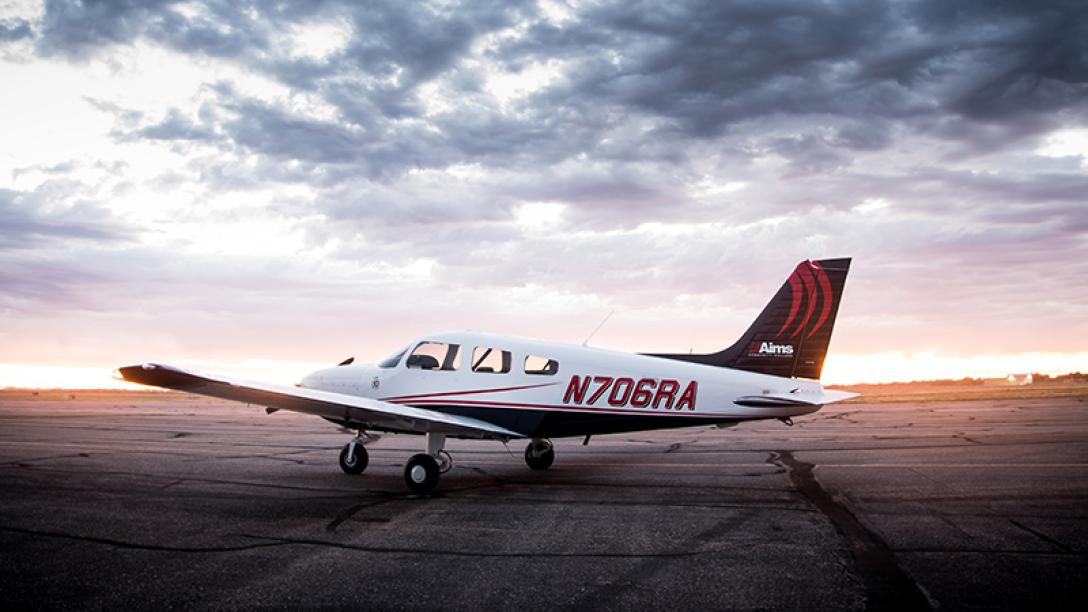 Aims Community College's Board of Trustees yesterday approved moving flight operations to NoCo Regional Airport, while offering classroom instruction in Weld County. Flight operations for the past 50 years have been primarily conducted at the Greeley-Weld County Airport with more than a decade of helicopter instruction at NoCo Regional Airport. 
"On behalf of the Aims Community College Board of Trustees, we want to extend our sincerest gratitude to the Greeley-Weld County Airport for hosting our aviation program over the past 50 years," said Dr. Ray Peterson, Aims Board of Trustees Chairman. "Greeley-Weld County Airport has been a great partner, and this decision for a change in venue was made with the student at the heart of it. As we look to the next 50 years in Aims Aviation, NoCo Regional Airport better positions Aims Community College to grow and modernize our aviation educational experience for the student with cutting-edge technology at a commercial airport."
NoCo Regional Airport is located in Aims' service area near highway I25 in Loveland. This airport offers the student a commercial aviation experience as well as a remote air traffic control tower. Seventy percent of Aims aviation students reside outside Aims' taxing district. Classroom instruction will continue to be held in the taxing district of Weld County.
"NoCo Regional Airport maximizes visibility, access and convenience for Aims students, particularly our veterans who make up one-third of the aviation student population," said Mark Hout, Aims Board of Trustees Treasurer. "Although this decision wasn't easy, it ultimately came down to what is best for students."
A recent study by Boeing measured the long-term demand for pilots and technicians, and found that 617,000 new airline pilots would be needed, worldwide, over the next 20 years. Over the past 50 years, there have been nearly 900 student experiences at the Greeley-Weld County Airport. 
"The global demand for pilots and the aviation student market, including the veteran population, is more than double by relocating to the NoCo Regional Airport," said Lyle Achziger, Aims Board of Trustees Secretary. "As a veteran, I'm looking forward to seeing increased veteran attendance at Aims. 
In December 2017, Aims received five newly leased 2017 Piper (PA-28-181) Archer III TX Aircraft Trainers, replacing the single engine Cessna 172s.
"I'm very excited for the next 50 years in Aims Aviation," said Aims Board of Trustees member Carol Ruckel. "Aims is focused on providing aviation students the technical skills and modern proficiencies needed to be competitive in the technologically advanced aviation industry."  
Additionally, Aims Community College is modernizing the Air Traffic Control (ATC) Terminal Radar Approach Control (TRACON) Lab with a state-of-the-art Adacel Tower Simulator.
"The decision for flight operations at NoCo Regional Airport, new aircraft and a new tower simulator are coming at a time when pilot and air traffic controller jobs are in high demand," said Aims Board of Trustees member Gene O'Hara. "This is the perfect time for anyone who wants to become a pilot or air traffic controller to take advantage of the opportunities that are before them. Aims is striving to become the first choice and recognized leader in aviation education for Colorado as we build a stronger community."
The RAND Corporation conducted a similar study to Boeing's in 2015 and found the major airlines would need between 4,000 and 5,000 pilots a year after 2020, and regional airlines would need upwards of 7,000 new pilots a year by 2021. The U.S. Dept of Transportation, in 2016, published a 10-year strategy/plan whereby they state over 1,400 controllers would need to be hired per year for the next five years. Recently, the Denver Post reported Great Lakes Airlines suspended many flight operations due to pilot shortage.
"I'm so proud Aims has come up with solutions for its aviation program that match its vision for the next 50 years, while keeping the student at the forefront of the decision-making process," said Aims CEO and President Dr. Leah L. Bornstein. "Aims Aviation has been well-known in the industry since 1968, and these significant modernization efforts, along with quality instruction, are such a great value for students." 
Apply today at www.aims.edu to learn from experienced aviators. Eric Himler, Aims director of aviation leads a talented group of faculty and staff. Himler has over 25 years of experience flying in general, military and commercial aviation. Himler is a veteran who served for 20 years as a Naval Aviator. His flight experience includes: Marine KC-130 Pilot, Blue Angel C-130 Demonstration Pilot and First Officer for Alaska Airlines. He has numerous FAA certifications and ratings including an Airline Transport Pilot Certificate and a B-737 type rating. 
About Aims Aviation
Aims offers successful graduates an FAA approved endorsement for the Restricted Airline Transport Pilot rating (R-ATP) at reduced hours. Aims currently offers three Associate of Applied Science degree programs in aviation: general aviation pilot, professional pilot and air traffic control. Students are given the opportunity to receive one-on-one instruction is new aircraft and state-of-the-art simulators. Aims is the only collegiate FAA approved Part 141 fixed-wing flight school east of the Rockies in Colorado and is one of only 30 schools in the country to be designated by the FAA as an Air Traffic - Collegiate Training Initiative (AT-CTI) approved school. 

Loveland Reporter-Herald
BizWest
Greeley Tribune
Greeley Tribune Opinion
Coloradoan - Scholarships
Coloradoan - Commercial Airlines