Aims EMS Program Receives Cardiac Monitor/Defibrillator from AMR
Aims Community College's EMS program received a Zoll X Series Cardiac Monitor / Defibrillator donated from American Medical Response (AMR), which allows students to train and practice with equipment that they will use in the field.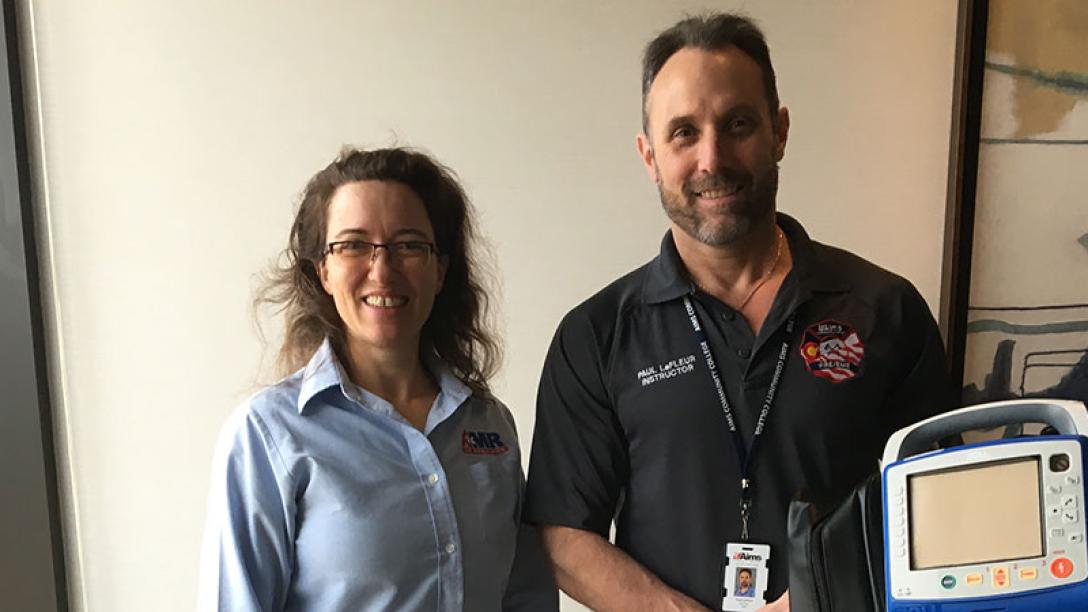 Cardiac monitors and defibrillators are used by first responders to assess the patient's cardiac rhythm and can be used during CPR operations to deliver a dose of electric current to the heart. The Zoll X Series, valued at $26,000, is designed to be used with all patients, infants to adults, and is also integrated with Wi-Fi in order to simplify transmission and charting.
AMR, the largest ambulance service provider in the U.S., donated the Zoll X Series Cardiac Monitor/Defibrillator just in time for the Spring semester classes to begin. Aims plans on implementing the equipment immediately by familiarizing students with this particular model. 
"AMR is proud to support EMS Education in Northern Colorado and at Aims Community College, said AMR representative, Becky Blackett. "We were pleased to donate a Zoll X Series Cardiac Monitor, adding another monitor manufacturer's product to their classroom. Having access to multiple devices, is such an important piece of enabling Aims Community College to prepare their students for work in the field, so they are familiar with the different monitors they will encounter during their ambulance internships and EMS careers," she added.
Becky Blackett (left), Executive Director at AMR, presents a Zoll X Series Cardiac Monitor to Aims EMS instructor, Paul LaFleur (right). AMR donated the cardiac monitor in an effort to train Aims EMS students on equipment commonly seen in the field.
Real-world experience has always been a major role in Aims' curriculum, as students have consistently been encouraged to take a hands-on approach to their education.  
"This cardiac monitor is going to be very important to the EMS students because internship rotations use different types of cardiac monitors," said Paul LaFleur, Aims faculty and EMS instructor. "With this donation, Aims can now put both types of cardiac monitors at each scenario station for students to use. Then, when the students attend their ambulance internships, they will be familiar with the equipment," LaFleur added.
The ability to provide the latest technology is a vital piece to the Aims philosophy. A balance of classroom studies and simulated training is a big part of why Aims has such a successful EMS program. Donations of the current technology and equipment makes this philosophy possible.
Donations may be made through the Aims Foundation. "We cannot begin to thank AMR for their partnership and gracious donation of this state-of-the-art equipment. It is through generous gifts-in-kind such as this, that Aims students receive a top-notch education, ready to enter the workforce with exceptional skills." Kelly Jackson, Aims Foundation executive director said. "Aims continues to build a strong program and produce quality candidates in the northern Colorado workforce thanks to the community support we continue to receive."
About AMR

AMR is a leader in the emergency medical services sector which is known for implementing and providing the industry's best practices. They are committed to making a difference by caring for people in need. Their national reach and extensive experience allows them to deliver a wide range of services to communities nationwide, from managing entire emergency medical systems to private-public partnerships that best serve an area's needs. AMR serves communities all across the country. Their teams have trained more than 183,000 people nationally in compression-only CPR, which means that many more people have a better chance of surviving sudden cardiac arrest. www.amr.net/
About the Aims Community College Foundation
The Aims Community College Foundation (Aims Foundation) is a non-profit educational trust established in 1979 by visionary leaders who saw the value of preparing for the future growth of Aims Community College. The purpose of the Aims Foundation is to endorse and support the mission of Aims Community College through responsible and ethical solicitation, stewardship and investment of funds. www.aims.edu/foundation