Aims Hosts Eighth Annual Car Show at Windsor Campus
Aims Community College hosted the 8th Annual Aims Automotive Car Show at Aims' Windsor campus with over 260 entries.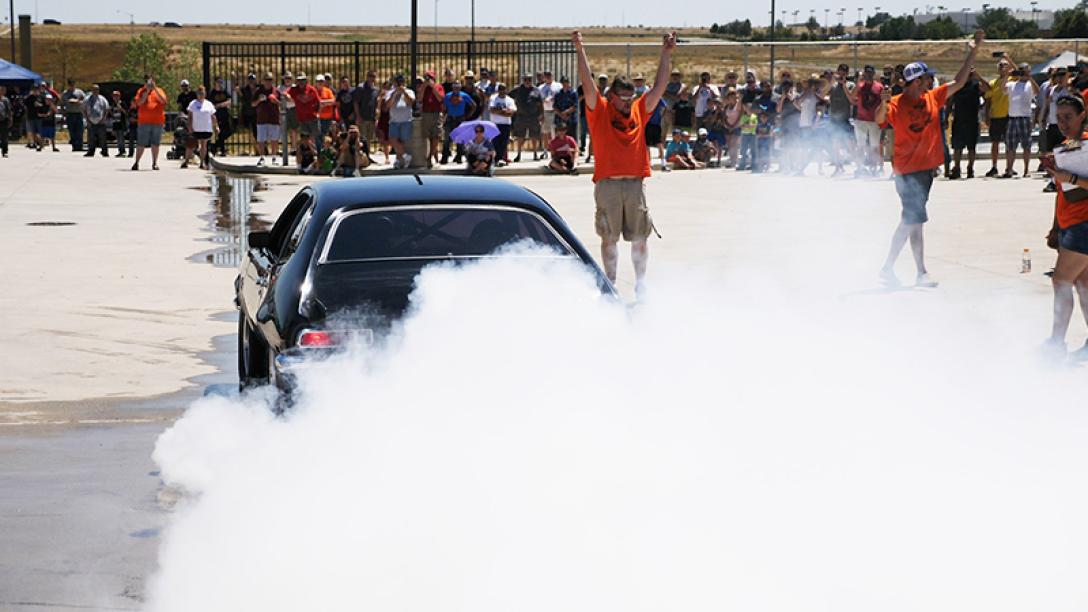 More than 1,000 community members and car aficionados shared the day eyes on a diverse variety of cars from different eras displayed in front of the state-of-the-art Automotive and Technology Center. New to the show was the Burnout Box. Eight cars captivated the crowd with smoking tires, signature to burnout competitions, with the 2018 burnout bragging rights going home with a Chevrolet Camaro.

Throughout the day, Aims Automotive instructors answered questions about the program, and guests toured the Aims facility while they learned about the classes available to the community.

"Aims Community College prides itself on being a diversified institution, and judging by the turnout, northern Colorado automotive enthusiast did their part to support that tradition," said Fred Brown, Director of Aims Automotive Technology. "We hosted an amazing collection of cross-sectional vehicles and motorcycles on a beautiful Colorado day. From 4x4's, Classics, Rat Rods, European, and Asian Imports, a smoking good time was had by all especially the crowd cheering at our first ever Burnout Box."

Awards were presented at the end of the day for "best of show" for each decade dating back to vehicles originally produced in the 1930's. Awards have become highly sought after over the past seven years as the trophies are created by Aims students making them one-of-a-kind and extremely unique. This year's awards are:
NSRA (National Street Rod Association) – Warren Seiler– 1955 Chevrolet 4-Door
Best 1920's & 30's– Bill Elder – 1936 Ford Woddie
Best 1940's – James Eotal – 1947 International Pick Up
Best 1950's – Hugh Chance – 1957 Buick Century
Best 1960's – Ron Rossetter—1967 Lincoln Continental
Best 1970's – Jamie Williams – 1970 Ford Mustang
Best 1980's & 90's – Dean Gebhardt – 1996 Ford Mustang Mystic Cobra
Best 2000's – Gerald Lade – 2002 Pontiac Trans Am
Best 2010 to present – Paul Frey – 2018 Dodge Challenger Hellcat
Best Motorcycle – Stephen Seedorf – 2008 Harley Davidson Nightster
Best Rat Rod – Jay Overholt – 1931 Ford Model "A" Rat Rod
Best 4 X 4 – Rich Bauer – 1941 Willys
Best European – Craig Corey – 1964 Morgan +4
Best Import – Diana Inberg – 2008 Nissan 350Z
Full Throttle Club Pick – Jim Carver – 1965 Mercury Cougar GT
The Aims Automotive programs is nationally recognized. In an outstanding five year run, Aims Automotive Program repeated top podium finishes in the 2018 National SkillsUSA Competition, resulting in back-to-back National Championships. Presentation of the SkillsUSA Medals were awarded to Aims' students Michael Kunkel, silver medal as second in the nation in the new Estimating Competition and Jo Boden, bronze medal as third in Collision Repair. Jo also gained the recognition of being the first female Aims student to compete at Nationals as well as the honor of the highest finish by a female in Collision Repair in SkillsUSA history.

Aims is dedicated to providing the best learning environment possible to prepare students with the knowledge and tools to move onto the next phase of their life. Whether students are looking to start a career in the automotive industry or are getting additional training for their current job or project, they will learn from instructors with years of experience working in the field and in a facility that is set up to mimic real-world auto body shops.

The demand for qualified automotive body repair technicians will increase eight percent over the next decade, a better than average outlook compared to other fields, according to the Bureau of Labor Statistics. The average salary of auto body technicians is $41,970.
About Aims' Automotive and Technology Center
Opened January 2010, this 45,000 square-foot facility is home to the Automotive Service Technology and the Automotive Collision Repair programs. The facility has a state-of the-art full service repair shop including paint bays and an upholstery shop. Featuring an automotive simulator lab, computers at every seat and a student lounge, the Automotive and Technology Center creates a first-class environment for students with general education offerings so students can complete the majority of their degree requirements on site. Classes are offered during the day, night and weekends at the Aims' Windsor Campus just north of Iron Mountain and Highway 34. Learn more about Aims' Automotive Programs