Aims Student Named 2017 Coca-Cola Leaders of Promise Scholar
Aims Community College student, Lan Nguyen, is one of 207 Phi Theta Kappa Honor Society (PTK) members named a 2017 Coca-Cola Leaders of Promise scholar.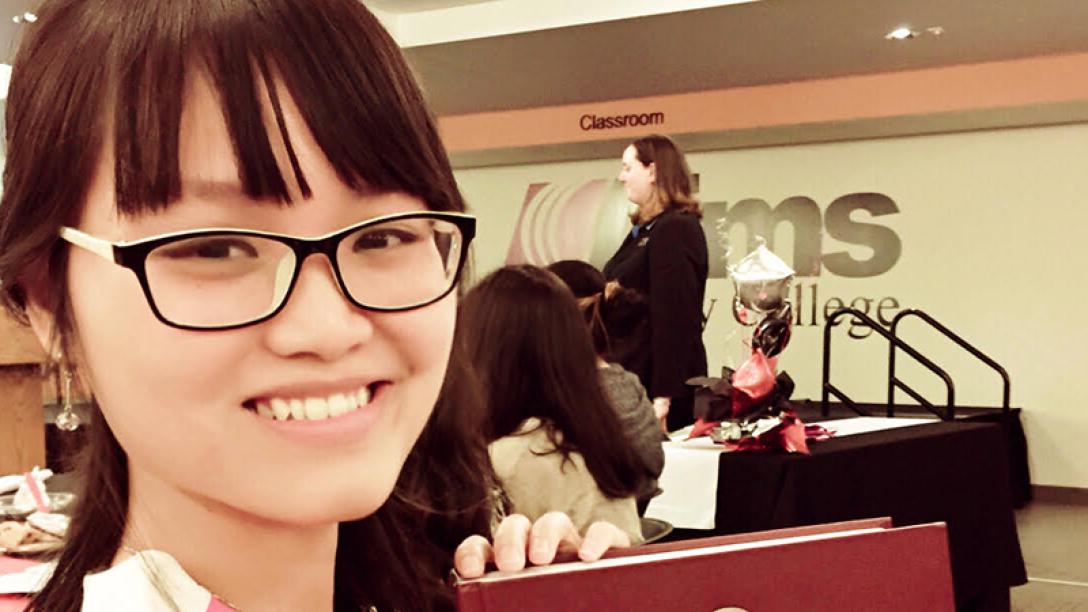 The Coca-Cola Leaders of Promise Scholarship helps students with educational expenses while enrolled in an associate degree program. The scholarship program also encourages recipients to assume leadership roles and winners are selected based on scholastic achievement, community service and leadership potential. Nguyen, who now resides in Evans, Colo. was selected from nearly 1,000 applicants nationwide.
Nguyen is an international student from Vietnam who has worked hard to maintain high grades and participated in many community service projects such as Operation Smile, where she traveled to developing countries and helped children recover after cleft lip and palate repair surgeries. Nguyen has also completed programs in her home country where she was a math tutor for underprivileged youth and helped the homeless gain access to beds and clothes.
Nguyen plans to use the money to pursue a degree in chemistry for a career as a chemical engineer. After Aims, she would like to transfer to Colorado School of Mines and then MIT to continue her education. "This scholarship will help me very much for my tuition," said Nguyen. "I'm very thankful for Phi Theta Kappa to grant me this scholarship."
"Ms. Nguyen has shown dedication in her studies and passion for helping her community; therefore, this scholarship could not have been awarded to a more deserving student," said Aims President, Dr. Leah L. Bornstein.  
The funds provided by the Coca-Cola Scholars Foundation not only aid college completion, but also give students the opportunity to engage in Society programs and develop leadership skills to become future leaders in their communities. 
"The Coca-Cola Scholars Foundation has a long history of providing financial assistance to outstanding students at community colleges," said J. Mark Davis, President of the Coca-Cola Scholars Foundation. "We are proud to partner with Phi Theta Kappa, make it possible for more deserving students to achieve their educational goals, and support tomorrow's leaders of the global community."
About Coca-Cola Leaders of Promise

The Coca-Cola Leaders of Promise scholarship program provides new Phi Theta Kappa members with financial resources to help defray educational expenses while enrolled in a two-year college in order to develop leadership potential through participation in Phi Theta Kappa programs.
About Phi Theta Kappa

Phi Theta Kappa Honor Society, also ΦΘΚ or sometimes PTK, is the international honor society of two-year colleges and academic programs, particularly community colleges and junior colleges. It also includes associate's degree-granting programs offered by four-year colleges. It is headquartered in Jackson, Mississippi and has more than two million members in more than 1,250 chapters.