Aims Student Selected as a 2018 Coca-Cola Academic Team Gold Scholar
Aims Community College student Hannah Sullivan of Loveland was selected as a 2018 Coca-Cola Academic Team Gold Scholars and will receive a $1,500 scholarship.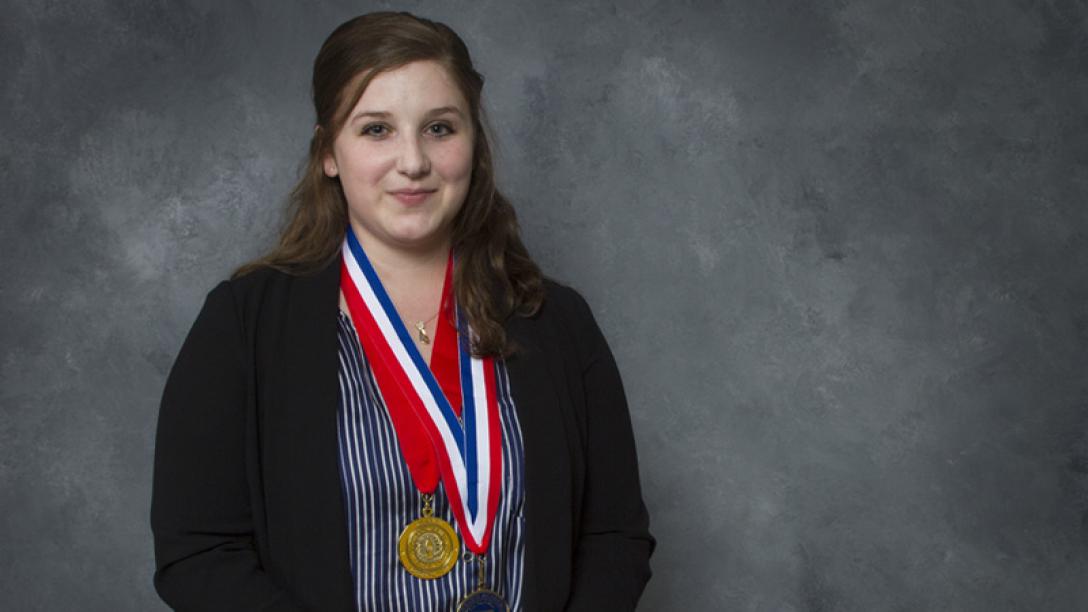 Hannah is the president of the Aims chapter of the Phi Theta Kappa Honor Society (PTK) and will graduate with her associate of arts degree this spring. Hannah is a U.S. Army veteran and will return to the Army to serve as a commissioned officer in the Colorado National Guard after completing her education.
The Coca-Cola Scholars Foundation sponsors the Coca-Cola Academic Team program by recognizing 50 Gold, 50 Silver and 50 Bronze Scholars with nearly $200,000 in scholarships annually. Each scholar will also receive a commemorative medallion. Students are nominated for the academic team by their college administrators. Selection is based on academic achievement, leadership and engagement in college and community service. 
"This scholarship means a lot," Hannah said. "PTK has been crucial to my education, and I think this opportunity will open doors for my future and continuing education."
After graduating from Aims this spring, Hannah plans to transfer to Colorado State University as a cadet in the Reserve Officers' Training Corps (ROTC) to earn her bachelor's degree in psychology. The ROTC prepares college students to receive a commission as a Second Lieutenant in the U.S. Army while also earning her degree. Her goal is to become an Army Physician's Assistant.
"I am so proud of Hannah and thrilled she was recognized as a Coca-Cola Academic Team Gold Scholar," said Aims CEO and President Dr. Leah L. Bornstein. "Her hard work at Aims and with Phi Theta Kappa will take her far. Scholarships like these are integral to the success of students reaching their educational and career goals, which ultimately builds a stronger community."
Phi Theta Kappa will recognize the 2018 Coca-Cola Academic Team Scholars on stage at the annual convention, PTK Catalyst on April 19-21 in Kansas City, Missouri.
About Coca-Cola Leaders of Promise

The Coca-Cola Leaders of Promise scholarship program provides new Phi Theta Kappa members with financial resources to help defray educational expenses while enrolled in a two-year college in order to develop leadership potential through participation in Phi Theta Kappa programs.
About Phi Theta Kappa

Phi Theta Kappa HonorSociety, also ΦΘΚ or sometimes PTK, is the international honor society of two-year colleges and academic programs, particularly community colleges and junior colleges. It also includes associate's degree-granting programs offered by four-year colleges. It is headquartered in Jackson, Mississippi and has more than two million members in more than 1,250 chapters.