Alumni Spotlight - Carrie Thompson
Like all of us, Carrie was drastically affected by the COVID 19 pandemic. Not only is it hard to keep a business going, but it's hard to keep going mentally being isolated for so long.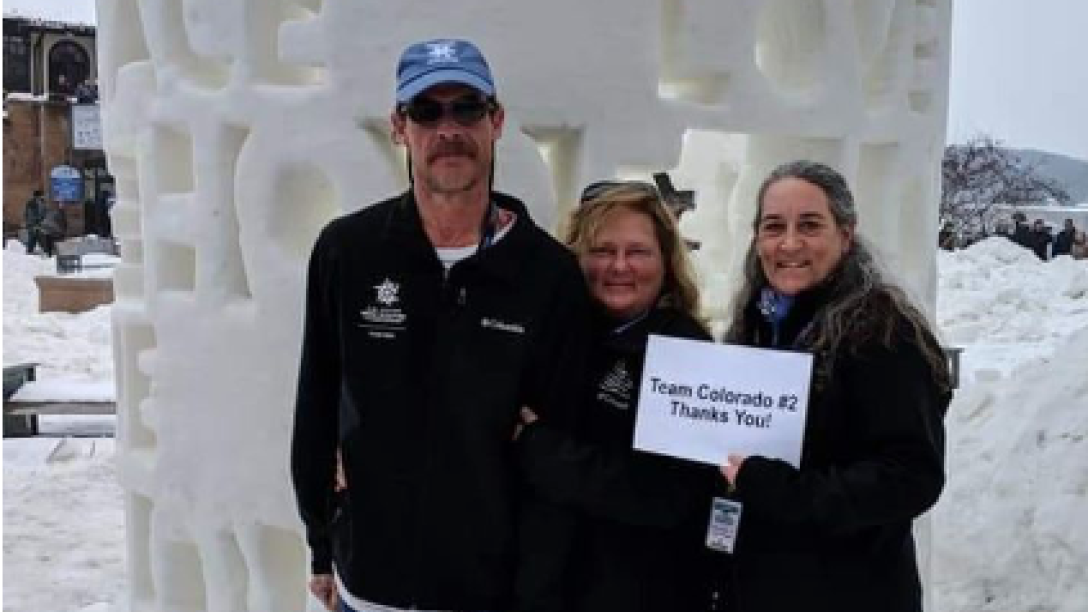 Reaching out to Carrie brought some light into the darkness of isolation and sense of human connection as she shared her story. Tears brimmed as she discussed all the happy memories and the simple fact that despite whatever we go through in this life, hope will always remain…
Carrie's journey with Aims starts back several years ago….
One day Carrie Thompson found herself looking at all the years of hard work put into this family business. Her family had several successful businesses, but this one just wasn't flying. As a single Mom she had to really give thought to her decisions and what would be best for the future of not only herself, but the ones who depended on her.

One day she had a serious conversation with her dad. He asked her, "If you could do anything, what would it be?"

Carrie thought about it and then replied, "I would go to school, go to college."

And that was all it took to convince Carrie that this was the next step! The next thing she knew, she found herself walking right into the local Aims Community College campus and simply said, "I'd like to go to college!"

It was as simple as that! She didn't know anything about Higher Education at all. All she knew was her family businesses. This was a huge step that initially seemed pretty daunting. However, she soon found that stepping out in such a way would have a lasting impact that would change her life as she knew it.

Going to Aims gave Carrie the flexibility to dabble in different areas. She knew she wanted to go to school and as she started trying different courses, Carrie started to find her passion. She enjoyed the Aims environment where she really felt welcomed and able to interact with all generations. She was able to develop a support group with those around her, including the professors. Studying at Aims as a non-traditional student allowed for a smooth transition to UNC where she ironically was able to take a few classes with her daughter as well. So Carrie not only graduated with an Associate's degree from Aims, but she also went on to earn her Bachelor's degree in Communications at UNC.

She was so grateful for her time at Aims as it gave her courage to try many new things! She learned  how to do snow sculpting and went on to compete in national competitions! Snow sculpting is a bit like sand sculpting – only much colder! They make the snow with a snow machine. Then with a team of individuals along with various tools, you have a certain length of time to complete your project. She will never forget the experience of competing at the national level. At -28 degrees Fahrenheit, this was some of coldest weather she had experienced. The competition took place at Lake Geneva and everything around her was frozen. The temperature was so cold, they weren't even able to start sculpting the first day. When they finally were able to begin, Carrie's eyelashes froze within minutes.  Despite the rigid temperatures, her team pressed on to bring the design from their imaginations into reality. They had four days to complete their masterpiece. They worked hard to uncover the fine details and intricately carve out the words "Peace, Hope and Love," bringing their creation into existence. After several hours of applying intense focus, heart, skill, and passion; the design was finished. It was a beautiful piece! The words "Peace, Hope and Love" had spun all around the piece and spiraled into the heavens.

Unfortunately, their masterpiece was short lived. The temperature had rose 60 degrees in such a short time period. When they had come out of the awards ceremony, they went to check on their design. They were surprised to see that of the three words, the only word that had remained untouched was the word "hope." This simple resistance to melt despite the intense rise in temperature, proclaimed a lasting reminder to Carrie. It proclaimed loud and proud that no matter what we go through in this life, we will always have hope.

That's Carrie's message to the Aims community: Despite whatever you are going through during this pandemic and unprecedented times, just know that "hope" remains.