Alumni Spotlight - Chris Dinkle
As a young child, Chris spent hours searching the sky for planes. Like most children, he was fascinated with any remote control gadget that flew.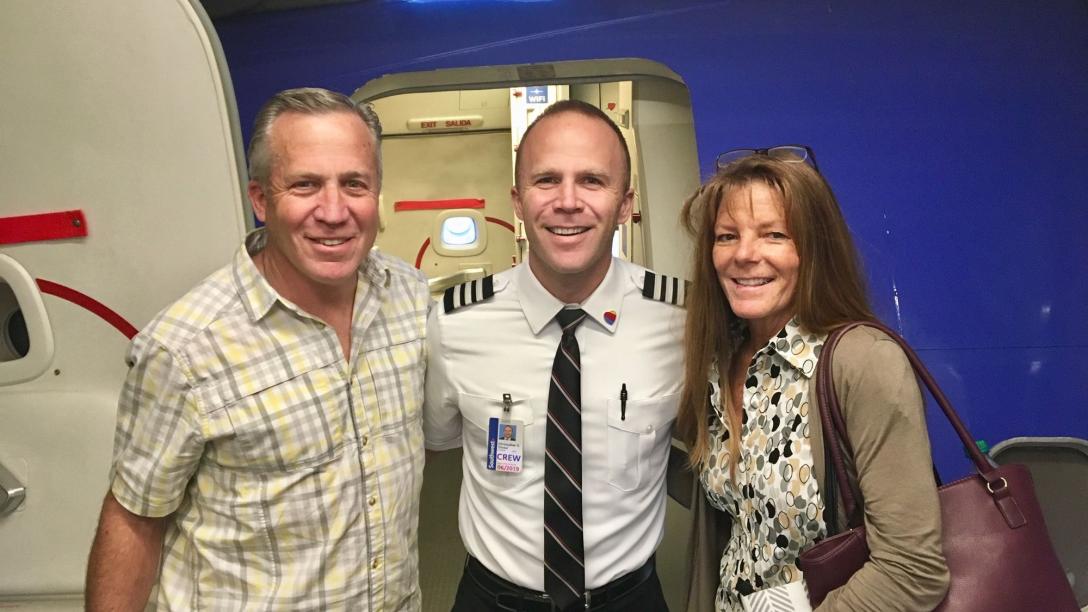 Little did he know then all the adventures he would have, from sleeping under the wings of a plane, to meeting famous people, and flying to exotic locations. The heart of this pilot is full of passion for a dream achieved, and a sense of wonder that will never be replaced.
The airline industry has been severely impacted by the COVID-19 pandemic. Flights are cancelled, health and safety regulations change daily. However, the heart of this pilot stays hopeful. His passion for flight and child-like sense of wonder have remained intact through the uncertainty.

Chris Dinkel, a pilot for Southwest Airlines, was born and raised in Greeley, CO. He recalls a defining moment at ten years old when he was invited to travel in a private jet from Greeley to El Paso. This was a dream come true for Chris and he soaked up every moment. He recalls sipping cans of soda in the back of the plane as his friend, Leonard, pointed out the sights. "There's Pikes Peak… there's Alamosa."

Although that flight was a defining moment for Chris, he didn't think much about it until after high school. That's when he called Leonard, enrolled in the professional pilot program at Aims, and was flying planes by the next week! Leonard, an Aims alumni, showed Chris the ropes and got him well acquainted with the campus.

Chris attended Aims Community College and simply enjoyed the process. He chose Aims because it was affordable and "right in the backyard." He is extremely grateful for the low tuition and scholarships that helped him along the way. His favorite memory at Aims was flying to Oshkosh, WI for a the EAA AirVenture show, where he and some friends literally slept under the wings of their aircrafts.

 "Flying at Aims gave me all the skill set I needed to help have a wonderful aviation career. There's not even another school that I would even think of getting a better education. I got a solid foundation at Aims to build my career on – not only a career, but a life to provide for a family in the future,"

After graduating from Aims, Chris flew for Great Lakes Airlines, a small regional airline in WY. The smaller sized operation afforded Chris the opportunity to take on more responsibility and to advance quickly. He developed many strong relationships and eventually became a captain at only 24 years old!

After Great Lakes, Chris moved on to XO Jet, flying the rich and famous. This role gave him the opportunity to see many exotic places and meet amazing people. Although he really enjoyed his time, Chris wanted to pursue commercial aviation because it provided a better work-life balance. He endeavored to get hired by Southwest Airlines.

Once he finally achieved his goal of being part of Southwest, his happiness and overall quality of life shot through the roof! He is so grateful for where he is now and the experiences that brought him here. He loves all of the opportunities and doors that aviation can open. Chris said of his career, "You don't just have to read about Europe. You can go there!" and he added, "You don't have to buy wine from the bottle. You can drink it straight from the vineyard!"

Reflecting on his life, and all of his adventures, challenges, and dreams achieved, Chris says his best piece of advice is to "Always try to improve yourself. Learn something new everyday and always take time for questions. If you don't like what you're doing, change it. Whatever you do, do it to the best of your abilities."

Chris is a great example of this, as his hard work and persistence led him into taking incredible adventures and doing what he truly loves. Life is short and things always change, so whatever we are going through right now and whatever you are doing, "do it to the best of your abilities."