Alumni Spotlight - Kim Joiner
Kim Joined Aims in 1995 as the Assistant Director for the Childcare Center then in operation.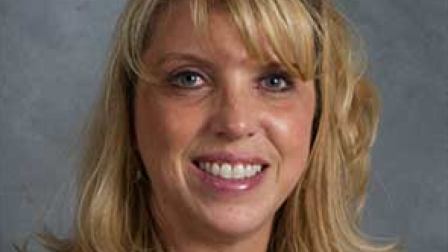 When the childcare center was closed in 2010 Kim did not want to leave Aims; as a result, she transitioned to a Financial Aid Advisor position.  "I'll never forget this. The last week at the childcare center, President Dr. Liddell personally came and checked on me three times. She also sent me a letter about how important I was as an employee and praised my positive attitude." Kim used this opportunity to learn and grow, as she has always loved a challenge and the chance to problem-solve.
In this new role, Kim decided she wanted to pursue her associate's degree at Aims. After a semester, Kim was accepted into Phi Theta Kappa, the honors fraternity. Her first reaction was to disregard it, thinking "this isn't for me." That changed when she met with Ron Fay in Student Life; he told her, "Yes, Kim – this is for you!" It was a pivotal moment for Kim. Through Ron's urging, she ended up running for a PTK office, even though she thought she wasn't smart enough. It turned out she was more than smart enough. She served as Vice President for one year and President for two, prompting Aims to send her to the international PTK conference; an incredible experience for her.
 "When you're sitting in a room with 4000 honors students from all over the world and you're one of them… it was overwhelming because I was good enough to be there."
In 2011 Kim completed her Associates of Arts and thought she was finished going to school for good. The Universe, however, had more plans for her.  One of her coworkers, Leah Shaer, was attending Colorado State University as a non-traditional student and was so enthusiastic about it that Kim caught the bug too. Six months later she was enrolled at CSU global campus.
Halfway through her journey at CSU Kim was diagnosed with breast cancer. With this devastating news, Kim made a decision to view it as, "just another obstacle to get through."  Using her education as both motivation and diversion Kim threw herself into her studies and graduated cum laude with a degree in Organizational Leadership while continuing to work full time at Aims. During this chaotic time Kim was grateful for her colleagues at Aims who rallied around her and supported her every step of the way. Her husband Robert, her family and friend, Vicki Lovato, convinced her that she was stronger than the cancer and after four surgeries and many radiation treatments, Kim was deemed cancer free.
After obtaining her bachelor's degree Kim was glad to be (again), "done with school!" However, a few months later as she was hosting a Financial Aid table she just happened to meet the people hosting the Colorado Christian University table and within a month she enrolled there. She received her master's degree in Organization Leadership from CCU in 2018 and felt it was the hardest thing she had ever done. She has since presented her master's thesis at a national conference and has also published her work from this time.
Back in 2017, Kim decided to make the move from Financial Aid to Recruiting as she wanted to share her passion for Aims with prospective students and help the community. Today Kim is working closely with the Immigrant and Refugee Center in Greeley to help students learn about the many opportunities available at Aims. She is also serving as the President of the Executive Board of Directors on the Greeley Dream Team and was recently accepted as a 2019 Leadership Northern Colorado cohort. Kim was also the recipient of the 2013 "Live United Award" presented by the United Way of Weld County for forming a committee to initiate a resource fair that was held four times over two years; a prestigious distinction in and for Weld County.
Kim's story is and continues to be an inspiration. Aims is certainly proud to have her as part of the family and will continue to support her in all that she does. When asked what she would like to share with people who may be facing similar difficulties, Kim states, "Life will always put obstacles in our path. It is what we do with those obstacles that matter, so use every opportunity to learn, grow, celebrate and be thankful." Thank you Kim.