Programs
Apply to graduate by February 22, 2023 to include your name and degree in the commencement program.
For more information on how to apply to graduate and answers to frequently asked questions, see the graduation page.
Participate
Order regalia by 9:59 p.m. MT on Saturday, April 1, 2023.
The commencement ceremony registration deadline ends at midnight (MT) on April 21, 2023.
Cap and Gown Pickup
Starting on May 4, 2023, you can pick up your cap and gown at the Aims Bookstore located in the Student Commons on the Greeley Campus.
Contact the Bookstore for current hours.
If you're looking for cap and gown pickup information, details on what to bring to the ceremony, parking information and more, read these important commencement ceremony details.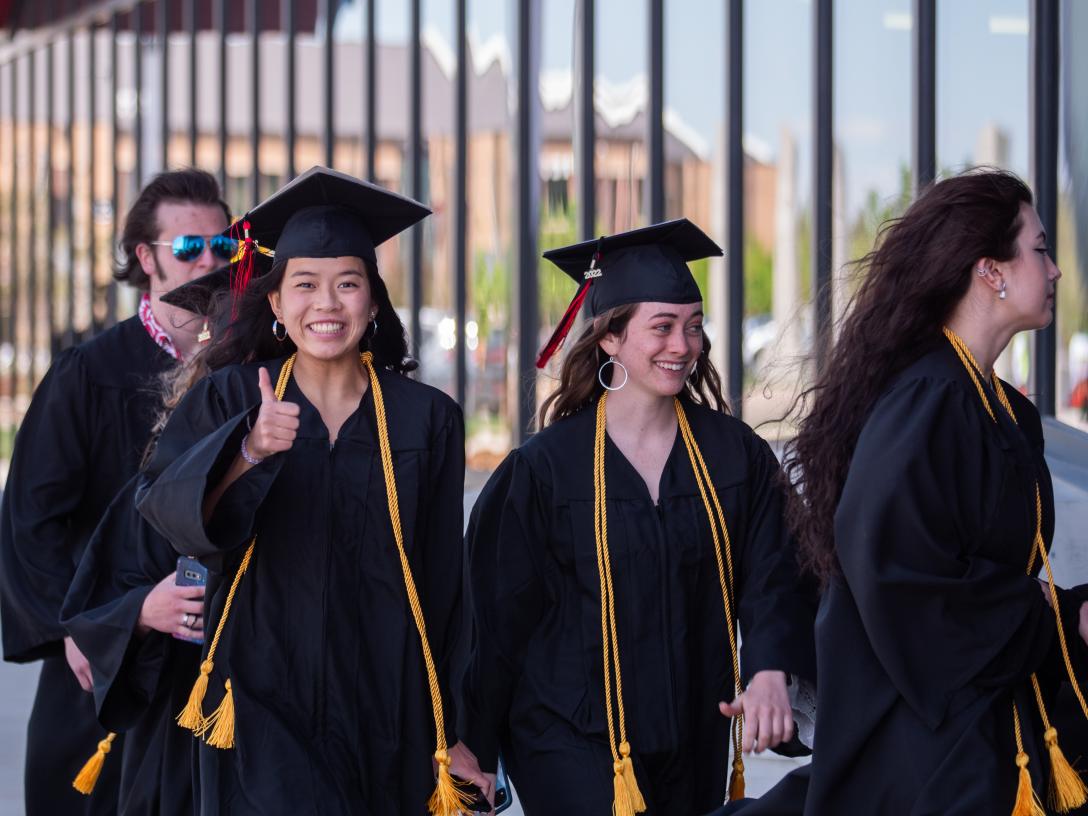 Check-in time for graduates attending the 12 p.m. ceremony begins at 10:30 a.m.
Check-in time for graduates attending the 5 p.m. ceremony begins at 3:30 p.m.
Wear your cap & gown to check in. Be prepared to open your gown for visual inspections.
Any cap mortar board decorations that raise the height of your cap are not allowed and will be asked to be removed.
Backpacks are not allowed. Please do not bring bags, purses, etc. as there is no secure location to store them.
All graduates will line up in the staging area as directed by check-in staff.
Family, friends or other guests are not allowed in the graduate check-in area.
Doors open to guests 90 minutes before each ceremony.
Commencement ceremony seating is available on a first come first served basis. There are no tickets.
Accessible parking spots will be available in the Welcome Center north parking lot. Vehicles must have a placard or license plate on display.
There will be a drop off area and shuttles available. 
Guests can watch a livestream of commencement from home or in the event that the auditorium fills up before the ceremony.
Please be aware that the Aims Clear Bag Policy is in effect for the commencement ceremony. 
To request seating accommodations or get answers to other questions related to accommodations, call 970-339-6388 or email disabilities@aims.edu.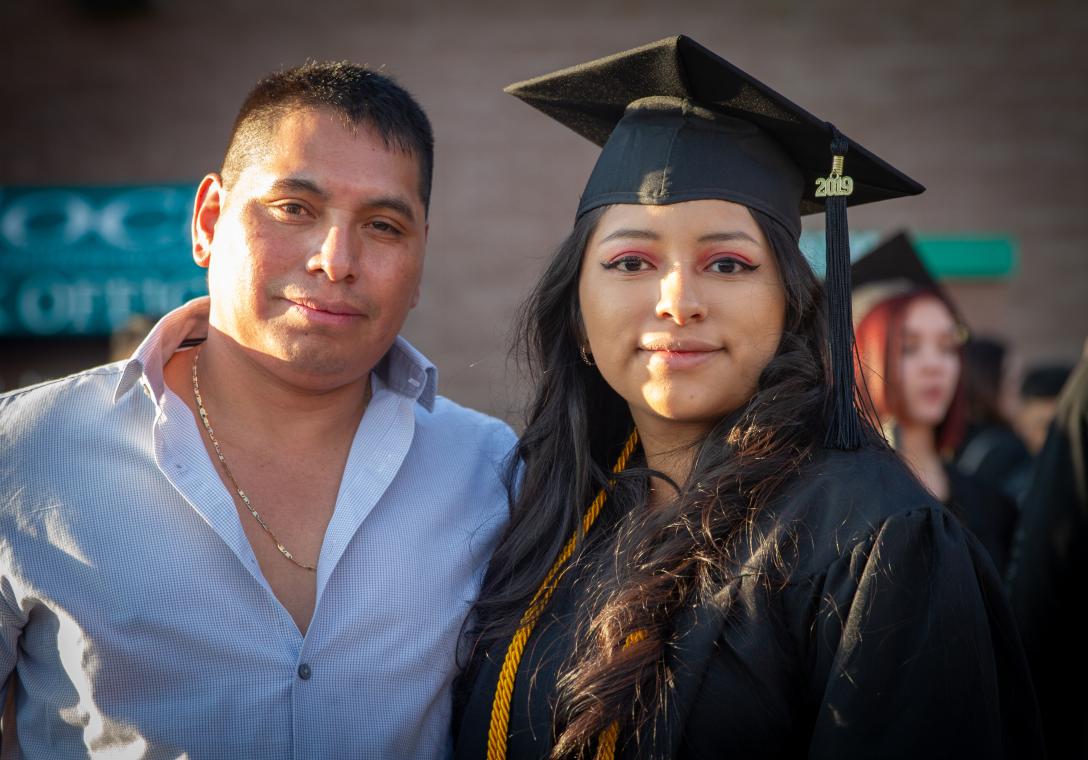 Clear Water Bottles Only
To ensure a safe environment and experience for all attendees, only clear water bottles are allowed in the Welcome Center for Aims commencement Ceremonies. Guests will be asked to return water bottles that don't comply to their vehicle or otherwise dispose of the item upon entry.
Clear Bag Policy
Aims Community College is committed to providing a safe environment for students, employees and guests. To expedite entry into the auditorium and ballroom, Aims has implemented a policy limiting the type and size of bags allowed into the venue. Exceptions to this policy will be made for medically necessary items after a thorough inspection.
Prohibited items include but are not limited to: Purses larger than a small clutch bag, briefcases, backpacks, computer bags or any bag larger than the permissible size.
The following bags are permitted in the Welcome Center:
Bags that are clear plastic, vinyl or PVC and do not exceed 12" W x 12" H x 6" D
One-gallon clear plastic bags (Ziploc or similar) are permitted
One (1) personal item such as a small clutch or wallet not exceeding 4.5" x 6.5" in size
Guests are allowed one (1) large clear bag – either the 12" W x 12" H x 6" D clear bag or one-gallon Ziploc style bag – plus one (1) small personal item.
Academic regalia is a tradition that signifies your new status as a graduate and unites the graduating class together. Regalia can be ordered through the Aims bookstore and includes a black gown, black mortar board, and black and red tassel. Participation in the ceremony involves significant walking, including on stairs, and graduates are encouraged to wear comfortable shoes.
Accessories
Approved stoles, cords and pins provided by formally recognized programs, departments, clubs and organizations may be worn for the ceremony.
Mortar Board Decorations
Aims welcomes the tasteful decorating of your mortar board. Please be respectful of other graduates sitting behind you. All decorations must be flat to the top of the mortar board.
Tassels
Graduates may choose to wear either the standard black and red tassel or the PTK gold tassel. Souvenir tassels are not permitted for the ceremony.