Board of Trustees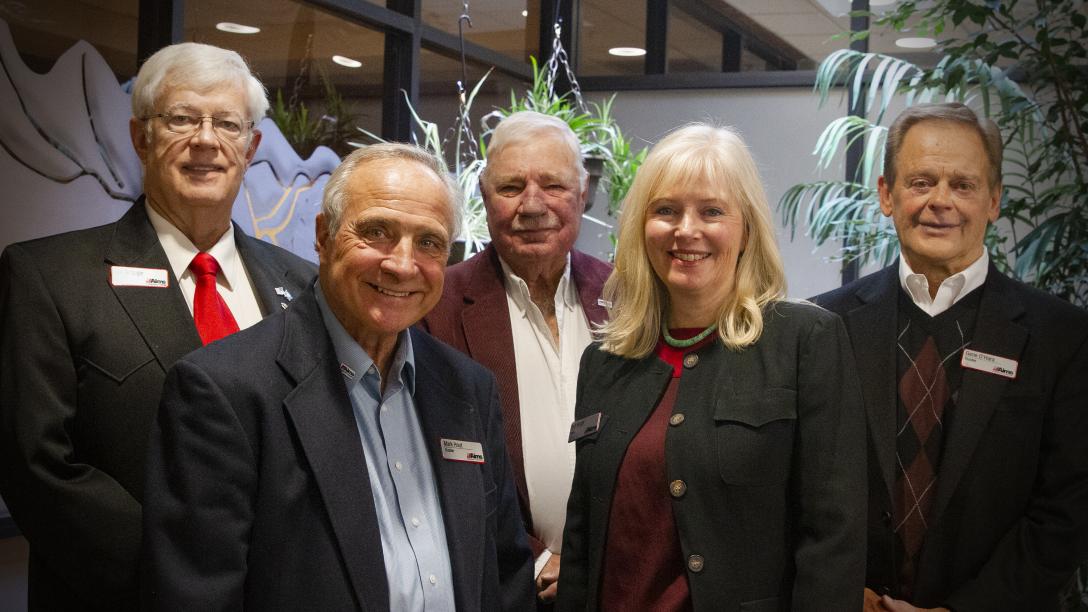 The Aims Junior College District is governed by a five-member Board of Trustees. Each trustee is elected to a four-year term by voters in the college's taxing district. This includes all of Weld County, plus small portions of Adams, Larimer, Logan and Morgan counties and the city and county of Broomfield. 
The Board is composed of one member from each of the five districts. Together, these elected individuals have the overall responsibility of managing the college in conjunction with the president of Aims, Dr. Leah L. Bornstein.
| Board Meeting Date | Board Agenda Items Due (at noon) | Board Meeting Location |
| --- | --- | --- |
| Wednesday, October 20, 2021 | Wednesday, October 6, 2021 | Windsor Campus |
| Wednesday, November 10, 2021 | Wednesday, October 27, 2021 | Greeley Campus |
| Wednesday, December 15, 2021 | Wednesday, December 1, 2021 | Greeley Campus |
2020 - 2021 Board Priorities
In 2017, the trustees approved a new purpose, vision, mission and set of five core values for Aims. The board sets priorities for each school year to ensure the work being done will uphold these tenets. 
The following board priorities for 2020-2021 were approved in September 2020:
Continue the growth and improvement of the Trustees of Aims Community College.


a. 

​​​​​​

Participate in local and national conferences. 


b. 

Collaborate with other local institutions as opportunities present.




c. Continue Board assessments. 

Continue to advocate for Aims Community College locally, statewide and nationally. 


a. 

Look for and take opportunities to connect with political representatives and the community at all levels using the 2019-2020 Report to the Community as a guide

. 
b. 

Support Aims' CEO/President in maintaining contract lobbying position and its function.

Support the College in accomplishing the 2018 - 2023 Strategic Plan. 

Support the CEO/President in addressing all the challenges presented by the COVID-19 pandemic.

Continue looking for opportunities to impress upon our CEO/President, faculty and staff the appreciation of the Board and the communities it represents for the incredible job they perform. 
The CEO/President has separate goals in working alongside the Board of Trustees to uphold the college's purpose, vision and mission. These can be found on the Office of the President Overview page.
2020 - 2021 Board of Trustees: Member Bios
The following five individuals make up the current Aims Community College Board of Trustees.

Lyle Achziger's connection with Aims Community College began in 1971 as a student, following four years of military service in Vietnam. He later became a faculty member and chair of an advisory council. 
Achziger's service in the community through the years includes the following:
Mayor of Evans

Councilman in Evans

Chair of the North Front Range Metropolitan Planning Organization

Active life member of VFW and Leadership Program of the Rockies
Achziger places high importance on fiscally responsible management as well as the best ways to utilize today's technology. He believes that appropriate education of our youth is critical to a strong and sustainable economy.
Term: 2015 - 2019; 2019 - 2023

Mark Hout attended Kent State University, the University of Northern Colorado and Aims. He's owned UNI Design, a commercial and residential construction and remodeling company in Weld County, since 1977. 
Hout has been involved with the following organizations:
Centennial Rotary

Aims Construction Education and Management Advisory Committees

School District 6 Advisory Committees

Greeley Chamber Current LGBC Committee Member

Board of Directors at A Woman's Place 
Hout wants to be a part of helping school districts create programs that some students otherwise wouldn't be able to afford.
Term: 2015 - 2019; 2019 - 2023

Gene O'Hara earned his Doctorate of Pharmacy from the University of the Pacific. His professional career spans nearly 40 years in the medical administration field.  
O'Hara served as an adjunct faculty member at the University of Northern Colorado, College of Business. He is currently the Chief Executive Officer at the Colorado Plains Medical Center in Fort Morgan, Colorado.  
O'Hara is passionate about the value of education Aims Community College offers and is honored to be able to contribute to the future of Aims.
Term: 2017 - 2021

Ray Peterson operates Peterson Ranches of Nunn. He earned a doctorate in Educational Administration from Arizona State University. 
His professional experience includes serving as state senator from 1982 to 1994, a decade spent in CSU's Extension Service and nearly 30 years in the Colorado Department of Education.
Peterson currently serves on several boards, including:
President of the Weld County Farmers Union

Member of the Weld County Livestock Association

Greeley/Weld League of Women Voters

High Plains District Board of Trustees
Through the years he's served on many other organizations in different capacities.
Terms: 2013 - 2017; 2017 -2021

Heidi Windell owns and operates Aquatic and Wetland Nursery, LLC, a wholesale nursery specializing in growing native wetland, riparian and upland plant species. She earned two Baccalaureate Degrees and a Secondary Teaching Certificate.   
Windell taught Spanish and business classes and was instrumental in developing a program for "at-risk" freshmen at North High School in the Denver Public School District.   
Some of Windell's service through the years includes:
Weld RE-8 District School Accountability Committee

Forulado Club Member 

Society of Ecological Restoration

Colorado Nursery and Greenhouse Association

Society of Rangeland Management
Term: 2019 - 2023
Aims Community College takes our name seriously as we truly are community in every sense of the word.
--Lyle Achziger, Aims Board of Trustees Chair
Board of Trustee Meeting/Retreat Dates for 2021
Board meetings take place beginning at 1:30 p.m. of the Greeley Campus. Location Exception are noted below and are subject to change with notification. 
January, No Retreat
February 10, 2021
March 10, 2021 (Fort Lupton Campus)
April 14, 2021
May 12, 2021
July, NO MEETING
August 11, 2021 
September 8, 2021 (Aims Flight Training Center)
September 30 & October 1, 2021, Board Retreat
October 20, 2021 (Windsor Campus)
November 10, 2021
December 8, 2021
Board of Trustees Responsibilities
The Aims Community College Board of Trustees is the governing body that holds the responsibilities delegated for the oversight and monitoring of the institution, including (but not limited to) the following:
Employ, evaluate, and support the College CEO/President as the institutional leader 

Monitor the fiscal health of the college

Set and monitor policy direction

Advocate for the college
Additionally, the board prioritizes needs each year as required for the college's continued success.
Further Board of Trustees duties, guidelines and procedures can be found within the Aims Policies and Procedure Manual.
Distinguished Fellows Award
Each year, the Board of Trustees recognizes one individual who has made outstanding contributions which pertain to the mission, vision, and values of Aims Community College by naming them as the Distinguished Fellow. 
Persons who may be considered for the Distinguished Fellow Award include:
community members

former Board of Trustee members

former Foundation Board members

former Aims Community College employees

legislators
Current employees of Aims Community College and current members of the Board of Trustees are exempt from nomination.
Nominate a Distinguished Fellow
Nominations must be received by the Board of Trustees Liaison in the President's Office on or before February 28th.
Nomination statements may not exceed two pages and must address significant contributions in two or more of the following areas:
Long-standing efforts to advance the goals and purposes of Aims Community College and/or higher education

The championing and/or supporting of students, learning and service

Significant contributions to the furthering of scholarship in the state, county, community or the mission of the college

Served as an outstanding example to the employees and students of the college

Possesses high level of character, integrity, professional expertise and leadership

Enhanced the reputation and relationship of Aims Community College with its service area
The award will be conferred without regard to race, religion, philosophy, ethnic origin, citizenship, language, gender, or sexual orientation.
The Board of Trustees will select the recipient at the April board meeting and the Distinguished Fellow will be awarded at the commencement ceremony in May.
Contact Info
c/o Aims Community College PO Box 69 Greeley, CO 80632