Student Activities, Inclusion and Leadership
Commencement Ceremony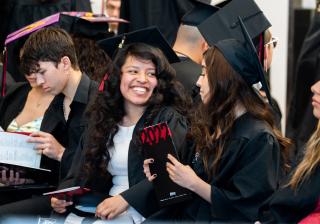 Fall 2022 Commencement
The Fall 2022 Commencement Ceremony will be held on Friday, December 9, 2022, at 5 p.m.
Learn More in the FAQ
CLEAR BAG POLICY:
Aims Community College is committed to providing a safe environment for our students, employees, and guests. In order to expedite entry into the auditorium and ballroom, Aims has implemented a policy limiting the type of and dimensions of bags brought into the venue. Exceptions to this policy will be made for medically necessary items after a thorough inspection.

The following bags will be permitted in the Welcome Center:
Bags that are clear plastic, vinyl or PVC and do not exceed 12" W x 12" H x 6" D
One-gallon clear plastic bags (Ziploc or similar) are permitted
One (1) personal item such as a small clutch or wallet not exceeding 4.5" x 6.5" in size may be brought into the arena
Guests are allowed one (1) large clear bag – either the 12" W x 12" H x 6" D clear bag or one-gallon Ziploc style bag – plus one (1) small personal item
Prohibited items include but are not limited to: purses larger than a small clutch bag, briefcases, backpacks, computer bags or any bag larger than the permissible size.
To ensure a safe environment and experience for all attendees, only clear water bottles are allowed in the Welcome Center for the College Commencement Ceremonies.  Guests will be asked to return water bottles that don't comply to their vehicle or otherwise dispose of the item upon entry.
Graduates MUST pick up their cap and gown at the Bookstore in the Student Commons on the Greeley Campus
Caps and gowns can be picked up in the Bookstore during distribution, beginning December 5, 2022. Please review the Bookstore's hours before stopping by.
Check in time for graduates will begin at 3:30 p.m. 
Students should wear their caps & gown to check-in and be prepared to open gowns for visual inspections.
Backpacks are not allowed. Please do not bring bags, purses, etc. as there is no secure location to store them.
All graduates will line up in the staging area as directed by check-in staff. No family or friends will be allowed in the graduate check-in area.
Doors open for guests at 3:30 p.m., the same time that check-in begins for graduates.
---
Commencement is the ceremony to celebrate students' who are scheduled to complete their degree(s) and/or certificate(s) for the appropriate term(s). Graduation is the process of conferring an official degree or certificate. Students can attend the commencement ceremony and not be awarded the program(s) they applied to graduate with, if all requirements have not been met.
After end-of-term processes are concluded, once the term is over, all graduation applications are reviewed to ensure all graduation requirements have been met before any degrees/certificates are awarded. Because of this, students will not receive their diploma(s) the day of commencement. Please review the Graduation page for deadlines of when programs are awarded and documents mailed to students.
Keep an eye on your Aims email and watch for an invitation coming from Marching Order. If you have applied for graduation and are eligible you will be invited to register to participate. Fill out all of the fields in the registration form and submit.
Students do not have the option to change their ceremony.
Fall 2022 tentative graduates are only invited to participate in the Fall 2022 Commencement Ceremony. Spring 2023 & Summer 2023 tentative graduates are only invited to participate in the Spring 2023 Commencement Ceremony, based on the Academic Division of their program(s).
If you have multiple degrees and/or certificate across Academic Divisions for Spring or Summer, a representative of Aims will contact you to assign your ceremony.
At this time tickets are not required to attend commencement ceremonies. Seating for the live ceremony is on a first-come, first-served basis. Aims will also be offering seating in a live feed venue within the Welcome Center. 
To ensure your name and programs you intend to graduate with will be included in the Commencement Program, please review the deadlines below.
All Fall 2022 graduation applications must be submitted by September 14, 2022 to ensure your name and program is included in the Fall 2022 commencement program.
All Spring 2023 & Summer 2023 graduation applications must be submitted by February 22, 2023 to ensure your name and program is included in the Spring 2023 commencement program.
Only the following are allowed:
Gown, cap and black & red tassel: The gown, cap and black & red tassel are yours to keep. Only the black & red tassel OR the PTK gold tassel are allowed. You may wear one or the other but not both at the same time. Souvenir tassels are not permitted to be worn on the cap for the ceremony.

The Honor Medal; Gold Honor cord; PTK - gold stole and gold tassel; English Honor Society - green/gold cord; SALUTE - red/white/blue cords; NSLS - light gray sotles; and Veterans - intertwined red/white/blue cord are allowed to be worn. 
Aims welcomes the tasteful decorating of your mortar board. Please be respectful of other graduates that may be sitting behind you. All decorations must be flat to the top of the mortar board. Any decorations that raise the height will not be allowed and will be asked to be removed.
Photos will be taken at the ceremony by a professional photographer. You will receive sample photos and information for ordering photos by mail or e-mail, depending on the information you provide on your card. You are not obligated to purchase any photo packages. Selfies will not be allowed to be taken on the stage area during the ceremony.  
If you have questions about the Commencement Ceremony, please email gradapp@aims.edu
Contact Info
Student Activities, Inclusion and Leadership Office
Greeley Campus, Student Commons Room 155
Locations
Related Links
Related Resources