Adams County High School Firefighter Program the Result of Strategic Partnership with Aims Community College
A firefighter training program is training up to 50 teens a year thanks to a strategic partnership that includes Aims Community College.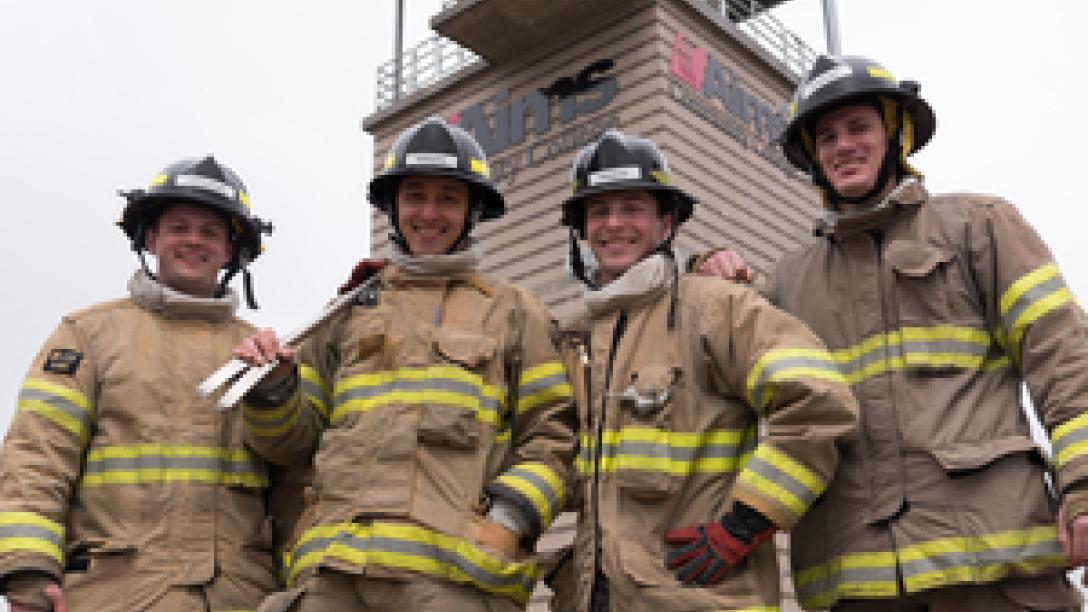 The firefighting program opened last fall in Thornton as part of the FutureForward program at Washington Square. The partnership includes Aims Community College, Adams 12 Five Star Schools, and city leaders in Thornton and Westminster. 
The program is unique because trainees leave the classroom to experience real-world scenarios. Washington Square students learn basic emergency response services and gain exposure to real fire scenarios, including working on a fully equipped fire truck donated by the city of Thornton. 
Graduates of the two-year program emerge fully prepared for a career in the fire service, join the military or go on to college with many of their basic requirements fulfilled, explained John McDougall, fire science program director at Aims Community College. 
"Our goal is to get them to Aims for more education when they've completed their high school program," McDougall said. "They can come in as a first-year freshman with a lot of electives knocked out and at no cost to them since they're enrolled in high school for the firefighting program."
Three years ago, Adams 12 was turning away students who wanted to join the Career and Technical Education (CTE) program. The district planned a new building and designed programs to accommodate student interest and the demand for trained firefighters regionally, explained Marvin Lewis, principal for FutureForward at Washington Square. 
"We knew we wanted to partner with Aims, " Lewis said. "They had everything we wanted in our program — certification, college credit and employment if that's what (students) want." 
Students attend fire service classes at the Washington Square campus near 126th Avenue and Washington Street in Thornton. They then return to their home campus when their career courses end. 
"I am extremely proud that we established this program, " said Aims Fire Academy Director John McDougall. "By having these high school programs, students complete electives sooner, so they come in as a first-year freshman and have knocked out half of  their electives by completing the fire academy." 
About Aims Community College
Aims Community College is one of the most progressive two-year colleges in Colorado. Founded more than 50 years ago in Greeley, Aims has since established locations in Fort Lupton, Loveland and Windsor. Curriculum now includes 4,000 day, evening, weekend and online courses annually in more than 200 degree and certificate programs. Aims Community College is accredited by the Higher Learning Commission. Aims Community College is an Equal Employment Opportunity Employer and an Equal Opportunity Educational Institution.