Aims Business Students Earn Second Place in the Monfort College of Business Ethics Case Competition for Community Colleges
Aims Community College students Malcolm Dinnall, Isabelle Wolfe, Alan Grajeda and Devin Fuller placed second in the Monfort College of Business Ethics Case Competition for Community Colleges, held on April 12 at the University of Northern Colorado (UNC).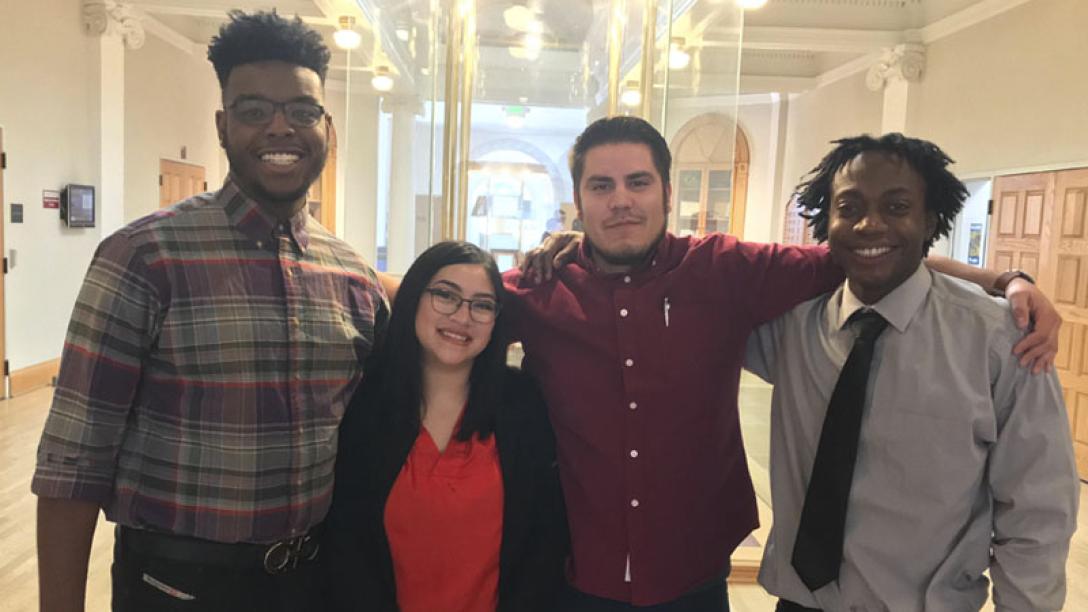 The students were awarded a $750 prize.
"This is a wonderful example of a partnership between Aims and the UNC School of Business to offer an innovative learning experience for our students," said Aims President and CEO Dr. Leah L. Bornstein.
The Daniel Funds Ethics Initiative at the Monfort College of Business sponsored the competition. As part of the competition, students were required to prepare a response including a PowerPoint presentation and supporting documents for an ethics case study. George Rigby and Lou Cartier, two Aims business adjunct faculty, served as the team coaches.
UNC Professor of Management Sharon Clinebell said, "We were very pleased to have Aims participate in our inaugural Monfort College of Business Ethics Case Competition for Community Colleges. The students did an excellent job. We look forward to working with them next year."  
Aims Business program chair Ellen Swieter said, "I feel honored to have established business professionals in the Business program. The ability for students to be mentored by people working in the industry is ideal. I'm already looking forward to competing next year."
The Daniels Fund has several Ethics Initiative Principles such as Integrity, Trust, Accountability and Transparency. To learn more, visit http://mcb.unco.edu/ethics/.
About the Aims Business Program
Students in the Business program can earn Associate of Arts degrees with the state-wide articulation agreement and transfer to any four-year school as well as earning certificates and Associate of Applied Science degrees in Accounting, Business Technology and Marketing/Management. For more information visit www.aims.edu/academics/business.
About UNC          
UNC is a doctoral research university with premier programs in education, health sciences, business and the performing arts. Founded in 1889 as the state teachers' college, UNC has always worked to promote human understanding and enrich lives. With approximately 13,000 students enrolled, UNC focuses on five areas of engaged learning: research and creative work, civic engagement, global experiences, leadership and professional experience.