Aims Community College to Compete in National Flight Competition in May
Aims Community College will compete in the 2023 National Intercollegiate Flying Association (NIFA) SAFECON flight safety competition in Oshkosh, Wisconsin, May 8-13. Aims is the only two-year college competing in this year's national conference.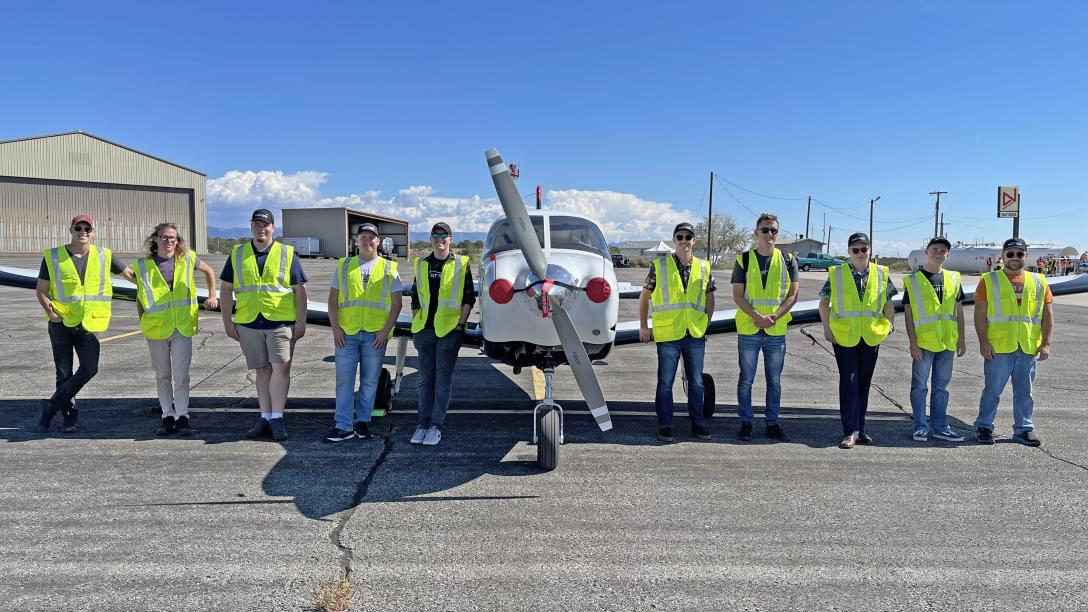 SAFECON is a flight competition and safety conference showcasing the skills and abilities of the top collegiate pilots nationwide. It features various events designed to test the pilots' capabilities in areas such as precision flight maneuvers, navigation, safety, and aircraft systems knowledge.  
Eight Aims aviation students will compete at SAFECON this year, including Dalton Ellis, Calvin Faller, Patrick Gronewoller, Sage Gross, Francis Koes, Ryan Lang, Scott Leclerc, and Zach Tarrant.

Alex Wernsman, Chief Flight Instructor at Aims, is proud of the college's involvement in SAFECON. "Anyone who gets to attend this nationally as a competitor is the best and the brightest of what every major collegiate flight school has to offer across the country. It's an elite gathering of some really smart students."

Assistant Chief Flight Instructor Kurt Bauerle is coaching the Aims team. "It's a really good opportunity for us to showcase that the training and knowledge of our students are equal to and maybe even surpasses some four-year schools," he said.

The Aims flight team is hard at work preparing and studying for the competition. Students participating in the conference receive additional training on the ground and in the air. They are practicing navigational and preflight preparations on the ground. "We've got two flight days every week that they go up, and they practice with one of our coaches, which are flight instructors for precision landings and the other flight events,"  Bauerle said.

Preparing for the competition "definitely helps me attain more flying skill," said Sage Gross, a student participating in SAFECON. "I just really enjoyed competing in that manner because that's not something that we generally get to do a lot in aviation."

In addition to the competition and educational seminars, students can network with people in the industry. "Most jobs in aviation come about just by shaking hands and getting to know people. I'm really excited to go to Oshkosh and meet new people," Gross said. Bauerle is also looking forward to this aspect of the conference. "There will be representatives from three different airlines, so that's a great networking opportunity even for our instructors," he said.

There is zero cost to Aims aviation students on the flight team to participate. "That's another thing that is unique because, at many institutions, students have to pay to be a part of the team," Wernsman said.  "Operating aircraft is expensive, and instructor time is expensive, but at Aims, it's free for students to participate, which is really neat."

Last October, Aims students competed in the regional SAFECON competition in Utah and ranked high enough to be invited to compete nationally. This was only the second year Aims competed in the regionals. Two other Colorado schools, the United States Air Force Academy and Metro State University of Denver, also will compete in nationals.

"Making it to nationals in our second year competing is a feather in our cap," Wernsman said. "We're excited to represent Aims Community College on the national stage."
To learn more about aviation at Aims, please visit aims.co/aviation.
Audience
Alumni
Faculty
General Public
Staff
Students