Aims Community College Designated as a Healthy Minds and Hunger-Free Campus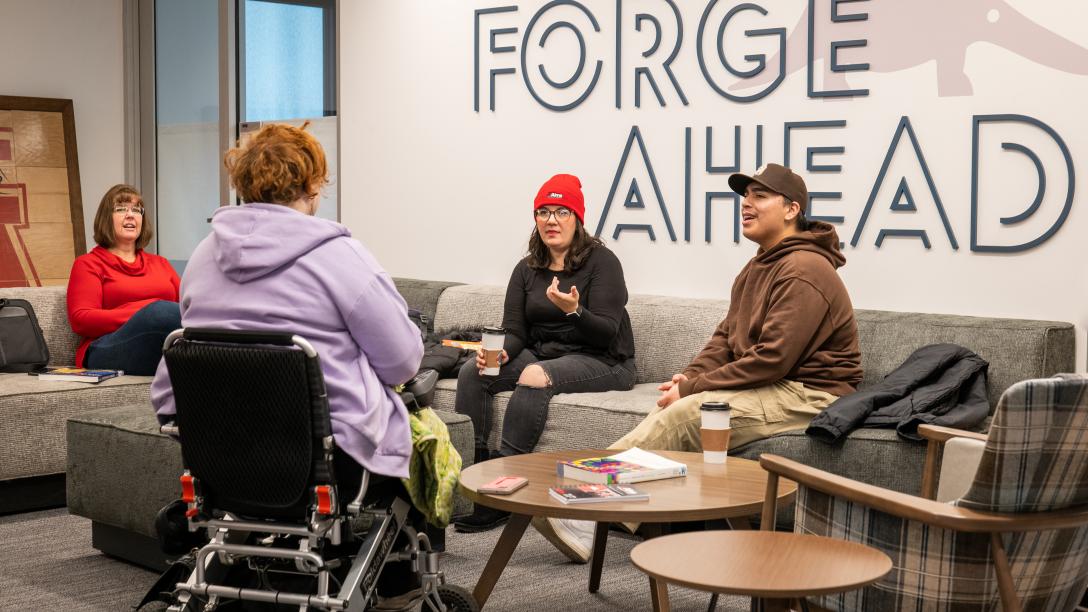 Aims received the Hunger Free classification last year. This is the first time Aims has been named a Healthy Minds Campus. Aims achieved this honor because students on the Aims Greeley, Windsor, Fort Lupton and Loveland campuses have access to mental health and food security programs. 
Established in 2021, the CDHE designations recognize Colorado higher education institutions for their work to end hunger and address the mental health needs of their students. The state created the Hunger Free and Healthy Minds programs to work with existing resources on college campuses and offer a variety of options to ensure each student's needs are met. Food insecurity and mental health struggles can lead to a lower GPA and limited social life.

Aims provides an array of wraparound services that help remove barriers to academic success. Kathryn Bowker, a counselor on the Fort Lupton Campus, finds that academics isn't why students often stop attending college. "Students don't usually drop out because of academic issues. We've seen that it's usually related to a mental health issue, having to work more to afford things like rent or food, or another basic need that needs to be addressed."
The Hunger-Free Program Coordinator Patty Schulz has observed that "Aims is always ahead of the game when it comes to providing services and resources for our students. We really want our students to succeed."
Healthy Minds Designation and Mental Health Services
Most current Aims students are eligible to receive free, short-term, confidential counseling sessions with licensed therapists at Aims Community College. All Aims mental health therapists can provide therapy sessions in-person or virtually.
Aims students can access free therapy sessions through BetterMynd, a video-based teletherapy provider offering expanded hours. Students are encouraged to use the TalkCampus app, an online peer support community providing real-time connections with trained peers and professional staff. The self-guided You@Aims app offers a comprehensive approach to well-being that helps students build grit and resilience.
Typically, only 20 percent of the student body will access traditional counseling services, which is why programs like You@Aims and TalkCampus are vital. "We can't ignore the other 80 percent of our student population," Bowker said, "so students can receive mental health support in other ways."
"One of the things the Healthy Minds Designation looks for is a broad-reaching way of approaching mental health for our students, " Bowker said. "At Aims, we offer a variety of ways for our students to access mental health help, from utilizing confidential apps on their own time to in-person mental health therapy."
The need for counseling services on campus is growing. There was an 82 percent increase in counseling service use at Aims from 2020 to 2022. The trends seen at Aims are happening nationwide. According to the American College Health Association National Assessment, approximately 78 percent of college students reported high or moderate stress within the last 30 days. That same report found that more than 60 percent of college students met the criteria for at least one mental health problem. 
"It should be easy to reach out for mental health help, but you know, we have all of these internalized thought processes and stigmas about reaching out for help," Bowker said. We want to eliminate some of the barriers that come with that."
The college also holds several annual awareness events focusing on raising awareness of mental health and well-being, decreasing stigma, and providing information on campus and community resources. "Because there has been such a significant increase in mental health and wellness concerns, we need to be creative in our approaches in addressing this increase, said Erica Jones, Director of Student Counseling and CARE at Aims. "There are not enough mental health professionals at Aims or nationwide to be the only solution to the growing needs. This is one reason we hold awareness events, self-care workshops, stress reduction programming, and emphasize the importance of community and connection."
Aims has implemented other measures recently. Since May 1, all new student IDs have printed resources and emergency numbers for mental health support and crisis services. All course syllabi will include a statement on mental wellness and student success starting in the upcoming fall semester.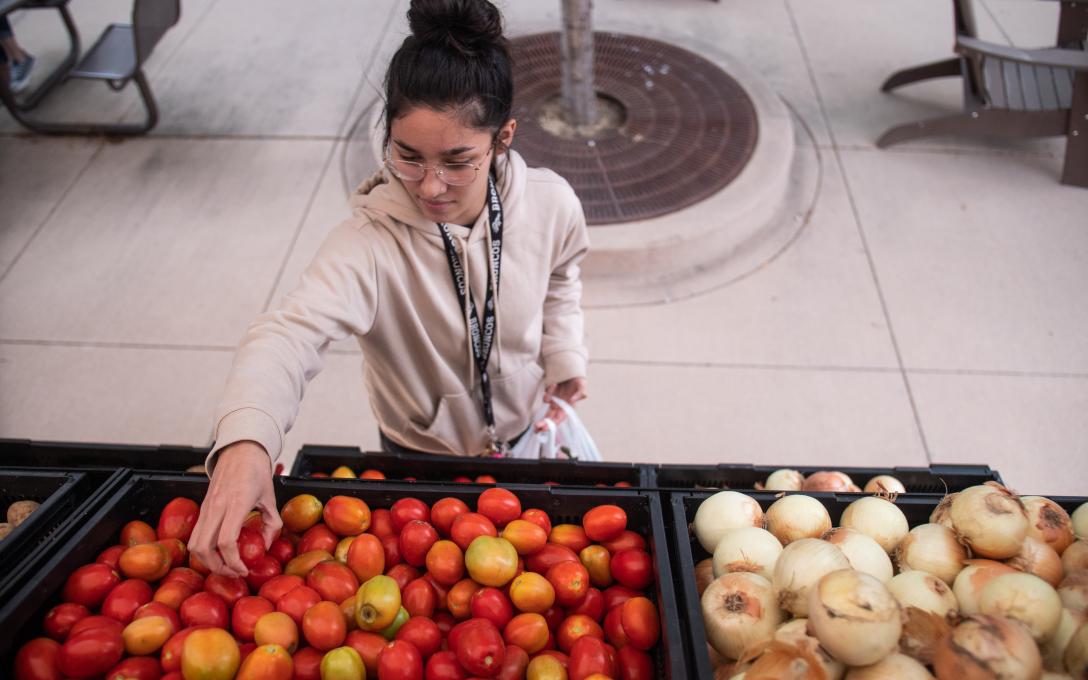 Hunger Free Designation and Arty's Pantry
One of the most significant ways Aims has addressed student hunger is through Arty's Pantry, an on-campus food and supply pantry that opened in 2018. It provides any enrolled Aims student with groceries, personal hygiene products and school supplies, no questions asked. Aims staff and faculty, community members and grants fund Arty's Pantry from donations and in-kind donations such as canned foods.
"I always talk about the pantry as financial aid for food," Schulz said. 
Some additional hunger-free initiatives that Aims has implemented include a monthly on-campus visit from the Weld Food Bank Farms to Families fresh food truck, special events and a newly formed Hunger-Free Campus Student Advisory Council. The college also helps students apply for the Supplemental Nutrition Assistance Program (SNAP), which helps low-income households buy food.

Schulz finds her role fulfilling as she has the resources to help those in need quickly. "I had a student last week who came in and said that he only had $10 or $20 left to buy groceries for the month, she explains. She assisted him in submitting an order and gave him an emergency food box to take home so that he could eat that night. "It's a great feeling to work for an organization that really takes care of their clients."
A Student Perspective
Aims student Monica Hernandez Jackson has utilized the services that Aims provides students. "When I started Aims, I was so guarded, scared, and didn't talk about my struggles. I refused all these services until I started getting more involved and saw people being so open about getting their food pantry or making an appointment for counseling with no shame." This experience changed Monica's perspective on reaching out for help. "It helped me know that it's okay to not be okay, but there is always someone that can help you."
Monica wanted to make sure other students felt comfortable asking for help and accessing available resources, so she helped advocate for the Healthy Minds Campus Designation. She helped the team complete the application process.
To learn more about Aims Counseling Services, please visit aims.co/counseling. For more information on Arty's Pantry and Hunger-Free efforts at Aims, go to aims.co/artyspantry. 
Audience
Alumni
Faculty
General Public
Staff
Students