Aims Community College's Students Bring Opportunities in Fire, EMS and Criminal Justice to Life at Public Safety Day in Windsor
Aims Public Safety Institute students demonstrate skills during a vehicle extraction simulation at Public Safety Day.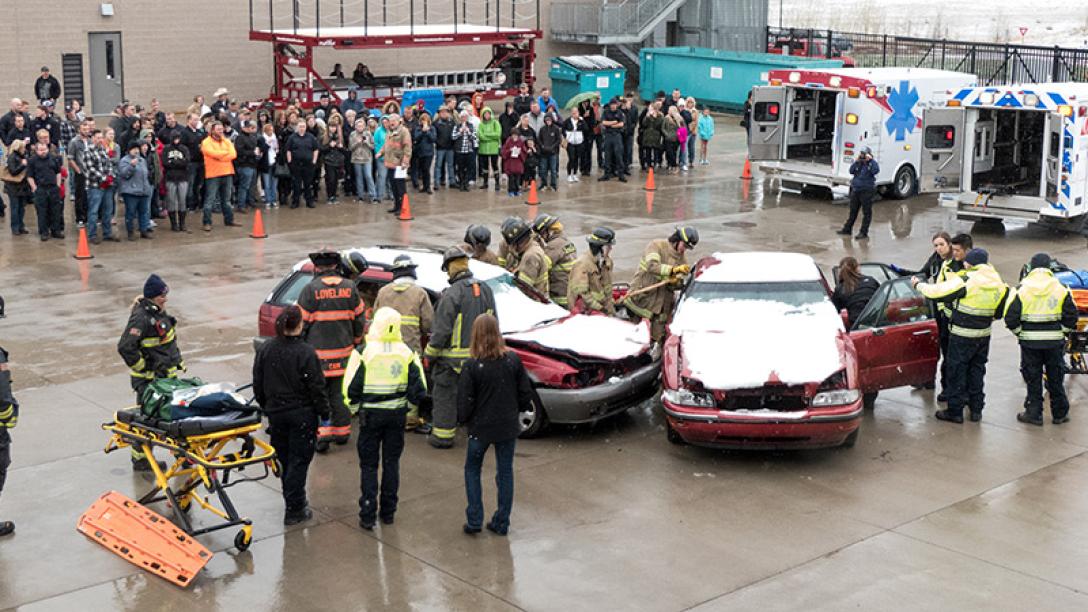 Despite the weather, over 120 people attended and were treated to tours of the state-of-the-art facilities as well as live demos performed by Aims Fire Science and Emergency Medical Services students.
Student demos included strategies to extricate victims involved in a car crash, fight a live car fire and render assistance with live fire. Demonstrations of fire flashover conditions were also demonstrated in the Aims burn tower. In addition, Windsor Police Department and the Weld County SWAT team, many of whom are Aims graduates, were onsite with their vehicles to answer questions and support future goals in law enforcement and social justice professions.
"The importance of public safety and security is the cornerstone of community growth," said Aims CEO and President, Dr. Leah L. Bornstein. "To see the students leading the demonstrations, surrounded by community visitors delivers a remarkable look inside of these programs. Despite challenging weather, our students were proud to show off the skills they are learning at Aims; skills that will last them a lifetime, help them gain employment and possibly save lives right here, in northern Colorado."
Aims Community College offers hands-on environments, smaller class sizes and superior technology to feed the ever growing demand for prepared professionals. At Public Safety Day, guests were in awe of the impressive Anatomage table, the 3D, interactive table which is housed at Aims' innovative facility. The Anatomage table helps students learn about human anatomy as well as simulate various health conditions and trauma. Aims was the first school in Colorado to offer this technology to students.
Fire Science students demonstrated the sand table, which uses sand and computer technology to create different topographical situations. They are then able to study how wildfires can easily spread across valleys and down mountains and see how wildfires react to different weather conditions and firefighting techniques.
About Aims' Public Safety Institute (PSI)
Opened January 2016, this facility houses the Police Academy, Emergency Medical Services, Fire Science, Medical Assisting and Phlebotomy programs offering students opportunities in one central location. The PSI features a state-of-the-art burn building, drill ground area for fire, police, and EMS training, science labs, Smart classrooms, computer labs, CPAT testing, student services including registration, Accuplacer testing, Advising and Tutoring Services, sim rooms for Paramedic and EMT training, work out room for physical-fitness training, Medical Assistant lab with exam rooms, locker rooms and general education offerings so students can complete their degree requirements on site. Classes are offered during the day, night and weekends at the Aims' Windsor Campus just north of Iron Mountain and Highway 34.