Aims Receives Food Pantry Grant from Local United Way
Aims Community College received a grant from the United Way of Weld County to help fund Arty's Pantry, a food pantry resource for students.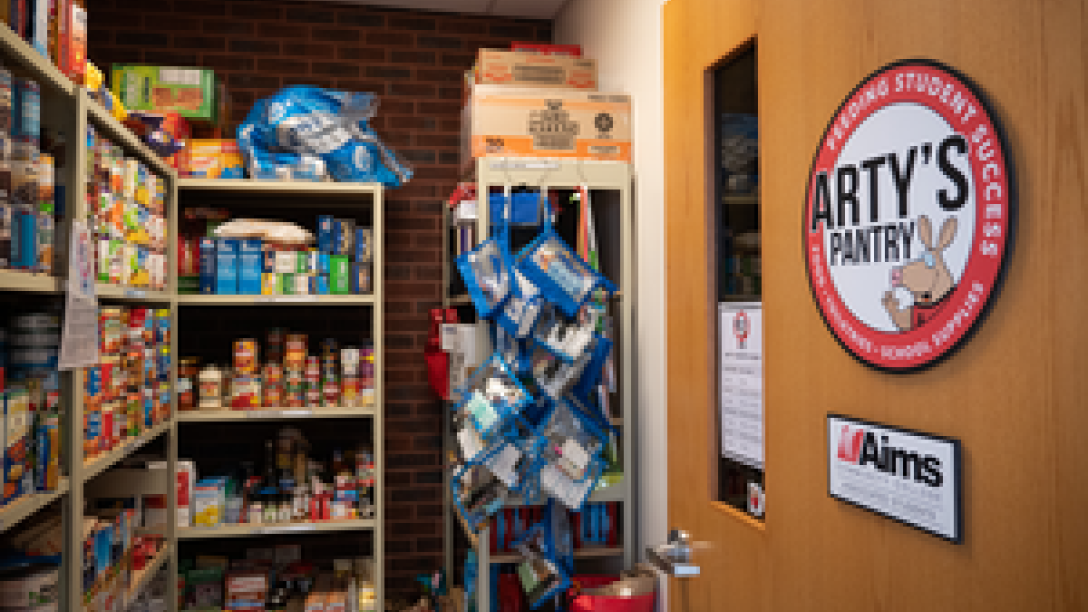 The $6,000 grant will be used exclusively for stocking Arty's Pantry with nonperishable food, school supplies and personal hygiene items, says Aims Community College pantry manager Patty Schulz. 
The shelves at Arty's Pantry are stocked with cans of soup, corn, beans and bags of pasta, rice, and totes with toothpaste, dental floss and other hygiene supplies. Schulz says her goal is to supply students with things they can use to help themselves and their families. Items are doled out weekly to those who fill out an online form.
"Through Arty's Pantry, the Aims Community College Foundation is providing a critical resource for students experiencing hunger and financial insecurity," said Lyle SmithGraybeal, vice president of community impact at United Way of Weld County. "The volunteers who made the Weld Recovers Fund: COVID-19 Relief grant to Aims Foundation for Arty's Pantry could plainly see its importance for students and their families."
The pantry has seen an increase in need from students since March, when communities began experiencing the impacts of a slowing economy. While in-person shopping had once been the norm, with COVID-19, Schulz enabled an online ordering system, which has been in place since mid-July.
In that time, more than 318 orders have been fulfilled, and Schulz believes it's still being underused. 
"I feel like a lot of students didn't use it themselves thinking it was for more of an emergency," she explained. "But if we can help you with $40 or $50 in groceries each week, that's money that can go elsewhere, like gas or a bill you need to pay."
Arty's Pantry opened on the Greeley campus in March 2018. In Summer 2019, smaller-scale pantries opened on the Fort Lupton, Windsor and Loveland campuses.
For more information, contact communications@aims.edu. 
About Aims Community College
Aims Community College is one of the most progressive two-year colleges in Colorado. Founded more than 50 years ago in Greeley, Aims has since established locations in Fort Lupton, Loveland and Windsor. Curriculum now includes 4,000 day, evening, weekend and online courses annually in more than 200 degree and certificate programs. Aims Community College is accredited by the Higher Learning Commission. Aims Community College is an Equal Employment Opportunity Employer and an Equal Opportunity Educational Institution. www.aims.edu
About United Way of Weld County
The mission of the United Way of Weld County (UWWC) is to improve lives by mobilizing the caring power of our community. UWWC assists residents in the areas of Early Childhood Development, Youth Success, Household Stability, Older Adults/Healthy Aging and Access to Services. Through our community's willingness to give, advocate and volunteer, UWWC is able to have a positive impact on tens of thousands of lives every year. Thanks to the generosity of the 36 UWWC Cornerstone Partners, they donate all or a portion of their corporate donation to help cover 100 percent of administrative and fundraising costs for the resources under UWWC's management. For more information, visit the United Way of Weld County website at www.unitedway-weld.org.