Local Leaders Celebrate with Aims on Progress of New Welcome Center
With steel beams, escalators, and concrete curing, the Welcome Center at Aims Community College is on track for its December opening.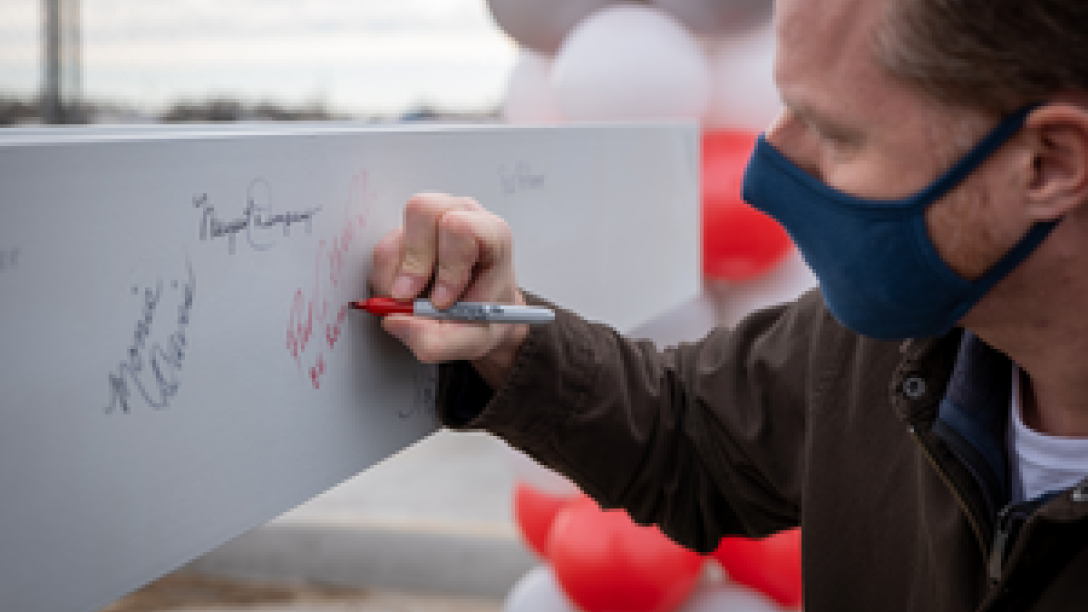 Community leaders joined college personnel Thursday in a socially-distanced celebration of the progress made so far on the 106,000-square-foot structure. 
Members of the college's board of trustees, Greeley Mayor John Gates, Greeley City Manager Roy Otto, Greeley Chamber of Commerce President Jaime Henning and others used Sharpie markers to sign a steel beam that now sits atop the three-story structure. When construction is complete, that particular beam will be visible from inside the building.
The Welcome Center at Aims will house student services, academic advising, financial aid and include space for studying, gaming and collaboration for students. Students will begin and end their Aims Community College journey at the Welcome Center, where commencement will be hosted in the 1,700-seat auditorium. A third-floor banquet hall will accommodate 800 seated people and be in close proximity to a 3,000-square-foot commercial kitchen. 
From the third-floor banquet hall, visitors will take in the sweeping view of the Rocky Mountains to the West. 
Elevators and escalators will be used to move people safely and efficiently between levels. A dedicated freight elevator is also incorporated into the design. 
Outside, an underground snowmelt system will keep concrete free of ice and snow, making the north side safer for pedestrians. Plans also include 500 additional parking spaces, increasing Aims' capacity to 2,500 parking spaces. 
Student surveys and feedback inform the design, and Aims staff hosted community panels to solicit feedback on how this space can meet Weld County's future needs throughout the project's planning and design period. 
Funding for construction comes from college reserve and operating budgets and requires no additional financial support from taxpayers. 
About 250 students, staff, faculty and community leaders signed the steel support beam with black and red Sharpie markers at the socially distanced event, which included staggered attendance, hand sanitizer and masks.