Students Exhibit Work at Loveland Art Show
On April 8, the Aims Loveland Campus hosted a student art show.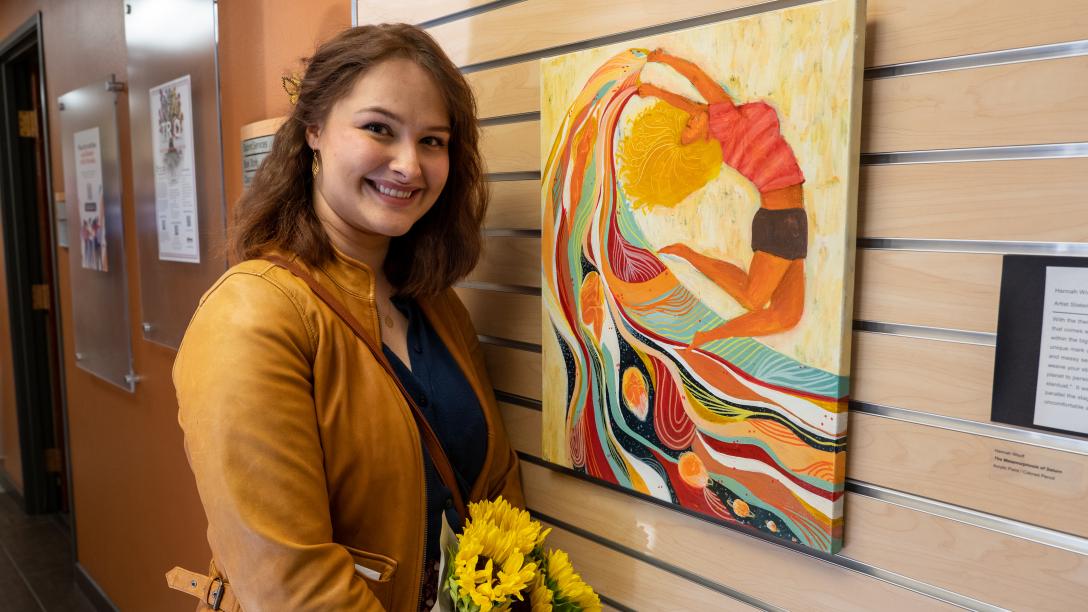 The spring 2022 show's theme was "New Growth." Since the onset of the COVID-19 and many other changes in our world, we have all grown in new ways. Event organizers encouraged students to interpret what this theme means to them and incorporate it into their submitted art. Pieces included painting, drawing, photography and more. 3D art, including textiles and pottery, was also part of the show. Selected artists will have their works on display at the Loveland Campus for two months. The gallery is open to the public on Night on the Town, Loveland's Art Walk, every 2nd Friday of the month.

The exhibit was judged Best in Show and honorable mention in Best in Concept, Best use of Color, Best in Craftsmanship, and Most Creative. Honorable mention awardees won gift bags valued at $40. The Best in Show winner received a scholarship for three credits to Aims Community College. Congratulations to the winners. 
Best in Show and Best Use of Color | Hannah Woolf
"With the theme of "new growth," I wanted to showcase the journey of growth that comes with self-realization and personal development. The metamorphosis of planet to person is to represent Carl Sagan's famous quote, "We are made of stardust." Even though it can be uncomfortable and uncertain at times, it is necessary and beautiful."

Best in Concept |  Alexandra Moon
"I am a multimedia artist who's practicing the art of blending different media together to create something new and inspiring. My work currently incorporates gouache paint and ink. Most of my work is inspired by emotional growth, the hardships of humanity, and love."

Most Creative | Katie Riedner
"Self-empowerment is my 'new growth' and I wished to create something to remind myself of the power we each possess. Each moment we are alive, we carry within us the possibility to grow."

Best in Craftsmanship | Ainslee Lemke
"During the pandemic, I started to make masks to donate even though I had never done very much sewing before. The masks sparked an interest in fabrics and fibers in me, I branched out into making all different types of bags."
Audience
Alumni
Faculty
General Public
Staff
Students