Students Experience New Horizons with Drone Technology Demo
Aims UAS Operator Certificate students had a unique opportunity to learn how BVLOS (Beyond Visual Line of Sight) operations can facilitate more complex missions by allowing drone pilots to fly safely beyond visual range. Censys Technologies Corporation exhibited their Sentaero BVLOS unmanned aerial system at Aims Windsor Campus in July 2022.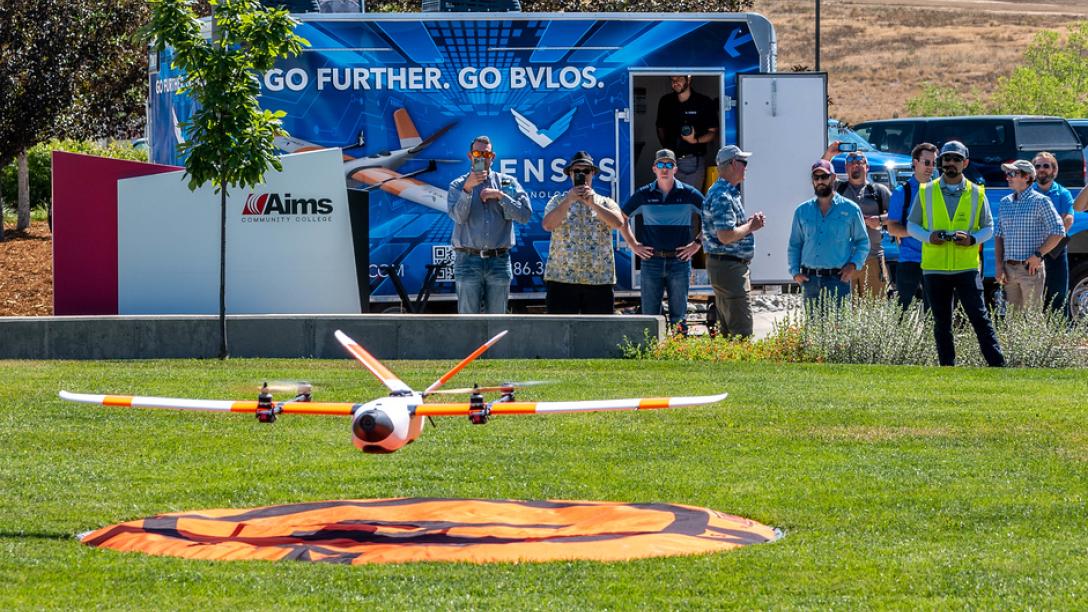 "We have an amazing opportunity to bring Censys Technologies from Florida to our area to do a demonstration. It's a great way to partner with a company like this because our students are doing the same thing within our programs and in our training," said Aims UAS Chief Instructor Pilot Jake Marshall.

"Now that we've seen the Aims facility and met in person, it's actually incredible and we're super excited to partner with Aims and hopefully have a really great future here," said Adam Zirkelbach, marketing director with Censys Technologies.
The Sentaero takes off vertically using its rotors. When it reaches its transition altitude, the rotors rotate forward and it flies like an airplane, extending its range and allowing more capabilities. Innovative technologies, safety standards and Federal Aviation Administration waivers are opening the door for more BVLOS operations such as long-distance utility line inspections and extensive aerial mapping projects. "Its biggest use case so far is going to be in the utility space, whether it's power, oil and gas. A long linear inspection is where we've seen this aircraft really take hold," Zirkelbach said.

Agriculture is another sector that can significantly benefit from this technology and was part of the demonstration at Aims. The drone equipped with a sensor conducted a vegetation index on a farm next to the campus. The data generated can show a farmer information on plant health and what can be done to improve nutrition, watering and farming practices.
Steve Jacks is a current Aims UAS Certificate program student and was impressed by the demonstration. "It was just phenomenal to see another application of use in the real world and just to be able to experience it to see how it operates, both outside watching it and inside their trailer and seeing how they manage the flight is truly spectacular."

In addition to the demonstration, Aims students also had the opportunity to network with regional UAS experts who attended the event.
"I definitely made connections with people in the industry," Jacks said. "There are some opportunities out there now, just such a wide range of career paths for us."
"Companies are looking for trained pilots for complex operations," Zirkelbach said. "Students that attend Aims graduate with that certification, which is exactly what these companies are looking for. We're excited to see this program grow and as this industry grows, it is only going to expand. It looks to be on a great start, a great trajectory."
Audience
Alumni
Faculty
General Public
Staff
Students