Aims Partners with Juniper Unmanned to Provide Drone Technology to Students
Aims Community College received an in-kind donation from Juniper Unmanned, a Colorado company that provides drone operations and aerial analytics. In late 2021, Juniper Unmanned provided approximately $100,000 worth of drones and associated technology to Aims.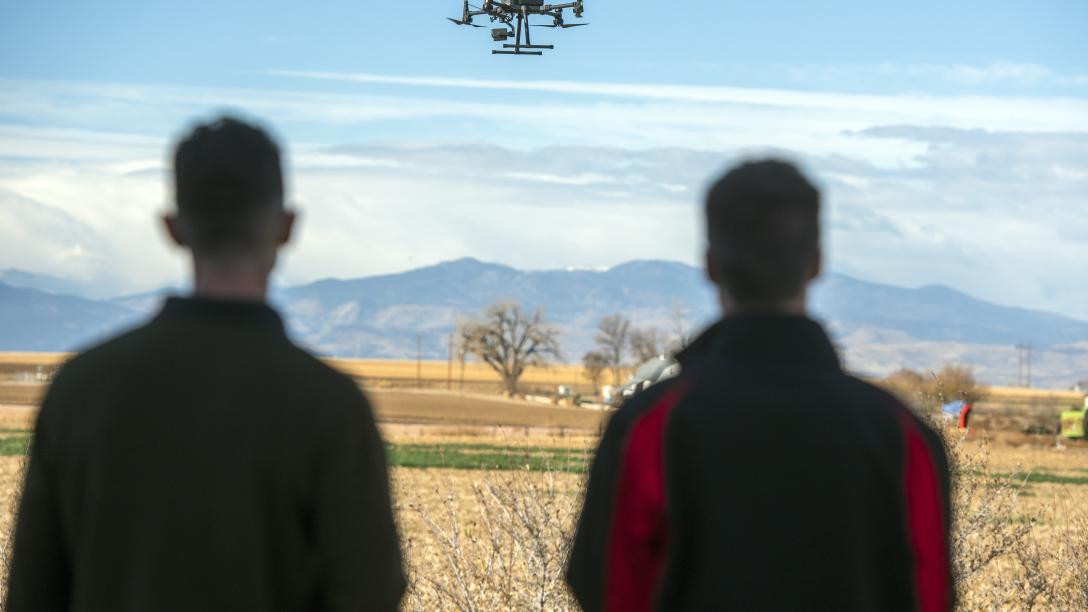 The college launched an Unmanned Aerial Systems (UAS) Basic Operator Certificate program in 2021 to train people for the growing and dynamic drone industry. In addition, Aims drone pilot training is a designated Federal Aviation Administration Unmanned Aircraft Systems Collegiate Training Initiative program. 
The donation from Juniper Unmanned was "a big push for our development here," said Jake Marshall, UAS chief instructor pilot for Aims. "Students are learning what the industry is using and opened their eyes to future possibilities."  
The additional equipment has led the college to offer more work-study opportunities, including mapping 14 construction sites for Weld County. Marshall explains, "instead of looking at outdated Google Maps, we have provided the county brand new maps that the students created." Other projects include film and video work. "We're working on a Toyota commercial with Colorado Film School and filming another commercial with Evolve Graphics in April." 
The classroom learning and hands-on experiences prepare Aims students to be successful professionals. "We need more people in the industry and they need to be trained the right way," said Jason San Souci, chief architect for Juniper Unmanned. "They need real operational experience and a real breadth of knowledge. It isn't just flying drones; it's more about what you're doing with the data."
"I'm so appreciative of the donation and the connection to Juniper Unmanned. The future goal is to get our students to a point to provide a possible pipeline for Jason in the future," Marshall said.
UAS systems and applications are rapidly expanding, and skilled, certified pilots are already in demand. According to the FAA, the commercial, small non-model UAS fleet is forecast to nearly triple from 277,386 in 2018 to 835,211 in 2023, an average annual growth rate of 24.7 percent. 
 
Audience
Alumni
Faculty
General Public
Staff
Students