Weld Community Credit Union Donates to Arty's Pantry on Aims Community College Campuses
Aims Community College recently received a donation from Weld Community Credit Union (WCCU) to fund an on-campus food bank, Arty's Pantry. The WCCU contributed $535.40 in cash and in-kind donations of food and supplies.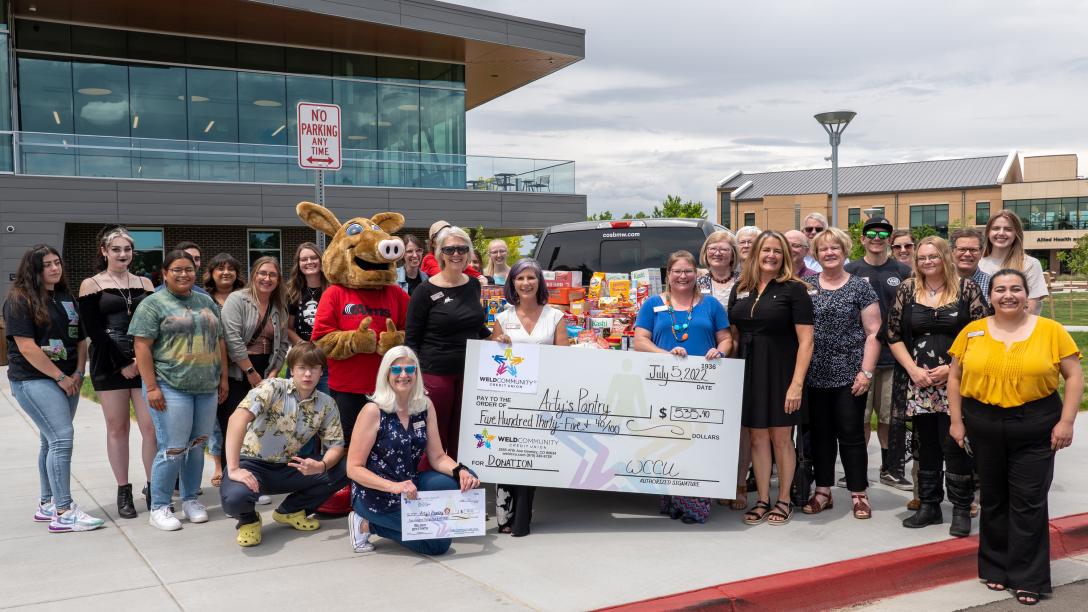 Arty's Pantry provides any enrolled Aims student with groceries, personal hygiene products and school supplies, no questions asked. Aims staff and faculty, community members and grants fund Arty's Pantry, and since 2018 the pantry has served more than 860 students in more than 4,600 visits. Arty's Pantry has locations on all Aims campuses including Greeley, Windsor, Fort Lupton and Loveland.
"We want our students to be able to concentrate on their studies, plan for the semester, and not worry about how they will get their next meal," said Arty's Pantry Manager Patty Schulz. "Students have been so receptive to this project and thankful that Aims has Arty's Pantry. Our work is to help feed student success."
WCCU collected food for the month of June from their members. The credit union has an annual Member Appreciation Day (MAD) and this year's theme was "M.A.D. for Arty." WCCU posted flyers in the office and announced it in the monthly newsletter to request donations with a list of most needed items. "Weld Community Credit Union staff and members are the definition of people helping people in our community," said Kristen Campbell marketing specialist with WCCU.
In addition to the efforts conducted on-site at the credit union, the WCCU team worked with the Aims Foundation and Greeley-based non-profit Country KickUp to raise more funds at the Aims Alumni Stampede Social on June 30.
Country KickUp is a nonprofit organization that uses a fundraising platform to provide awareness and support for charitable causes in our community through dance lessons. Aims alumni who made a cash donation received a line dancing lesson at the Alumni Stampede Social. In-kind support from alumni came from non-perishable food donations around the event.
To learn more about Arty's Pantry visit, aims.edu/departments/sail/artys-pantry.
Audience
Alumni
Faculty
General Public
Staff
Students