Aims Community College Opens New Welcome Center
The facility is the new home for student services as well as events for the college and community.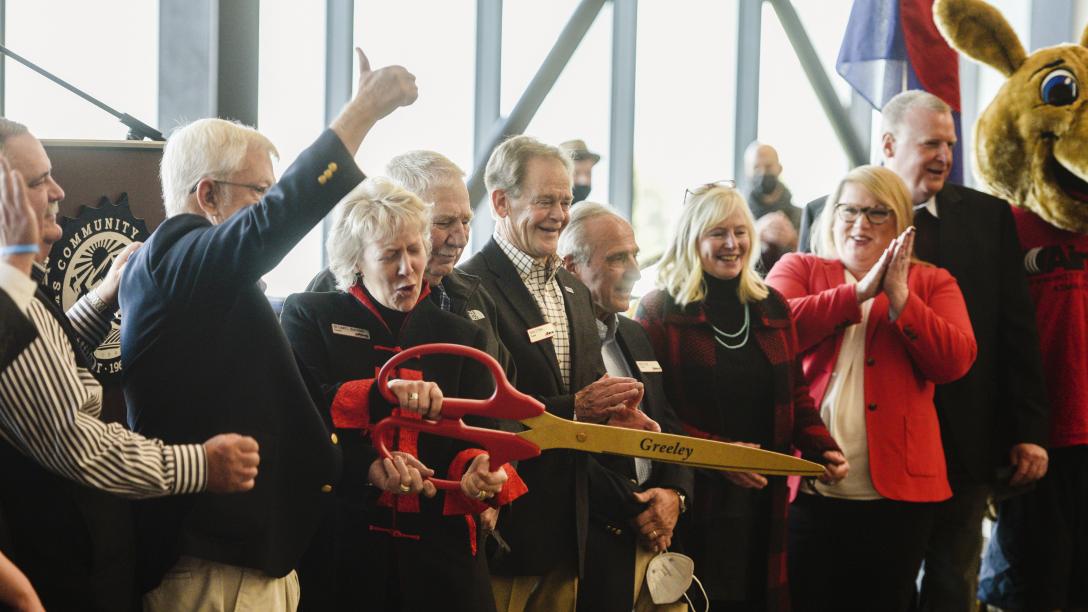 After several years of planning and 20 months of building, Aims Community College opened the doors to its new Welcome Center with a ribbon cutting ceremony and open house for the public on Friday.
The iconic new facility on the Greeley campus will reshape the student experience at Aims while ushering in both cultural and economic opportunities for northern Colorado.
The Welcome Center is the new home for student services, and it will serve as the beginning and end point of the student journey—where students first come to register and where they walk at graduation.
The building features an auditorium, ballroom, and other spaces for the college and community to host events. Approved by the Aims Board of Trustees in August 2018, the 106,000-square-foot facility was funded through Aims reserve and operating budgets, with no additional cost to taxpayers or students.
During the ribbon-cutting ceremony on Friday, Aims CEO/President, Dr. Leah L. Bornstein, said, "This Welcome Center is for all of us, just as Aims is for all of us. And it's a tangible example of how Aims is building a stronger community." She added, "During the pandemic, I heard numerous times from folks throughout the community who would specifically drive by to see the construction progress and let us know it gave them hope. Hope that this too shall pass.  Hope in observing creativity, momentum, and progress.  And, hope for the future."
This spring Aims will begin hosting internal college events at the Welcome Center, and beginning next fall the facility will be open to the community for events.
Alongside the construction of the Welcome Center, the Aims Student Commons building (formerly College Center) has been undergoing a renovation. That project is set to be completed during the spring of 2022.
Audience
Alumni
Faculty
General Public
Staff
Students