Aims Offers New Industrial Technology Certificates in Manufacturing Operations, Energy and Robotics
Aims Community College is offering three new certificate programs to address the needs of the growing manufacturing sector in northern Colorado. Over the next decade, there will be a greater need for skilled workers familiar with process automation, sustainable energy practices, industrial robotics and other high-tech skills.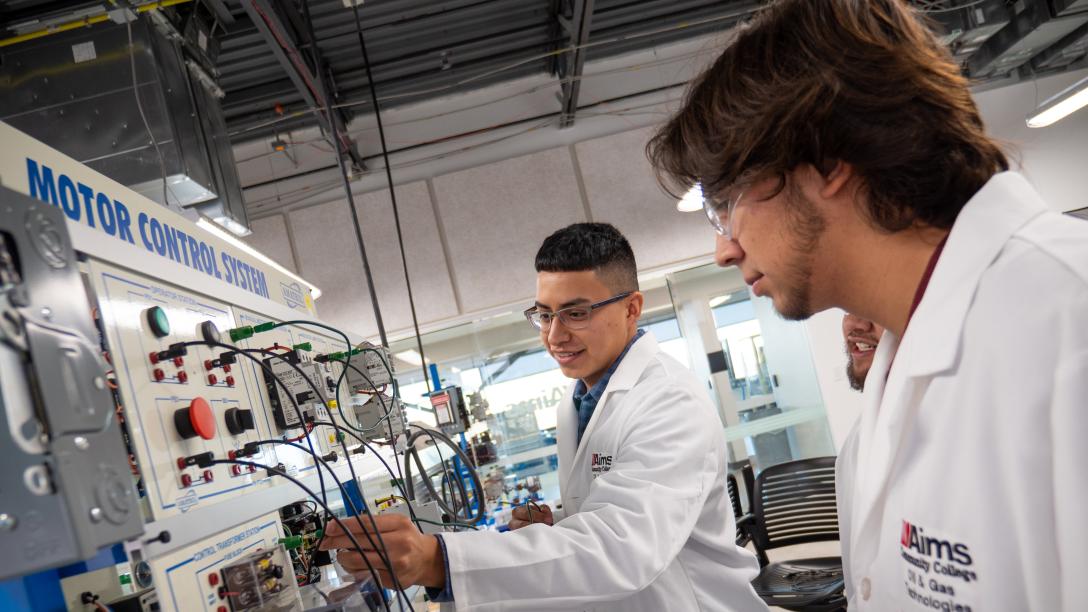 The new Aims Industrial Technology certificates include the following: 
Energy Certificate

 

Manufacturing Operations

Certificate

 

Robotics

Certificate
"What is most exciting about these new certificates is that they provide a mechanism for students to focus on a specific field within the industry," said Dave Sordi, an Aims instructor in Industrial Technology and Energy Studies. "For students who don't have the desire nor the time to obtain a two-year degree or general certificate, it will allow them to quickly learn about these fields and then use that to expand their career opportunities." 
Adding these focused certificates is expected to increase Aims student enrollment in the Industrial Technology program and potentially attract students in other degree programs who want to learn about robotics, energy, or manufacturing operations. Sordi provided this example: "a student may be pursuing a degree in nursing but would like to understand robotics due to the growing use of robots in the medical industry."
To gain knowledge and insight, the Industrial Technology program holds regular meetings with an advisory committee consisting of representatives from local industry partners to advise the college on the local business community's needs. These industry advisors have worked with Aims to continually evolve and develop curriculum for what is relevant. In the process of bringing these new certificate programs to the catalog, Aims retired certificates that were no longer as relevant to the businesses in the local economy.
"It's exciting that Aims is partnering with the students and the businesses in the community to help build the workforce we will all rely on tomorrow," said Eric Fitzsimons of CNE Creative Enterprises, LLC, an advisory committee member. "The intention is to guide students through the course selection of the certificates to gain the base skills needed for entry or acceleration of their careers in the associated industry."
"As companies evolve to respond to COVID-19, such as addressing broken supply chains, they will bring manufacturing back onto U.S. soil," Sordi said. "To become competitive with overseas labor costs, companies are using more automation and robotics within their operations. This creates issues, including a lack of technical expertise in the workforce to operate and maintain this equipment and increased energy use. These certificates will educate students to fill the opportunities created by issues industries will face."
Visit aims.co/apply to begin the admission process and learn more. An Aims admissions counselor will follow up to discuss the next steps. Learn more about the Aims Industry Technology and Energy Studies certificates at aims.co/industrial-tech-certs. 
Audience
Alumni
Faculty
General Public
Staff
Students