Career Services
Career Services is an essential part of the Transitions Center at Aims Community College. The team's purpose is to empower and equip diverse student and alumni populations with the strategies, tools and confidence to explore, discover and pursue their career goals.
How Career Services Helps
Engages students early and often in conversations that foster growth 
Encourages students to explore career possibilities, and help them identify and articulate their knowledge, skills and abilities
Helps students set career goals, gain industry-relevant experiences, cultivate career readiness skills and present themselves in professional settings with confidence
Assists students with transitioning their educational experiences to their career pathways
Develops intentional collaborations with campus and community partners, alumni and employers to help students reach their career goals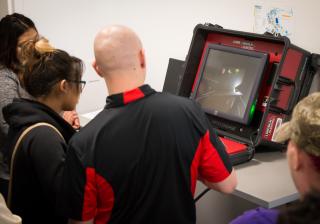 Connect with a Career Coach
Students can make an appointment to engage with career coaches on anything career related.
Contact Career Services
---
---
Locations
Hours
Mon - Thur: 8 a.m. - 5 p.m.
Friday: 8 a.m. - 5 p.m.