Food Services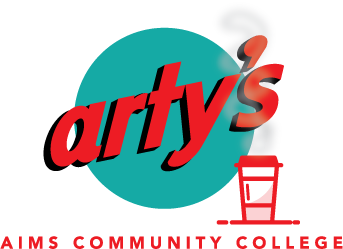 Aims Food Services provides a variety of options for students to enjoy hot and cold beverages, grab-n-go breakfast, lunch and snacks, as well as vending machines located on all campuses. Greeley's Alberto's Breakfast Burritos are available at all our locations.
Learn more about where you can find an Arty's foodservice venue and what each location offers in the list below.  
For your convenience, all Arty's locations accept cash, Visa, MasterCard, American Express, Discover and Arty's gift cards. 
Arty's Grub to Go food truck offers something delicious for any meal of the day. Featuring breakfast, sandwiches, and burgers, along with combo meals and pizza, the Arty's Grub to Go food truck is a comfort food lover's dream on wheels.
Check out the Arty's Grub to Go menu here.
Vending Machines
There are beverage and snack vending machines located on all Aims campuses. For vending issues please call (970) 339-6448 and leave a message. We will return your call within 2 business days.
Credit Card purchases are only charged if the product is dispensed. Your account might show a pending charge even though the machine did not dispense the product. The discrepancy should be resolved on your account within 2 to 3 business days. To dispute credit card charges, please call 1-888-561-4748.
Food Services Staff
Aims Food Services staff are dedicated to ensuring students, employees, and visitors have access to a variety of food and beverage options on all campuses.