Aims Foundation
Investment Opportunities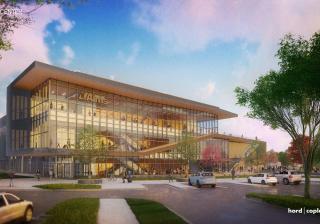 Invest in the future of Aims students
Order your personalized seat plate in the Welcome Center auditorium and support the College Promise Scholarship Endowment.
Order now
The Foundation offers a wide variety of investment options to help support access to Aims and scholarship development for students. Due to community generosity, the Foundation is uniquely positioned to dedicate all gifts to academic programs and scholarship development, directly impacting student success. 
To inquire about investment opportunities, contact Foundation Executive Director Kelly Jackson at 970-339-6583 or via email at kelly.jackson@aims.edu. 
As the student population grows, the Aims campuses are expanding to meet the needs of the next generation of students in our community. The new Welcome Center and renovated Student Commons, on the Greeley Campus, will elevate the student experience by creating ease of access to services needed as they navigate their education at Aims.
The Foundation is offering unique, once-in-a-lifetime opportunities within these buildings to support the growth of the College Promise Scholarship Endowment.  
We've made it easy to leave your legacy by investing in the future by following these steps:
Sign up for a tour of the Welcome Center: Tour Sign Up
Meet with Foundation Director Kelly Jackson to discuss naming and room recognition opportunities. Feel free to email kelly.jackson@aims.edu to schedule a meeting.
"Take a Seat" and commemorate student achievements, memorialize a loved one, or acknowledge an individual's contributions to Aims. For more information and to place your order, please visit Aims Invest in the Future.
Every gift received through these opportunities directly supports the growth of the College Promise Scholarship Endowment.  It is our goal to raise enough funds to support over 2,000 students each year.
Benefactors have the option to provide regularly scheduled gifts in support of annually funded scholarships. These scholarships may be dedicated to specific areas of study or student groups. 
Every dollar matters and leads to student success. Considering this, the Foundation works with benefactors to create meaningful scholarships that impact at all levels. To inquire about opportunities, please contact the Foundation. 
Benefactors desiring to support at higher levels may opt to endow their gift, often in honor of a loved one. This creates a permanent legacy, supporting students today and in the future. Endowed scholarships begin at $10,000 with annual earnings supporting the scholarship distribution. Benefactors may choose the frequency of their gifts based on investment levels and desired scholarship support. To discuss investment options, please contact the Foundation. 
Stocks Benefactors may provide gifts of stock in which the Foundation will liquidate to support a specified scholarship. Coordination takes place between financial institutions, Aims Finance, and the Foundation. 
Bequests Families or individuals desiring to continue their legacy may establish a bequest or gift after death. These may be dedicated to creating a specific scholarship as a memoriam or can be used for general Aims scholarships. Benefactors may discuss options with the Foundation on how to incorporate these into their will or trust.  
Retirement Accounts Benefactors may discuss options with the Foundation on the benefits of rolling retirement accounts into scholarships with Aims. 
Life Insurance Benefactors may select the Aims Foundation as insurance beneficiaries which will be used to create scholarships.  
To discuss any of these options, please contact the Foundation. 
Benefactors desiring public recognition of their gifts may investigate a variety of naming opportunities across the many campuses of Aims. These can include naming a building or sponsoring a room. 
To discuss these options, please contact the Foundation. 
The beauty of keeping our loved ones in our hearts can be accomplished by creating a memorial on one of the Aims campuses. Memorials or honorariums are created to honor the impact and connection from individuals who were instrumental in supporting the Aims mission, vision, and values. Often, these are in the memorial promenades or memorial gardens and can be in the form of benches, engraved granite plaques/rocks, or trees.
To inquire about commemorating your loved one, please contact the Foundation.