Alumni Connection
Welcome back to the Aardvark community. If you graduated with a degree or certificate from Aims or have even taken one class, you are an Aims alum! 
The Aims Alumni Connection exists to engage and connect former students as well as future alumni. Some of the ways we do this is by: 
Publicizing Aims events and activities and encouraging participation
Being visible in the community
Offering support that contributes to alumni success
Encouraging financial giving
Sharing alumni successes
Providing special discounts and benefits
Relationship building practices
Participating in outreach through Volunteer Aims Ambassadors
This outreach creates an ever-expanding group of alumni who advocate for the college in a myriad of ways.
---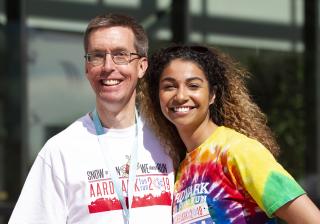 Stay Connected
Keep your information up-to-date so you receive the Alumni Connection's monthly e-newsletter, Full Circle, and always know about upcoming events!
Find Out What's Happening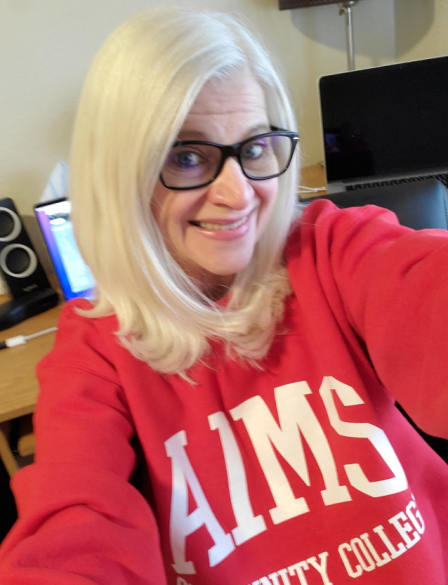 For alumna and employee Patty Schulz, Aims has become a second home. "Aims Community College is my community."
Patty started at Aims in 2002 as an international student from Canada pursuing her Associate's degree in Graphic Design. While completing courses, she worked part time as the night lab supervisor in the Aims Media Department. Soon after, she connected with Dean Shannon McCasland and started her journey of helping students.
Her first full-time role at Aims was a media specialist, where she stayed for 20 years! Patty worked on multiple projects, did marketing for student events, and wrote weekly newsletters and emails to keep students engaged.
In 2016, Aims looked into food insecurity among students, and Patty took the lead for Arty's Pantry. It started as a little closet in the back room of the SAIL office full of free food and other resources for Aims students. Employees have been supporters since day one, with the first physical item donated by College President Dr. B. 
Arty's Pantry is now a fully fledged program to ensure that all students have access to food and the basic supplies they need to succeed. Patty recently took the role as the Hunger Free Campus Coordinator, where she and six student employees stock, deliver, and run Arty's Pantry! They have partnered with United Way to provide free diapers, the Weld Health Department to provide sexual health products, and our very own nursing program to provide opium harm reduction products.
The future of this program is bright, opening an additional location on the Windsor campus when the new building is completed in Spring 2024 and expanding the partnership with the Food Bank so more food can be provided to students.
You can participate in this incredible program! Click the button below to help feed student success and donate to Arty's Pantry today!
Outside of her Aims life, Patty has been married to her wonderful husband for 10 years, and she has 2 step daughters following in her footsteps at Aims. She enjoys gardening and preparing fresh food for her family!
Patty is changing lives at Aims as this wonderful community has done for her. Thank you Patty!
Written by Hannah Tofflemoyer
Alumni Connection Staff
Aims Alumni Connection staff are committed to engaging alumni and keeping them connected with Aims.
Locations
Hours
Mon - Fri 8 a.m. - 5 p.m.
Related Links