Alumni Connection
Welcome back to the Aardvark community. If you graduated with a degree or certificate from Aims or have even taken one class, you are an Aims alum! 
The Aims Alumni Connection exists to engage and connect former students as well as future alumni. Some of the ways we do this is by: 
Publicizing Aims events and activities and encouraging participation
Being visible in the community
Offering support that contributes to alumni success
Encouraging financial giving
Sharing alumni successes
Providing special discounts and benefits
Relationship building practices
Participating in outreach through Volunteer Aims Ambassadors
This outreach creates an ever-expanding group of alumni who advocate for the college in a myriad of ways.
---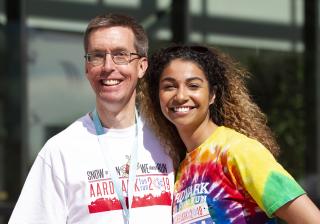 Stay Connected
Keep your information up-to-date so you receive the Alumni Connection's monthly e-newsletter, Full Circle, and always know about upcoming events!
Find Out What's Happening
Alumni Connection Staff
Aims Alumni Connection staff are committed to engaging alumni and keeping them connected with Aims.
Locations
Hours
Mon - Fri 8 a.m. - 5 p.m.
Related Links