Aims Community College Automotive Students Win Medals at the SkillsUSA National Competition
Three Aims Automotive Collision Repair and Refinishing Program students competed in the SkillsUSA National Competition held June 22-23 in Atlanta. All three students received medals in this nationwide competition. The SkillsUSA Championships is the nation's largest hands-on workforce development event for career and technical education students.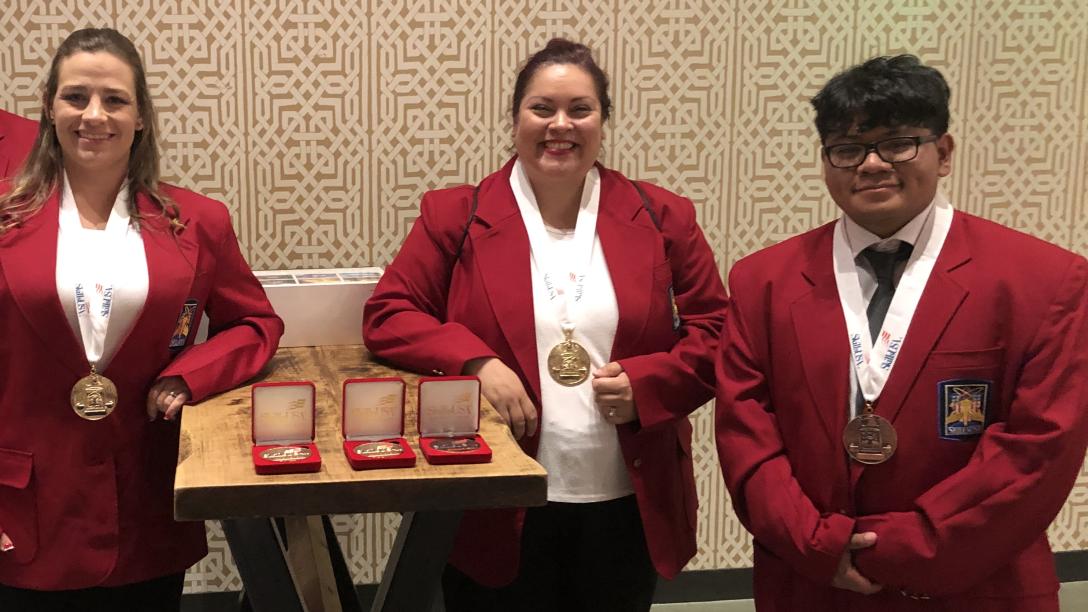 "Aims is proud of this newest wave of automotive students who have carried on the tradition of excellence in representing us at the SkillsUSA National Competition." Said Director of Automotive Programs Fred Brown. "This grows the Aims Automotive SkillsUSA National medal count to 11 podium finishes and seven National Championships in the ten years we have been competing."

Jamie Frey won a first-place gold medal in the Post-Secondary College Collision Damage Appraisal. "She has been a true testament to what hard work and effort combined with perseverance can produce, Brown said. "A non-traditional student in what has been a male-dominated industry, this single mother has succeeded above and beyond her own expectations to win her second SkillsUSA National Championship." 
Angela Munoz won the Gold Medal in the Post-Secondary College Facilithon: Leadership in Facility Management Demonstration. This event had the students work through scenarios based on managing facility-based issues that revolve around operations and problem-solving. "Angela has always taken her shot at chances and by challenging herself has grown above and beyond what she thought she could achieve," Brown said. "This wife and mother of three showed that taking a chance and stepping out of one's comfort zone can open doors and provide rewards that can lay just around the corner."
Jessie Manuel, an Aims Career Academy concurrent enrollment student at Greeley Central High School, took the Bronze Medal in the Secondary High School Collision Damage Appraisal competition. This event tested the ability to find, record, and prepare estimates on damaged vehicles with both obvious and hidden damage. "Jessie Manuel is a shining example of the success of concurrent enrollment here at Aims," Brown said. "His 'never-say-die attitude' had him rally to finish third and his perseverance was amazing. We expect great things from this young man as he grows in his studies here at Aims."  
Aims Community College automotive degree programs are nationally recognized and certified in secondary and post-secondary educational systems with the National Automotive Technicians and Education Foundation accreditation. The Aims Automotive and Technology Center is on the Windsor Campus. Get more information at aims.edu/auto.
Audience
Alumni
Faculty
General Public
Staff
Students