Come Fly With Aims Community College for Aviation Day in Loveland
Join Aims Community College at its Flight Training Center, 6350 Aviation Circle in Loveland, on Saturday, Aug. 13  for Aims Aviation Day from 8 a.m. until 2 p.m. This free, fun and family-friendly event features demonstrations from the Aims Aviation Program, games and activities for the whole family and a mini-car show.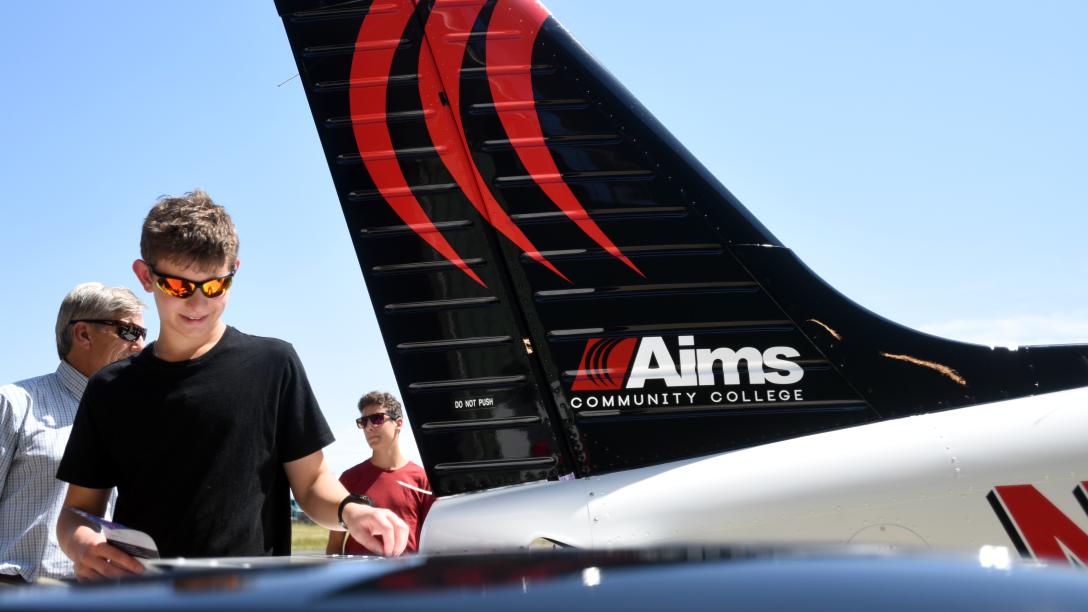 "Aviation Day is an opportunity for members of our communities to experience the joy of flight and what Aims Community College has to offer," said Chief Flight Instructor Alex Wernsman. "The most exciting thing about the event is seeing really young people get a chance to experience the joys of aviation and to pass on the passion to the next generation of pilots."

At Aviation Day, there is also an opportunity to purchase airplane rides for $25 per person, with all proceeds funding scholarships for future aviation students. Wernsman is excited about these community flights, saying, "it's cool to get to fly in a small airplane, to fly over your community at about a thousand feet, to see from not that high up the really beautiful landscape we have with the mountains in the background. It's a little bit of a realization, I think, for a lot of people, just how beautiful of a state Colorado is and what we have available to us in our own backyard."
The on-campus organization Women in Aviation is concurrently hosting Girls in Aviation Day to specifically introduce young females to the field of aviation through a variety of activities, such as flying EZ Jets, touring airplanes, participating in an ATC simulator, and visiting static displays. "I didn't know anything about aviation when I was a kid, so it's awesome to share these experiences," said Aviation student Sara Weaver, Chair of the Girls in Aviation Day committee. Girls between the ages of three and seventeen can sign up for a free discovery flight, although participants ten and under need a parent or guardian with them in the airplane. Girls in Aviation Day registration begins Aug. 1.

Visit aims.co/aviation-day for more information about Aims Aviation Day and to sign up for a flight. To request accommodations for this event, call 970-339-6388 or email disabilities@aims.edu. 
Aims Aviation programs are Federal Aviation Administration (FAA) approved and provide a hands-on learning experience through advanced simulators, flight training in modern aircraft and quality coursework taught by experienced pilots and air traffic control professionals. Aims offers three Associate of Applied Science degree options including professional pilot, general aviation pilot and air traffic controller. In addition,  there is Unmanned Aerial Systems (UAS) Basic Operator certificate to fly drones.  Please visit aims.co/aviation for more information. 
Audience
Alumni
Faculty
General Public
Staff
Students