Radiologic Technology
Turn your desire to help others by using technology into a fulfilling career in the medical field. Earn a radiologic technologist degree at Aims and get a job working as a radiologic technologist at a medical office, clinic or hospital. 
Also known as radiographers, radiology technologists are responsible for safely creating clear and accurate x-ray images of the body. These x-ray images help doctors make an accurate diagnosis and decide on a course of treatment. With a radiologic technologist associate degree, you can become a vital part of a medical team that helps patients navigate difficult health situations.
In this two-year degree program that takes five semesters to complete, learn the medical, technological and safety information required to become a radiologic technologist. Gain hands-on skills both in a lab setting and during several immersive internships. Get practice in applying critical thinking skills, delivering patient care and multi-tasking in a busy work environment.
 
During each semester in the rad tech degree program, you'll spend half the week in the classroom and labs and half the week in an internship in the community working directly with patients. Your instructors will support you every step of the way, guiding you through practice sessions and "what if" scenarios designed to teach you how to work with patients in a professional and compassionate manner. You'll also gain experience using a variety of high-tech equipment comparable to what you'll use in the field.
Study subjects including:
Fundamentals of radiologic equipment
Anatomy and disease pathology
Radiographic terminology
Safety standards and techniques
Specific radiologic procedures for different areas of the body
Radiographic specialties including pediatrics, geriatrics and trauma
The Aims radiologic technologist degree program abides by current standards and guidelines adopted by the American Society of Radiologic Technologists (ASRT) and the American Registry of Radiologic Technologists (ARRT). 
If you enjoy problem-solving, working with people and being challenged in a fast-paced setting with plenty of variety, earning a radiologic technologist degree might be right for you.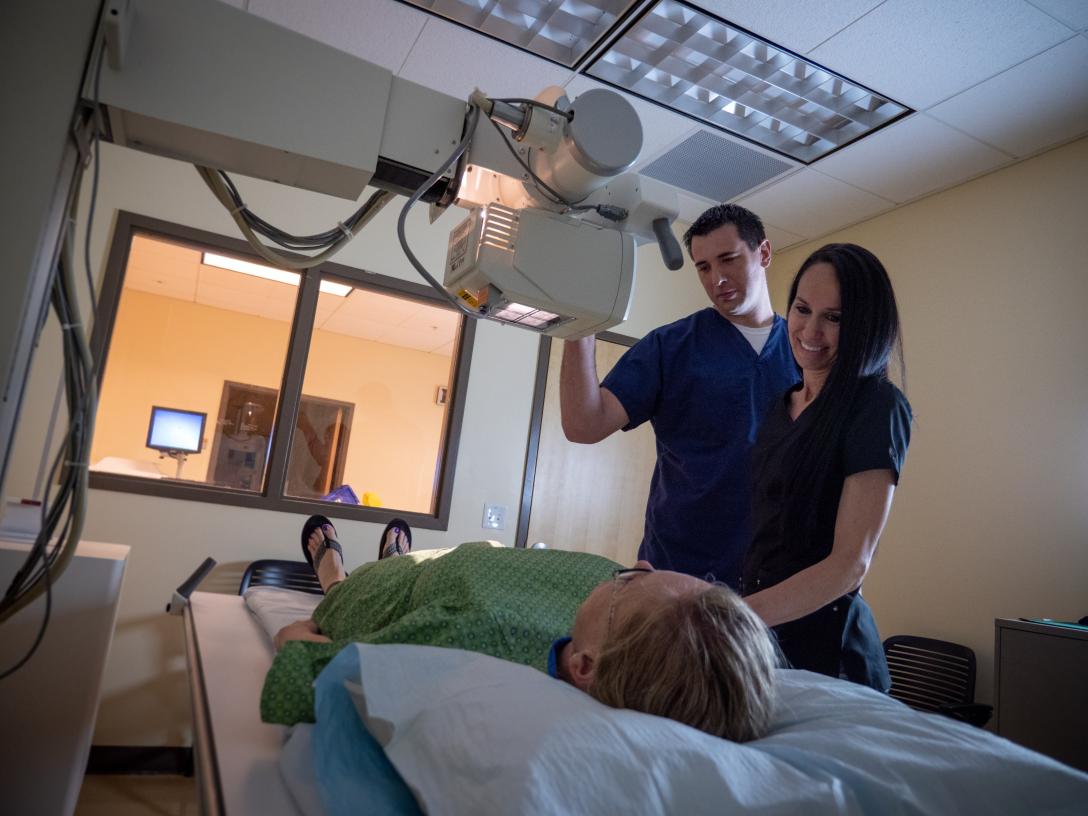 ---
Aims Degree Video - Allied Health - Radiologic Technology
Learn the fundamentals of radiologic equipment, anatomy and disease pathology, radiographic terminology, safety standards and techniques, radiologic procedures and radiographic specialties including pediatrics, geriatrics and trauma.
Jeanette McDonough, department chair of the radiologic technology program, describes the hands-on learning environment you'll experience in the radiologic technologist degree program at Aims.
The radiologic technologist associate degree program at Aims combines lectures, labs and internships to give you the medical knowledge and hands-on training you need to start your rad tech career.
While earning your degree, you'll learn how to:
Properly position patients for imaging
Operate a variety of x-ray equipment
Produce clear and accurate images
Apply radiation safety techniques
Communicate effectively with patients
Assess patients' safety and potential need for accommodation
Build skills in critical thinking, decisive judgment and performance under pressure
Evaluate radiographic exposures and images
The radiologic technology program also teaches you essential soft skills that employers are seeking. Gain practice developing rapport with patients and thinking on your feet. Learn how to present a professional demeanor and remain calm in a variety of medical situations. Build your critical thinking, teamwork and communication skills.
During your final semester, you'll take a capstone course that trains you for the American Registry of Radiologic Technologists (ARRT) exam to become a certified radiologic technologist. According to ARRT, many employers require that technicians are certified before hiring. Additionally, preparing for this exam allows you to review and apply the knowledge you've acquired throughout your degree program, and it shows potential employers that you're committed to your profession.
Many rad techs also go on to become certified in advanced radiology modalities, including CT, MRI, mammography and radiation therapy.
Mammography Technologist Certificate
Launch Your Career as a Radiologic Technologist
Radiologic technologists work in a variety of healthcare settings, including hospitals, clinics and medical offices.
Upon completing your radiologic technologist associate degree, you'll be prepared to sit for the ARRT competency exam and become a certified Radiographer.
After that, you can pursue further training and obtain certification in other areas of radiology, including:
Radiation therapy
Computed Tomography (CT)
Magnetic Resonance Imaging (MRI)
Mammography
Radiologic Technology Faculty and Staff
Many of the rad tech faculty are Aims alumni who returned to teach students interested in a radiologic technologist career. Smaller class and lab sizes offer ample opportunities for one-on-one instruction and guided practice learning new skills.
It's fulfilling to be able to see students graduate, pass their registry exam and get a great job that earns them the income that they're seeking. And to give them the fulfillment that they are helping people and changing people's lives for the better.
--Jeanette McDonough, Aims Radiologic Technology Department chair and instructor
Next Steps
This program has a multi-step application process.
Do you have questions?

Meet with an Enrollment Coach!
Contact the Radiologic Technology Department
Program Coordinator, Radiologic Technology
Degree at a Glance
Degree Type
Associate of Applied Science
Credits
74
Tuition*
Est. Lab/ Course Fees
$149
*Check Cashier's Office for current tuition rates