Surgical Technology
Earn an Associate Degree in Surgical Technology at Aims
Turn your desire to help others through medical science into a fulfilling career as a surgical technologist. Earn a surgical technology associate degree at Aims and get a job working as a surgical technologist at a hospital, clinic or surgical center.
Surgical technologists are an integral part of surgical teams, working with surgeons, nurses and other technicians to ensure that the operating room is safe and that all equipment is functioning correctly. 
While earning an associate degree in surgical technology, study subjects including:
Medical terminology
Anatomy and physiology
Microbiology
Surgical safety standards and techniques
Proper use of surgical equipment, including endoscopy, robotics and lasers 
In this two-year surgical technologist degree program, learn the surgical preparation and assisting techniques and safety protocols required to become a surgical tech. Gain hands-on skills both in a lab setting and during internships working with actual patients. Get practice in applying critical thinking skills, providing patient care and multi-tasking in a fast-paced work environment.
If you'd like to work in the medical field by applying acute attention to detail in a high-pressure, fast-paced environment, the associate degree in surgical technology program at Aims might be for you.
Aims Degree Video - Allied Health - Surgical Technology
Study the fundamentals that will help you start your career as a surgical technologist including human anatomy and physiology, microbiology, medical terminology, the fundamentals of surgical technology, surgical pharmacology and surgical procedures.
Katie Overturf, department chair of the Aims surgical technology program, talks about the exciting and fast-paced learning environment of the surgical technology degree program.
Gain the Skills You Need To Prepare for a Career as a Surgical Technologist
The surgical technology associate degree program at Aims combines lectures, labs and internships to give you the medical knowledge and hands-on training you need to start your surgical tech career.
Gain skills in:
Using surgical instruments 
Preparing a surgical suite and equipment
Gowning and gloving yourself and others
Assisting in a variety of surgical procedures
Dressing wounds
Surgical incisions and simulations
Using endoscopy instruments and the laparoscopy tower for appendectomies
Operating robotic and laser equipment
After studying a procedure in the classroom, you'll do mock surgeries in the lab. The Aims surgical lab has many of the same instruments and equipment you'll use in the field, including a laparoscopic tower. Learn instrumentation for several different surgical specialties, including scissors, hemostats, clamps and retractors. The lab environment is fast-paced to mimic what it's like during an actual surgery, requiring you to think on your feet and quickly apply what you've studied. 
The surgical tech degree program also teaches you essential soft skills that employers want. Gain practice thinking quickly in high-pressure and fast-paced situations. Learn how to present a professional demeanor and remain calm in a variety of medical situations. 
"It's amazing to know when you have a patient come in and you help perform a surgery that is lifesaving for them." --Katie Overturf, Aims Surgical Technology Department chair and instructor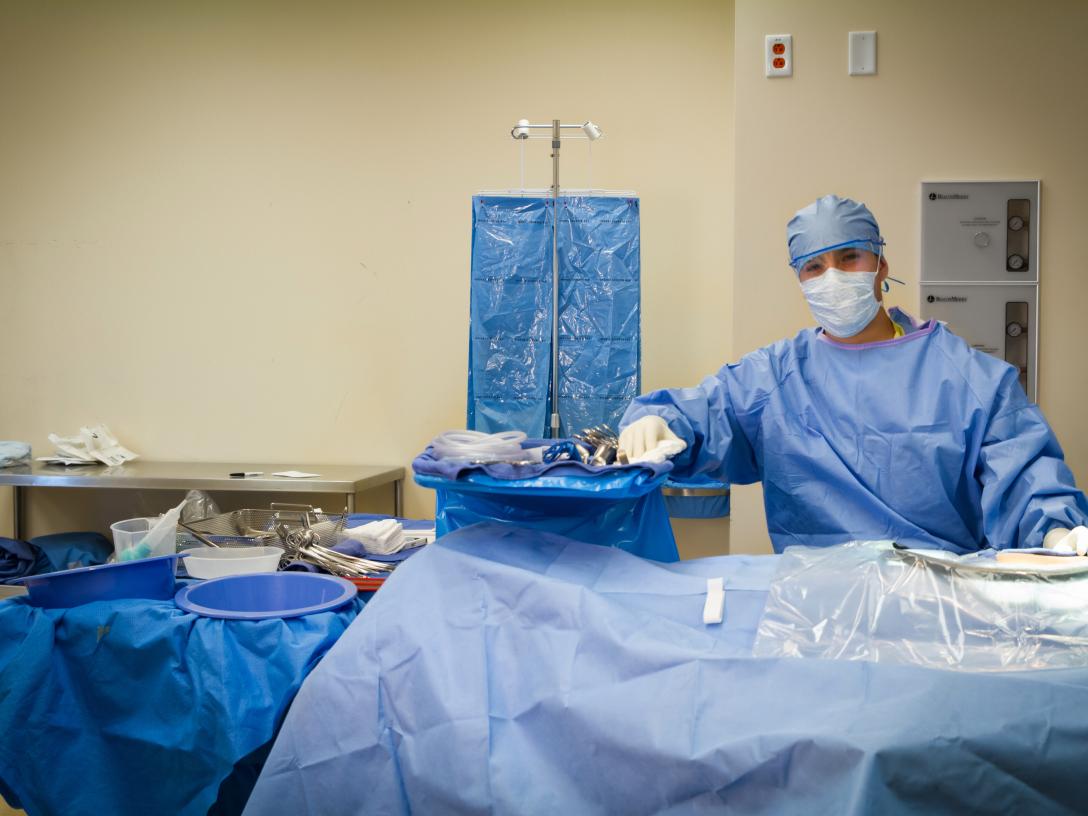 Aims Surgical Technology Pass Rates

| Year | Aims Community College Pass Rate | National Pass Rate | | |
| --- | --- | --- | --- | --- |
| 2021 | 73.3% | | | |
| 2020 | 81.8% | 73.7% | | |
| 2019 | 25% during transition to new director | 64.6% | | |
| | | | | |
Sterile Instrument Processing Certificate
Launch Your Career as a Surgical Technologist
Surgical technologists work anywhere surgeries are performed, including hospitals, standalone surgery centers, clinics and medical offices. 
Upon completing your associate degree in surgical technology, you'll be prepared to sit for the National Board of Surgical Technology and Surgical Assisting (NBSTSA) competency exam and become a Certified Surgical Technologist (CST). This national certification will allow you to find an entry-level job in any surgical setting.
Surgical technologists can work in a variety of surgical environments, including:
General surgery (hernia repair, appendectomy, bowel resection, gallbladder removal, lipomas)
Spinal and neurosurgery (cranial, spinal fusion, ruptured discs)
Obstetrical and gynecological surgery
Orthopedic surgery
Cardiothoracic (heart and lung) surgery
Plastic surgery (birth defect repair and elective)
Vascular (vessels and arteries) surgery
Burn/skin grafting
Urologic surgery (kidney stones, prostrate removal)
Oral/maxillofacial surgery
Surgical Technology Faculty and Staff
Many of the surgical technology faculty are Aims alumni who returned to teach students interested in a career as a surgical technologist. Smaller class and lab sizes offer ample opportunities for one-on-one instruction and guided practice learning new skills.
Next Steps
This program has a multi-step entrance process.
Do you have questions?

Meet with an Enrollment Coach!
Contact the Surgical Technology Department
Program Coordinator, Surgical Technology
Degree at a Glance
Degree Type
Associate of Applied Science
Credits
61