Pathway Advising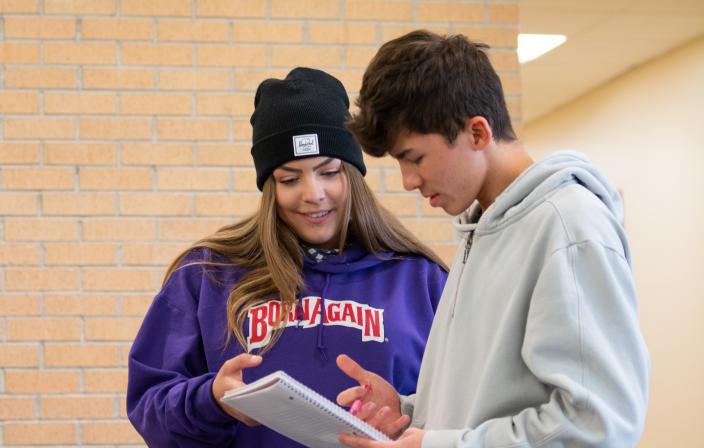 Summer Peak Registration
Peak registration starts on May 23 and ends on June 2, 2022. During peak, Pathways Advising will be offering students express advising via drop-ins so we can serve all of our students. These advising sessions will focus on the upcoming semester and last between 20 and 30 minutes.

Pathways advisors will reach out to students who come in during peak advising to make follow-up appointments early in the semester to complete an academic plan.

After peak advising ends on June 2, Pathways Advising will return to appointment-based advising.
Aims Pathway Advisors are committed to supporting students to navigate the educational system as they explore, define and pursue their educational and career goals. 
Advisors guide students by clarifying college culture and related processes while assisting in the identification of a career path and discussing the appropriate academic curriculum for the student's expressed goals.
Advising is based around a one-student, one-advisor model. This means you will ideally meet with one academic advisor throughout your entire academic career at Aims.Your advisor serves as your point of contact for your advising questions, general concerns, campus resources and success support.
Visit the Meet Your Advisor page to find your Pathway Advisor's specific contact information. If you are unsure who your assigned Advisor is, go to myAims-->Student Tab-->Registration + Advising + Graduation-->View My Advisor & Degree. 
Your Pathway Advisor will work with you to examine the most accurate information for creating a realistic plan to accomplish your educational and career goals. Please remember, however, the educational choices you make are yours. Therefore, it is your responsibility to understand all aspects of what is required to fulfill your program's requirements.
Students are assigned an advisor with their chosen pathway once they become a student at Aims. Pathway Advisor assignments are made according to each student's campus and declared major. 
As a new or returning student, your Pathway Advisor will work with you to:
Explain various educational pathways

Confirm your academic and career goals

Identify classes that will meet those goals

Assist with the online registration process

Inform you of important campus and community resources helpful for your success
It is recommended that current students meet with their Pathway Advisor at least once each semester. 

During these appointments, a Pathway Advisor can assist you with:

Short-term and long-term goal setting

Developing an education plan that outlines your courses all the way to graduation

Learning graduation requirements and other policies/procedures of Aims Community College

Monitoring and discussing your academic progress

Referring you to academic, career, financial, social and wellness resources that may assist you

Discussing any concerns or obstacles you are facing during the semester and helping you get back on track

Connecting with a faculty mentor in your area of study as well as leadership and experiential learning opportunities

Academic probation and suspension recovery
---
---
Locations
Hours
Fort Lupton
 | Mon. - Thur. 7:30 am -5:30 pm
Greeley | 
Mon. - Thur. 7:30 am -5:30 pm
Loveland
 | Remote and by appointment
Windsor | Mon. - Thur. 7:30 am -5:30 pm
Related Links