Student Activities, Inclusion and Leadership
Arty's Pantry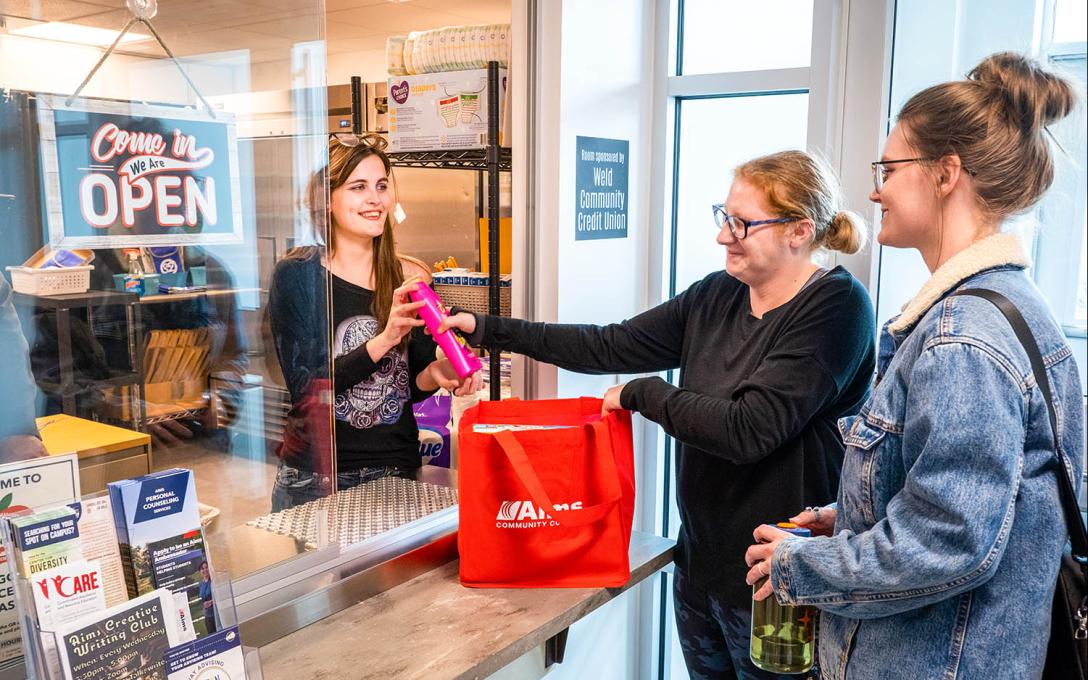 As an Aims student, you should be able to concentrate on your studies, plan for the semester, and not worry about how you will get their next meal. The Arty's Pantry program helps ensure that all Aims students can access food and the basic supplies they need to succeed.
Arty's Pantry offers online ordering. Choose your pick-up location and time on the form and then show up to pick up your items. It's that easy! 
Pick-up is available at the Greeley, Windsor, Fort Lupton and Loveland campuses.
Questions about how the program works or how to order food or supplies? Email Arty's Pantry.
---
Provided by the Student Activities, Inclusion and Leadership (SAIL) Department, Arty's Pantry is funded by various grants and the generous donations from Aims staff, faculty and the greater community. 
For information on how you can support Arty's Pantry, please email Arty's Pantry. 
Donations are gratefully accepted at the pantry in the Student Commons on the Greeley Campus.
You can also make a financial donation through the Aims Foundation.
---

Arty's Pantry is open to ALL currently enrolled students with an "A" number.
Students can order from Arty's Pantry once per week.
Students must present their Aims student ID and agree to the assessment agreement as part of the service.
---
---
Get Involved!
Join the Hunger-Free Student Advisory Council and help find ways to address food insecurity at Aims. All students are welcome to attend the monthly meetings starting January 2023.
MISSION: 
Bring together the community of Aims to address barriers that impact student food security.
PURPOSE: 
Improve the health and academic success of the students of Aims Community college.
VISION: 
Create an environment at Aims Community College in which every student, regardless of their affiliation or socioeconomic status, has sufficient access to nutritious food.
All Meetings are scheduled in person on the Aims Greeley Campus, Student Commons, Room 114.
January 26, 2023, 2 - 3:15 p.m.
February 23, 2023, 2 - 3:15 p.m.
March 30, 2023, 2 - 3:15 p.m.
April 27, 2023, 2 - 3:15 p.m.
May 25, 2023, 2 - 3:15 p.m.
---
Weld Food Bank Farms to Families Fresh Food Truck at Aims Weld County Campuses
Aims Students are invited to come out and pick up fresh fruits, veggies, and more! Click on your campus below for dates.
* first come, first served basis - while supplies last
3rd Wednesday/month
12 - 1:30 p.m.
Student Commons Parking Lot
November 16, 2022
January 18, 2023
February 15, 2023
March 15, 2023
April 19, 2023
June 21, 2023
July 19, 2023
August 16, 2023
September 20, 2023
October 18, 2023
November 11, 2023
The Farms to Families Food Truck will not be on campus during holidays and/or days that Aims is closed. 
Visits may be canceled without notice in cases of inclement weather.
2nd Thursday/month
12 - 1:30 p.m.
Roundabout between PSI and AUTO
November 10, 2022
December 8, 2022
February 9, 2023
March 9, 2023
April 13, 2023
June 8, 2023
July 13, 2023
September 14, 2023
October 12, 2023
November 9, 2023
The Farms to Families Food Truck will not be on the Windsor or Fort Lupton campuses between semesters, during holidays and/or days that Aims is closed. Visits may be canceled without notice in cases of inclement weather.
3rd Thursday/month
10 a.m. - 12 p.m.
Outside between Prairie and Platte
November 17, 2022
January 19, 2023
February 16, 2023
April 20, 2023
June 22, 2023
July 20, 2023
September 21, 2023
October 19, 2023
November 16, 2023
The Farms to Families Food Truck will not be on the Windsor or Fort Lupton campuses between semesters, during holidays and/or days that Aims is closed. Visits may be canceled without notice in cases of inclement weather.
Supplemental Nutrition Assistance Program (SNAP)
The Supplemental Nutrition Assistance Program (SNAP) helps low-income households in Colorado purchase food. It provides a monthly benefit that helps families and individuals buy the food they need for good health.
The benefit is provided based on income, resources and the number of individuals in the household. Electronic Benefit Transfer (EBT) cards are used to receive the benefit and can be used similar to debit cards at participating food stores. The benefit can be doubled in value by shopping at participating markets and food stores that support the Double Up Food Bucks program.
SNAP is part of a federal nutrition program to help low-income households purchase food. County human services departments are responsible for determining eligibility and authorizing SNAP. 
SNAP is good for the local economy. Households participating in SNAP spend more on food. By providing more resources for food, SNAP helps free up cash for households with low-income to buy other essential items, like diapers and medication. As a result, retail sales increase, benefiting stores that sell both food and non-food items.
Nutrition Assistance
SNAP is the cornerstone of the federal nutrition assistance safety net and the first line of defense against hunger.
SNAP provides nutrition support to many low-income individuals.
In 2020, roughly 38% of SNAP participants in Colorado were under the age of 18.
Economic Benefit
Not only does SNAP help individuals and families when money is tight, the program also benefits our local community.
Every $5 in new SNAP benefits generates almost $10 in local economic activity.
Every additional dollar in SNAP benefits generates $1.79 of new spending in the community (Hanson, 2010).
Electronic Issuance
The Electronic Benefit Transfer (EBT) card is the electronic system that allows SNAP households to access their benefits, similar to debit cards.
All 50 states have made the transition from paper coupons to the EBT card.
Participants receive a plastic EBT card, similar to a bank debit card, which can be used at USDA-authorized grocery stores and markets across the country.
Underserved Population
On average, more than $87 million in food benefits are issued statewide every month, assisting more than 250,000 households and 499,000 individuals.
Identity
The identity of the person applying must be verified
Residency
Clients must currently live in Colorado.
Citizenship
Must be a US citizen or have a qualifying immigration status.
SSN
SSN or proof of an application for a SSN must be provided for all individuals requesting assistance.
Household Composition
A SNAP household is composed of the individuals who buy and cook meals and will receive SNAP benefits together
Mandatory Members: Who is Included?

Spouses living in the same residence.
Natural, adoptive, or stepchildren under age 22 living in the same residence as parents.
Children under age 18 who are living under the parental care and control of an adult.
Individuals who state that they are buying and cooking food together.

Special Situations

Parents of a child in common who are divorced or separated and not living together, the child(ren) can only be included in the SNAP household of one parent.
Children of undocumented/documented immigrants may qualify for SNAP if they are citizens or if they are under age 18 and are in a qualified immigration status. Undocumented parents will not be penalized for applying on behalf of their children. However, they should be added to the application.
College students may qualify for SNAP benefits if they meet additional eligibility criteria and have not purchased a college meal plan that covers over half of their meals in a month. These additional eligibility requirements will be explained during the application process.
Income
Total household monthly gross income must be verified prior to approval unless the individual is eligible for expedited benefits. See the Colorado SNAP website at: https://cdhs.colorado.gov/snap
Resources
Can include checking and savings accounts, vehicles, homes, etc.
For most household's resources are not counted.
Work Requirements
Unless exempt, individuals must meet certain work requirements.
Exemptions include, but are not limited to, caring for children under age 6 or a disabled individual, having a disability, or are already working 30 hours a week at minimum wage.
Able bodied adults without dependents (ABAWD) in their home must meet or be exempt from work requirements in order to receive SNAP for more than three months within a three-year period.
Online Application:
Paper Application:
Found on the SNAP website at https://cdhs.colorado.gov/snap
Click on "How Do I Apply" for a list of each type of application.
Applications can be printed in English, Spanish, or Large Print.
Paper applications can be filled out and returned by mail, fax or in-person to the local county human services office.
Click on "county human service office" for an interactive list of county offices, for local county office contact information.
By Phone:
Contact one of our SNAP Outreach partners at: Hunger Free Colorado 855-855-4626
---
If you are an Aims student who is experiencing food insecurity, there are other community resources available to help.
Weld Food Bank provides emergency food throughout Weld County.
Clients are currently not allowed in the building; food will be brought to the parking lot. Consult the Weld Food Bank website for continued updates. For more information, visit www.weldfoodbank.org.
Contact:
Greeley Location: 1108 H Street, Greeley, CO.
Phone: 970-356-2199
Hours:
Monday to Friday: 8 - 11:45 a.m. AND
Monday, Tuesday, Thursday & Friday: 1 - 4 p.m.
Provides food and clothing to Fort Lupton community members.
Social distancing guidelines in place. If you have any COVID-19 symptoms, please call and wait outside to receive orders.
Contact:
421 Denver Avenue
Fort Lupton, CO.
Phone: (303) 857-1096
Hours:
Monday to Friday: 2:30 - 4:30 p.m.
Effective immediately, the client-choice Food Share pantries have temporarily converted to a drive-up model. Please check the Food Bank for Larimer County Facebook page for updated information. Additional information can be found here.
Location and Hours
Lincoln Avenue (Loveland):
Tuesday & Thursday: 10 a.m. - 3 p.m.
Blue Spruce Drive (Fort Collins):
Wednesday & Friday: 10 a.m. - 3 p.m.
Everyone is eligible at the Loveland Community Kitchen. There are no requirements to come for a hot meal and a sustainable food bag.
Location and Hours
427 N. Garfield Ave.
Loveland, CO
Phone: (970) 278-1726
Monday - Friday: 5 - 6:30 p.m. 
Saturday/Sunday: 3 - 4:30 p.m.
 
Contact Info
Student Activities, Inclusion and Leadership Office
Greeley Campus, Student Commons Room 155
Locations
Hours
Spring Break Hours:
Mon. - Fri. 8 a.m. - 5 p.m.
Related Links
Related Resources
Contact Info
Hunger Free Campus Program Coordinator