Two Aims Students Compete in the UNC Entrepreneurial Challenge Finals
The Monfort College of Business at the University of Northern Colorado announced the winners for the 2023 Entrepreneurial Challenge. Grant Hall was the winner of the Collegiate Division. In first place, he took home a prize to put into his business, Martian Media. Hector Becerra came in fourth place and received a $2,000 prize to grow Chicha Mate.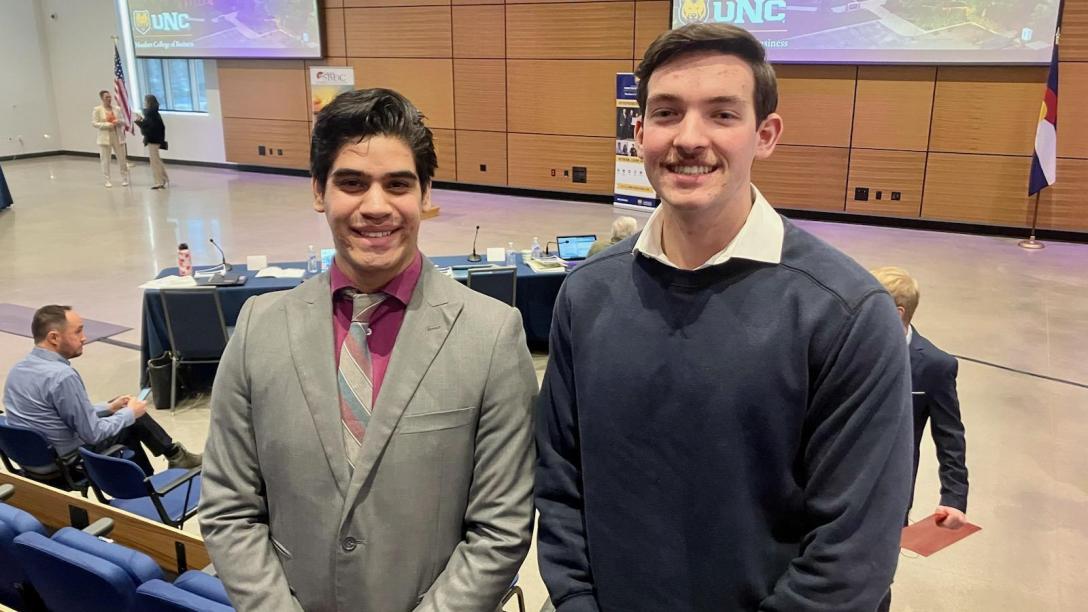 Two Aims Community College students, Grant Hall and Hector Becerra, are finalists in the 12th Annual Entrepreneurial Challenge hosted by UNC's Monfort College of Business.  Only four students made it into the Collegiate Division finals. The event was held on March 8 from 9 a.m. to 2 p.m. at the University of Northern Colorado Campus in the University Center Ballrooms.

The Entrepreneurial Challenge is an educational business pitch competition that helps participants acquire entrepreneurial skills and develop innovative ideas. Participants gain feedback from industry leaders, network with other entrepreneurs and compete to win prize money.
One of the finalists in the competition is Hector Becerra, an Aims student working on an associate degree in accounting. His business is a Chicha Mate, a chicha morada-inspired energy drink made with natural spices and fruit. It is a low-sugar, antioxidant-rich beverage based on a family recipe. "I used to visit my grandmother in Mexico when I was a kid and she would make us this drink made with purple corn and other ingredients; it was so refreshing on a hot summer day," Becerra said. He wants to produce the drink locally and sell the product online. Diane Leted, a Communication Studies major at UNC, is co-presenting with him at the Challenge; she's assisted with his presentation and marketing of Chicha Mate. 

Becerra also found support through the Aims TRIO Student Support Services program to equip historically underrepresented student populations with skills, experiences, and academic practices to assist them in achieving their educational goals. He participates in the program and has a work-study job with TRIO. Becerra's advisor, Arizbe Soto-Ramirez and the entire TRIO team provided feedback on his presentation and business plan and provided opportunities to help him improve.

Becerra also found that his business classes at Aims prepared him to compete in the Entrepreneurial Challenge. One of his professors, Joanne San Nicolas, encouraged him on this journey through coursework and pushed him to participate in the Entrepreneurial Challenge.

"I am excited that we have two Aims students in the finalist competition. It's an outstanding opportunity for students," San Nicolas said. "I have observed over these last few years how the employees at UNC have developed this competition into a first-rate experience. It has a wonderful energy."

The second Aims student in the Entrepreneurial Challenge is Grant Hall. He is an Aims business major with plans to graduate with an associate degree in May. Hall also is a certified drone pilot who took Unmanned Aerial Systems (UAS) courses at Aims while still in high school. These two passions helped Hall develop his business, Martian Media.

The company provides virtual indoor drone tours for real estate sales. "I use these small custom-built drones to fly through different properties and businesses so real estate agents can use these for their listings. It shows us the house in a whole new way," Hall said. Martian Media can also provide indoor footage of businesses, like a gym or give a unique view of a special event such as a wedding. 
Hall received support from Aims faculty on both the business and UAS programs. He said they both played a "key role" in developing Martian Media. Business professor Jennifer Markiewicz prepared Hall for the competition, "her knowledge has been a tremendous help." His business classes provided skills like communication, financial acumen, networking, and legal aspects in becoming an entrepreneur. Jake Marshall, UAS Chief Instructor Pilot, was "a huge help" regarding the drones' technical aspects. The UAS program "has really helped catalyze my success just in practice from and just kind of like planning, preflight planning, preflight checks, creating standard operating procedures, and more."

Hall has found the experience of this competition invaluable. "It's just a great experience because being an entrepreneur is something I've always wanted to do." It also has been beneficial to his company. "I've definitely learned a lot about my business and a whole new perspective on it. All the feedback I've gotten has helped a ton."
To learn more about the Entrepreneurial Challenge, please visit mcb.unco.edu/e-challenge. 
Audience
Alumni
Faculty
General Public
Staff
Students