UAS Basic Operator Certificate
Pursue your passion for flying drones by earning a UAS pilot certificate at Aims. Be a part of a new and exciting growing industry with training from Colorado's top aviation school. Learn flight control and piloting techniques for common Unmanned Aerial Systems (UAS). 
Drones help professionals approach their work safely and with greater clarity, including:
Fire scene investigators
Film producers
Construction managers
Municipalities
Law enforcement
This UAS operator certificate program features three core classes, prepares you to take the FAA Part 107 Small Unmanned Aerial Systems certification exam and gives you options to explore drone use in a professional area of interest. 
In this program, you'll learn and demonstrate maneuvers, procedures and best practices for safe UAS operation on fixed-wing and rotary-wing drones. 
The Aims drone pilot certificate program gives you hours of practice and training during which you will learn:
Engaging with the National Airspace System
Mission setup
Interpreting sectional charts
Safety training
An application phase that allows you to study UAS use within an industry of interest
Federal regulations, the reasoning behind them and how they apply in real-world scenarios
Ground training and test preparation for the FAA drone certification test that allows you to earn a Part 107 commercial drone pilot license
Approximately 20 hours of flight training using DGI and fixed-wing equipment
UAS Basic Operator Certificate
Chief Instructor Pilot Jake Marshall gives an overview of the drone program at Aims Community College.
UAV Certificate Josh Maile
Aims Community College student Josh Maile shares his story about successfully completing the FAA Part 107 certification and the resources and career opportunities Aims offers all students.
Get Hands-on Skills as a Drone Pilot
In the rapidly growing Aims drone pilot training program, you'll have the chance to get UAS pilot training aligned with FAA and National Airspace System requirements.
You'll also gain skills and knowledge in the following areas:
Safety management
Creating operations and pre-flight checklists
Fixed-wing and multirotor aircraft systems in consumer and enterprise applications
Human factors affecting UAS
Crew resource management
Autonomous systems
UAS flight operations and engineering
Basic operator academic certificate courseware
Connections with other Aims academic programs with subject areas that use drones
You'll be able to set your own course of study unique to your needs and interests so you can build confidence as a leader in your industry. You can then take what you've learned and either start a business or apply for work in a field of interest.
The Aims UAS pilot certificate program also teaches you valuable "soft" skills that employers and clients want, including communication, teamwork, problem-solving and working in stressful environments.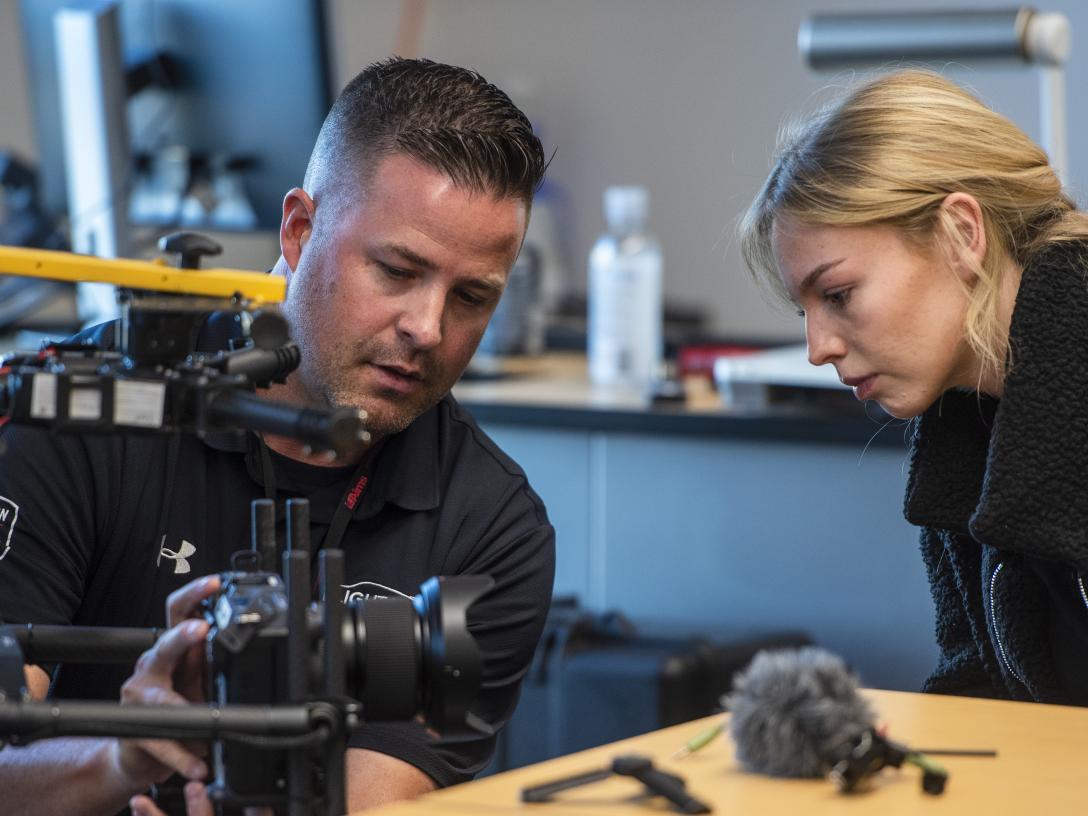 UAS systems and applications are rapidly expanding, and skilled certified pilots are already in demand. According to the FAA, the commercial, small non-model UAS fleet is forecast to nearly triple from 277,386 in 2018 to 835,211 in 2023, an average annual growth rate of 24.7 percent. 
The Job and Salary Outlook for Drone Pilots Is Promising
Industries with opportunities for trained drone pilots include:
Agriculture
Applied technology
Aviation
Communication media, including film and video production
Construction
Criminal Justice
Engineering
Fire science
GIS mapping
Industrial technology
Law enforcement
Real estate marketing and management
Oil and gas technologies
Public safety
Whether you're studying for a career in one of these industries or already employed, the Aims drone pilot certificate program can help you add valuable marketable skills to your resume. 
Aims UAS Operator Faculty and Staff
Learn from experienced faculty who will support you in achieving your unique goals for working with drones. Get support in determining how drones are used in a given industry and how to develop skills that will make you an asset to companies or to start your own business. 
 
Next Steps
Are you ready to get started?
Do you have questions?

Meet with an Enrollment Coach!
Degree at a Glance
Degree Type
Certificate
Credits
10