Elementary Education - Liberal Arts
If you're excited by the idea of helping students gain new skills and abilities, consider starting a rewarding career in education. The Aims elementary and secondary education associate of arts degree with designation is designed for students who will go on to pursue a bachelor's degree. The 60 credits you earn at Aims will transfer to participating Colorado four-year colleges and universities where you'll enter the bachelor's program as a junior. 
To pursue a career in education starting at Aims you will need to identify your four-year transfer institution as early as possible. Elementary and secondary education students are required to pursue a bachelor's degree and because programs vary among Colorado Universities, early declaration will help ensure you earn all required credits during your two years at Aims.
Aims2UNC
You can enjoy seamless transfer support for your elementary teaching degree by enrolling in the Aims2UNC transition program. Your Aims education associate degree credits transfer to the bachelor of arts in elementary education with a teaching emphasis at the University of Northern Colorado.
Learn more about this exciting transition program for students who want to become an elementary school teacher. 
If you want to teach at the middle and high school level, you can complete your first two years of general education and specific content courses at Aims - whether you decide to teach math, science, language arts or another area of focus. These courses will transfer to a four-year university and allow you to continue your coursework for secondary education licensure. Students should consult with both education and content area advisors at Aims.
Your education degree courses build your knowledge and skills to prepare you to transfer to a four-year program where you'll complete your bachelor's degree and ultimately go on to work teaching in the classroom. You will learn how to create a classroom that makes students feel safe and included while fostering an environment that stimulates their minds and invites them to ask questions and discuss ideas. 
The philosophical and educational framework that guides the elementary and secondary education associate degree program at Aims is grounded in developmentally appropriate practices including:
Child development
Classroom management
Observation skills
Interpersonal communication
Critical thinking
Pedagogical theory and practice
Lesson planning
Supporting different learning styles
The elementary and secondary education associate degree program at Aims also teaches soft skills that are important to employers. These include listening, communication, time management, self-care, and critical thinking, all skills that can help you enter the bachelor's program prepared to succeed.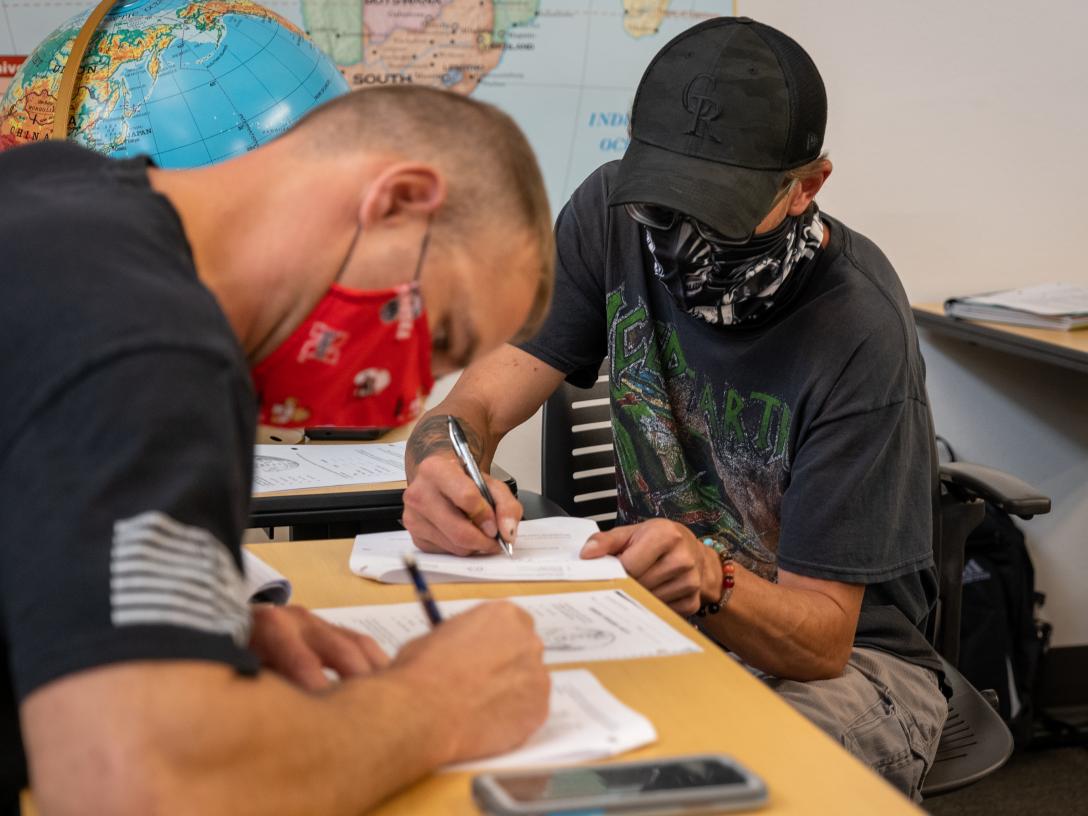 Begin Your Journey to a Career in Education
If you are excited by the idea of helping guide students as they begin their journey through their own education, the elementary and secondary education associate degree program can help you start your career. 
Students who graduate with an education bachelor of arts go on to positions including: 
Elementary school teacher
Secondary school teacher
 
Education Faculty and Staff
Learn from instructors with elementary and secondary education classroom teaching experience who are committed to helping you transition to a bachelor's degree program. Gain guidance and feedback from people who can help you make connections between classroom theory and real-world practice.
Next Steps
Are you ready to get started?
Do you have questions?

Meet with an Enrollment Coach!
Degree at a Glance
Degree Type
Associate of Arts
Location
Greeley Campus
Fort Lupton Campus
Loveland Campus
Credits
60