Arts and Sciences
Visual and Performing Arts
At Aims, you can choose from a variety of visual and performing arts programs that will give you the skills you need for a fulfilling and successful career. If you've always wanted to learn how to paint, play an instrument or want to work on improving your public speaking skills, consider taking a class for fun. If you'd like to earn a bachelor's degree in the arts, you can earn a liberal arts degree with designation and your courses will transfer to any participating public four-year Colorado school. 
Art classes at Aims introduce students to both studio and academic approaches to art. One can work with their hands while also engaging in analysis and criticism of works of art and architecture. Whether exploring for personal interest or pursuing a career in the arts, Aims provides a solid foundation in the skills it takes to make and enjoy works of art.
Fine Arts
Illustrator
Sculptor
Art Critic
Museum Curator
Teacher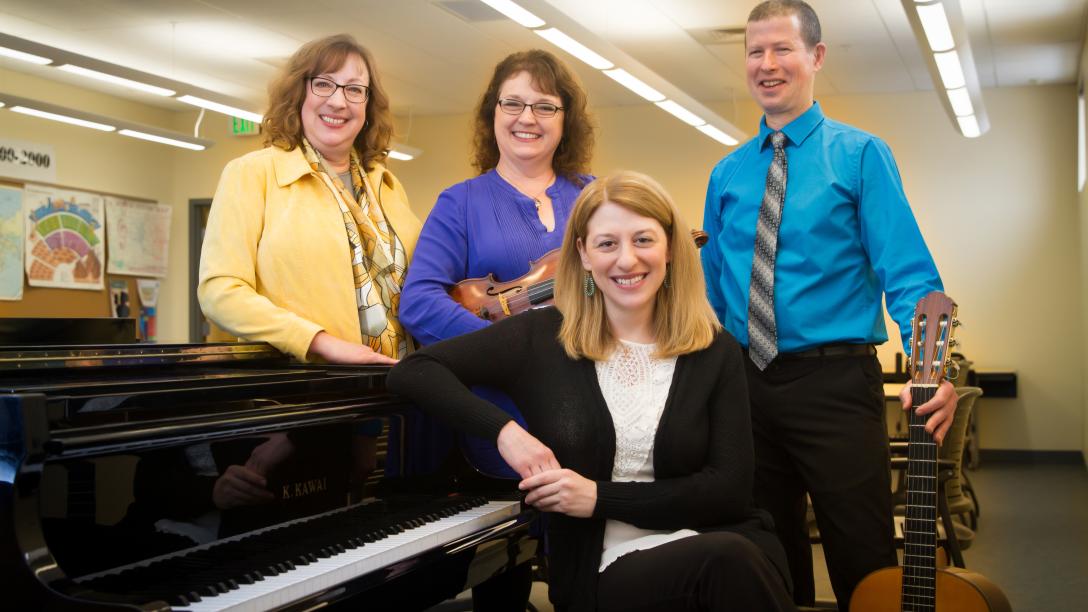 Music surrounds us every day. It's an art form that can teach us, move us and bring us together. The Aims music program gives you the opportunity to explore and learn in a friendly environment. Music courses help you develop your instrumental and performance skills while developing your understanding of the history of music in context of the time it was made. 
Performance Artist
Composer
Music Therapist
Music Instructor
Band or Choir Director
Producer
We offer an associate of arts degree with a music emphasis, but you don't need to declare a music major to take private lessons or sign up for classes. All of our instructors have extensive experience in both teaching and performing, and we welcome all styles of music. By earning a liberal arts degree with designation in music, your credits will transfer to any participating Colorado public college, where you can go on to earn a bachelor's degree.
Theater classes are offered as part of the Visual and Performing Arts Department at Aims. While Aims does not offer an associate degree in theater, you can choose from several theater courses including acting and theatre production as electives or general education degree requirements. 
View Theatre Courses at Aims
Contact the Arts & Sciences Division Office
Lindsey Oster
Staff Executive II, Arts & Science
Isabelle Wolfe
Staff Associate, Arts & Sciences
Locations