Art History
Are you passionate about art and how it intersects with cultures and technologies throughout time? If you're interested in learning how multiple disciplines including history, economics, science and religion are reflected in tangible objects of visual culture, then earning an associate degree in art history at Aims can be a great way to begin your higher education journey.
Art historians are lifelong learners driven by curiosity, knowledge and storytelling. Their deep knowledge of the major artistic movements in history makes them an asset to museums, nonprofits, galleries, library systems and more. At Aims, you'll study visual art and architecture and the technology and tools that make it possible, from ancient history through today.
Earning an associate degree in art history at Aims is an affordable path to getting your bachelor's degree. Taking your general education degree requirements at Aims instead of a four-year school can save you substantial cost. Thanks to a statewide agreement between community colleges and universities, after completing your associate degree at Aims, you can transfer to any participating four-year public university in Colorado as a junior and earn your bachelor's degree in art history. 
At Aims, your instructors, Pathway Advisors and Transitions Center coaches will work together to help your transfer go smoothly. 
If you're interested in mythology and religion, art and history, and traveling back in time to connect these elements to what it means to be human, explore the art history associate degree program at Aims.
In the Aims art history degree program, you'll study an exciting array of subjects that will help you shape your career path. You'll learn about the major artistic movements from ancient times through the present, including Western and non-Western art.
Some of the skills and knowledge you'll gain in this program include:
Art categorization
Knowledge of artistic techniques and technologies
Memorization of dates, artists, media and more
Historical research
Narrative storytelling
Studio art skills
You'll learn about visual art and architecture produced throughout history and how the technologies available in a given era influenced the types of visual art that were possible at the time. Your art history classes will teach you how to identify art from a given era and understand the context surrounding it. 
You'll also take studio art classes as part of your art history degree program. These hands-on courses will give you an understanding of the effort involved in creating works of art. If you want to do a deep dive into a particular historical period or project, you can take up to four independent study credit hours, checking in with an instructor to mark your progress.
Depending upon your field of interest, your instructors and Pathway Advisor can help you choose general education and elective courses that are required for associate and bachelor's degrees and will also help you develop the skills you will use in your career. Many art history students choose courses related to the skills and knowledge that art history majors and professionals need, including geology, foreign languages and public speaking.
While earning an associate degree in art history, you'll also learn soft skills that will help you succeed in bachelor's and advanced degree programs and your career, including:
Critical thinking
Creative thinking
Research
Public speaking
Time management
Collaboration
Visual communication
Problem-solving
Art history is a rigorous interdisciplinary field that offers an array of captivating career paths. 
Examples of careers you can pursue after earning a bachelor's degree in art history include:
Gallery docent
Exhibition designer
Archivist
Art appraiser
Educator
Careers you can pursue with a master's degree or higher in art history include:
Educator
Curator
Tenure-track professor (Ph.D required)
Arts attorney (J.D. required)
Art theft investigator
Art conservationist
A Statewide Transfer Articulation Agreement in Colorado allows you to go on to study at any participating public university statewide after graduating from Aims with an Associate of Arts degree.
 
Here are the colleges and universities in Colorado that are a part of this statewide agreement and offer bachelor's degrees in art history.
Here's what your journey from Aims to a bachelor's degree in art history will look like:
An Aims Admissions Advisor can answer your questions about this degree transfer program and help you get started on the path to earning your degree.
After becoming an Aims student, you'll choose classes to earn your art history associate degree. Your Aims Pathway Advisor will help you ensure you follow the pathway that best suits you and helps you reach your goals.
During your time at Aims, you'll also work with an Aims Transfer Coach to get help choosing the school you'd like to transfer to and researching what scholarships are available.
You can also reach out to a transfer advisor at your chosen four-year school to make sure you're choosing classes that will support you when you go on to complete your bachelor's degree.
Before graduating from Aims, your Transfer Coach will help you prepare for the transition to your new school as a junior.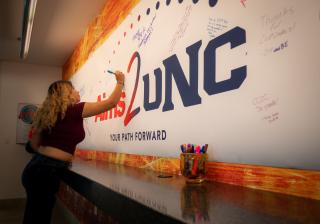 The Aims2UNC Transition Program
Aims2UNC is a joint initiative streamlining the path for students to seamlessly transition between the two colleges. You'll get support from advisors specific to this program who will assist you as you earn your associate and bachelor's degrees in art history.
Learn more
If you decide to pursue another discipline after transferring to a four-year school, here are some bachelor's degrees related to art history:
Museum studies
Library science
Anthropology
Archaeology
Studio art
You can also choose one of the majors above and declare a minor in art history. Work with your Pathway Advisor to choose the courses that you'll need to fulfill requirements. If you decide to choose a new major, know that you may need to make up some credits after transferring.
The art history instructors at Aims love working with students even more than they love art history—and they really love art history. Passionate and accomplished art historians with extensive experience in the field, you'll receive encouragement to engage with your instructors in and out of class and to pursue your curiosity and interests. You'll also receive guidance on the rigors of art history bachelor's degree programs. 
Next Steps
Are you ready to get started?
Do you have questions?

Meet with an Enrollment Coach!
Degree at a Glance
Degree Type
Associate of Arts