Transfer Services
Transfer Services is part of the Transitions Center at Aims Community College. This department helps you prepare for your next destination if you wish to transfer to a 4-year college or university upon graduation. To ensure you follow the pathway that best suits you and helps you reach your goals, this preparation begins your first semester at Aims Community College and continues through completion of your associate degree.
Connecting with a transfer coach is the best way to make the transition as smooth as possible.
A Transfer Coach Can Help You
Transfer coaches can offer valuable insight into your options upon graduation and can aid in the following:
Researching colleges and universities that match your educational and career plans
Navigating the transfer application and scholarship processes
Connecting you to people and support services at your transfer institution 
Use the link to easily schedule an appointment with a transfer coach. (If the times available don't work for you, please contact us at transferservices@aims.edu to set up an appointment.)
Transfer Services also offers:
Campus visits to Colorado colleges and universities, including: the University of Northern Colorado and Colorado State University
Recruiter visits from Colorado, regional, and online colleges and universities
National Student Transfer Week (October)
Transfer fairs and workshops
Note: Transfer Services events, programs, and coaching are available in-person and online.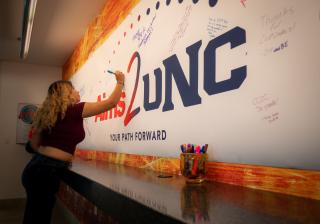 Aims2UNC Program
Achieve your academic goals with a clear path from an associate degree at Aims to a bachelor's degree at the University of Northern Colorado.
Learn More and Apply
Locations
Hours
In-Person and Remote Services
Monday - Friday
8:00 am - 5:00 pm
(Evening appointments available by request)